Quinn
UPDATE:
A few days after graduation Quinn was officially hired by Yankton County to work as a correctional officer at the Yankton County Jail. Congratulations, Quinn!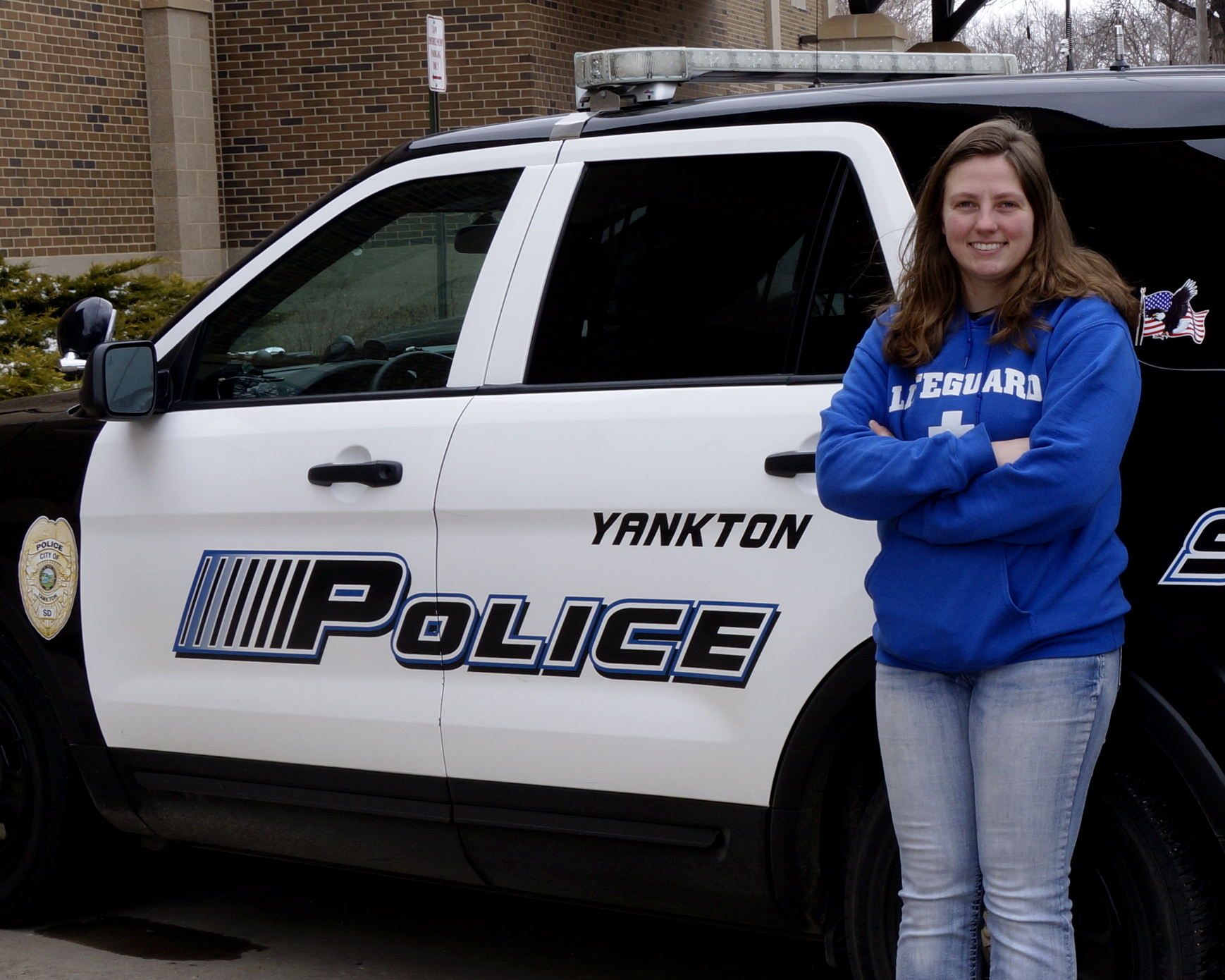 Quinn Koenen
Criminal Justice '18
Robbinsdale, MN
Why Mount Marty?
When Quinn Koenen started looking at colleges the senior from Robbinsdale, MN knew precisely what she was wanted — a criminal justice education with a side of science. She found that, and more when she toured the MMC campus.
"When I was looking at colleges, I initially liked Mount Marty because I was able to study criminal justice and explore forensic science as well," explained Koenen, "but what really made MMC stand out from other schools was the personal attention I received from the faculty."
A very competitive price tag helped clinch her decision. "I received a great scholarship package from MMC; in fact, when we compared the costs of all the schools I looked at, Mount Marty turned out to be the most affordable."
Four years down the road, with graduation just weeks away, Quinn says her experience at Mount Marty was even better than she had hoped. "I'm very happy with the choice that I made. I definitely believe I chose the right career path and the right school."
Outstanding Mentorship and Real-World Opportunities
Why is Quinn so happy with her decision? She says the answer lies in the invaluable relationships she found in the Yankton and MMC communities — particularly the mentorship of her academic advisor, Dana DeWitt.
"Dr. DeWitt has exceeded my expectations," says Quinn. "He has professional experience in the criminal justice field, so he has a lot of first-hand knowledge about the populations I'll be serving when I graduate, and he also has the contacts necessary to arrange shadowing or volunteer opportunities and internships."
Those professional contacts paved the way for the hands-on experiences that fostered Quinn's success in her major and her confidence in her future career path.
"The opportunities that Mount Marty presented me with have been priceless. In the criminal justice field actually doing the work is the only way you'll know if you love it or hate it and the internships and shadowing I've done have been instrumental in realizing that I love it!"
Over the course of her education, Quinn traveled to Rapid City, SD where she observed the juvenile and adult detention centers, did ride alongs with the Rapid city police and sheriff's departments and toured the forensics labs. She also traveled to Sioux Falls, SD for training in traffic law, DUI investigation and general K9 training and as a senior Quinn completed an internship with the Yankton Police Department.
"It was a great experience. I got to go on patrol with the officers and observe what they do.Since we're not sworn officers, interns are kept really safe, but I got to witness a couple of arrests, as well as the booking process."
During her internship, Quinn also participated in pressure point tactical training, taser training, firearms training and worked with a special response team. Quinn says these experiences are a great primer for her future career in correctional facilities.
"I hope to work in corrections, so having had an internship at the police department will help me to understand what an individual experienced in the policing stage before I encounter them in the corrections phase."
Quinn's Advice for Future Students
After a great college experience, Quinn says involvement is the key to student success. "Make sure you get engaged in your college and the community as soon as you can," urges Quinn, "the experiences you have outside the classroom will help you decide what you want to do in your career."