Leadership
Welcome to Mount Marty University! For over 80 years, we've focused on preparing students for a contemporary world of work, service to the human community and personal growth.
When I have the opportunity to welcome new students to our beautiful campus, I mention the usual things — study hard, get involved, but don't be over-committed. But I also encourage newcomers and visitors to get to know the Benedictine sisters, many of whom have spent their lives in the service of God at Mount Marty University.
With the inspiration that the Sisters provide, the faculty and staff of Mount Marty University create a sense of wonder for those who study and work here. As a community, we seek to answer questions and better understand those things that perplex us. We strive to make our corner of the world better each and every day, to serve God and to love those around us.
It is often said that education is not the filling of a pail but the lighting of a fire. I hope you'll "light your fire" with us at Mount Marty University.
— MARC LONG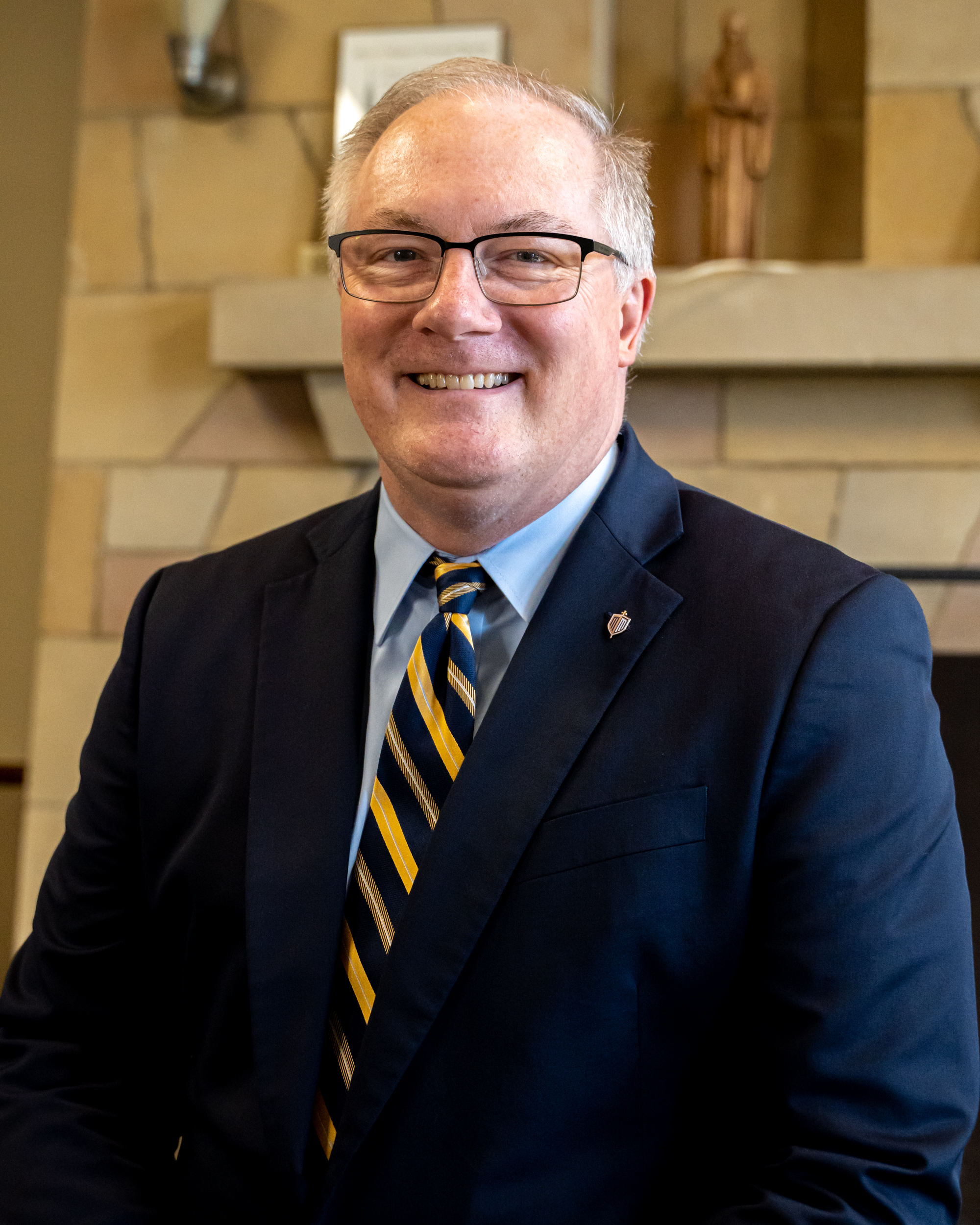 Marcus Long is the 11th president of Mount Marty University, and in 2023 he became the longest-serving lay president in MMU's 87-year history. He began his tenure on July 15, 2015, and has focused his work on increasing enrollment and student success, fostering Benedictine leadership principles across the university and in society, and partnering with other entities to better serve Mount Marty students and our region. From 2019 to 2023 President Long served as chair of the Association of Benedictine Colleges and Universities, and he led the Council of Presidents of the Great Plains Athletic Conference (GPAC) from 2021 to 2023. He was the first MMU president to lead either organization.
Since 2015, Mount Marty University has completed more than $20 million in new building projects, including the Ruth Donohoe First Dakota Fieldhouse and Rickenbach Suites. In addition, MMU became the first private university in South Dakota to offer doctoral programs, one for nurse anesthetists and one for nurse educators and leaders. The university also added football, archery and cheer and dance to its athletics offerings and completed its first major fundraising campaign in history.
Prior to joining the Mount Marty community, President Long served as the vice president for administration at the University of Health Sciences and Pharmacy in St. Louis where he led many of the non-academic functions of the university and coordinated operations with the adjacent Washington University School of Medicine and the BJC Health Care hospitals. Prior to his tenure in St. Louis, Long served 13 years in the chancellor's office at the University of Missouri.
In addition to his higher education leadership work, President Long serves on the boards of both Yankton Thrive and United Way and Volunteer Services of Greater Yankton, where he became chair of the board of directors in 2023.
A native of Missouri, President Long has spent his entire life living within 30 miles of the Missouri River, which flows by MMU's Yankton campus. He holds bachelor's and master's degrees from the University of Missouri and a Ph.D. in educational leadership and policy studies from the University of Missouri-St. Louis where he continues to serve as a volunteer mentor for doctoral students. President Long also serves as an adjunct research professor of emergency medicine at the University of Missouri where his research focus is on emergency medicine access in rural areas.
President Long and his wife Lisa have adult twin sons, one of whom lives in Colorado with his wife, and one who lives in Missouri. He is a Benedictine oblate at Sacred Heart Monastery in Yankton.
The Mount Marty University (MMU) Strategic Plan sets a clear, achievable, measurable and powerful path to a future of greater institutional distinction. This plan is structured to promote positive change by inspiring strategic thinking, encouraging collaborative work, enhancing areas of strength and supporting timely and data-driven decision making.
The Strategic Map provides a clear-cut summary of the Strategic Plan.
Dr. Marcus Long — President
Chad Altwine — Vice President for Operations
Dr. Katie Harrell — Vice President for Student Success & Title IX Coordinator
Lori Read — Vice President for Finance and Administration & CFO
Dr. Kathy Magorian — Dean of Faculty & Dean of Nursing and Health Sciences

Dr. William Miller — Executive Vice President and Provost
Joanna Mueller — Assistant to the President & Assistant to the Executive Vice President and Provost
Barb Rezac — Vice President for Mission and Advancement
Andy Bernatow — Athletic Director
Greg Franz — Associate Vice President for Enrollment Management & Marketing, PDSO
Rebekah McCune — Associate Vice President for Technology