Leadership
Welcome to Mount Marty University! For over 80 years, we've focused on preparing students for a contemporary world of work, service to the human community and personal growth.
When I have the opportunity to welcome new students to our beautiful campus, I mention the usual things — study hard, get involved, but don't be over-committed. But I also encourage newcomers and visitors to get to know the Benedictine sisters, many of whom have spent their lives in the service of God at Mount Marty University.
With the inspiration that the Sisters provide, the faculty and staff of Mount Marty University create a sense of wonder for those who study and work here. As a community, we seek to answer questions and better understand those things that perplex us. We strive to make our corner of the world better each and every day, to serve God and to love those around us.
It is often said that education is not the filling of a pail but the lighting of a fire. I hope you'll "light your fire" with us at Mount Marty University.
— MARC LONG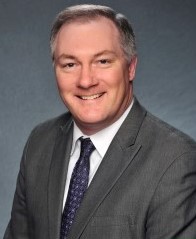 Mounty Marty University's 11th president, Marcus Long, assumed office on July 15, 2015, capping a two-decade higher education career at three universities. During his time at Mount Marty, he has led efforts to increase enrollment, foster growth and visibility across the entire college, focus on relationships with key partners and implement Benedictine leadership programs and management principles across the university and beyond. In 2019, Long was elected chair of the Association of Benedictine Colleges and Universities, an organization of 13 Catholic, Benedictine universities in the United States and Canada. He also serves as vice-chair of the Great Plains Athletic Conference's Council of Presidents and will become chair in 2021.
Prior to joining Mount Marty, Long served as a senior executive at St. Louis College of Pharmacy, now University of Health Sciences and Pharmacy. UHSP is one of the largest and oldest colleges of pharmacy in America, located within the Washington University Medical Center in St. Louis. Between 2007 and 2015, Long served as vice president for marketing and communications, chief of staff to the president, and vice president for administration. During his time in St. Louis, he also taught political science classes, maintained a health policy research program, and assisted Franciscans International with public policy work at the United Nations. Before moving to St. Louis, Long was a member of the communications leadership team at the University of Missouri, ultimately becoming director of university affairs with responsibility for university-wide marketing programs.
Long received bachelor's degrees in political science and history, and a master's degree in educational leadership and policy analysis from the University of Missouri. He earned a Ph.D. in education from the University of Missouri-St. Louis with a dissertation focused on health risk behaviors of college students. Long maintains an active research program in the history of higher education and a research interest in health behavior.
Long currently serves on the boards of both Yankton Area Progressive Growth and the United Way and Volunteer Services of Greater Yankton. He and his wife, Lisa, live in rural Yankton and are the proud parents of adult twin sons who live in Missouri. In 2019, Long became a Benedictine oblate of Sacred Heart Monastery in Yankton.
The Mount Marty University (MMU) Strategic Plan sets a clear, achievable, measurable and powerful path to a future of greater institutional distinction. This plan is structured to promote positive change by inspiring strategic thinking, encouraging collaborative work, enhancing areas of strength and supporting timely and data-driven decision making.
The Strategic Map provides a clear-cut summary of the Strategic Plan.
Dr. Marcus Long — President
Chad Altwine — Vice President for Operations
Dr. Katie Harrell — Vice President for Student Success & Title IX Coordinator
Tabitha Likness — Vice President for Finance and Administration / CFO
Dr. Kathy Magorian — Dean of Faculty & Dean of Nursing and Health Sciences

Dr. William Miller — Executive Vice President and Provost
Joanna Mueller — Assistant to the President & Assistant to the Executive Vice President and Provost
Barb Rezac — Vice President for Mission and Advancement
Andy Bernatow — Athletic Director
Greg Franz — Associate Vice President for Enrollment & Director of Admission
Rebekah McCune — Associate Vice President for Technology