Tuition & Aid
AN AFFORDABLE CATHOLIC COLLEGE IN SOUTH DAKOTA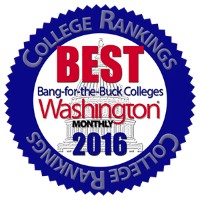 We know college is a big investment. The good news is you can get a valuable, private education at a price similar to public colleges and universities. Mount Marty is one of only two South Dakota colleges ranked "Best Bang for the Buck." That's because at Mount Marty, almost every student pays less than the full tuition cost.
In fact, 100% of our students receive a financial aid offer. Financial aid is customized for you based on your personal accomplishments and your family's income. It may include academic scholarships, athletic scholarships, grants and other aid that keeps your out-of-pocket costs low. Are you wondering what that might mean for you? Use our net price calculator to calculate what your estimated cost would be to attend Mount Marty — you might be surprised by how reasonable it is!
PRIVATE EDUCATION AT A PUBLIC PRICE
After taking into account the total amount of aid our students receive, a private school education is just as affordable as a public one — and it offers many unique experiences you can't find at a public university, like a small, tight-knit community and a faith-driven experience.
Mount Marty is dedicated to making a degree work for you. Contact our enrollment counselors to show you how to get financial aid through opportunities: