The Mount Marty Difference

Some days you can all but taste and touch the friendly atmosphere at Mount Marty. You're high on a hill overlooking the Missouri, one of America's great rivers. Below is historic Yankton, once the proud capital of government, religion, and commerce for all of Dakota Territory — and today a beautiful, modern city and our home.
The students, faculty, and staff of Mount Marty University are integral to the city's purpose — as vital and enduring as our neighbor, the timeless river.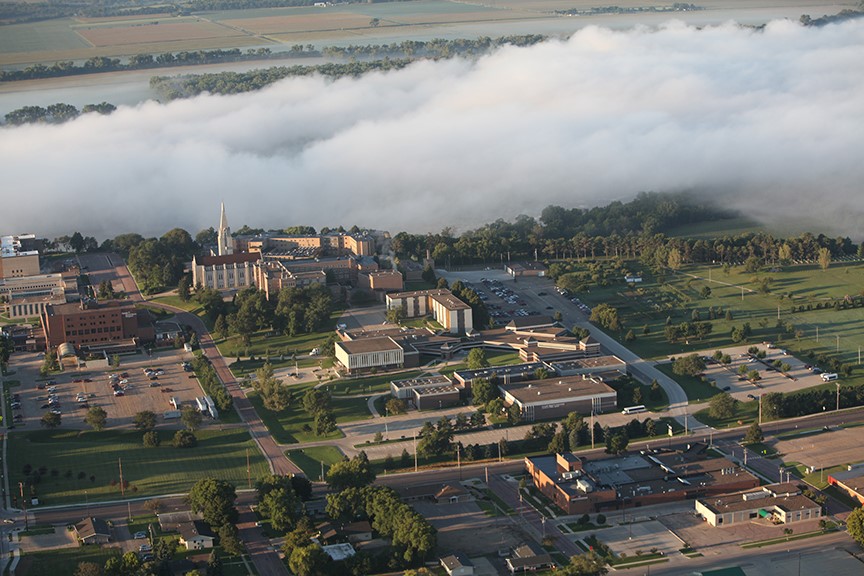 Our Heritage
The sisters of the Sacred Heart Monastery, who live, work, and pray alongside our students and staff, founded our liberal arts university in South Dakota; their Benedictine ideals of ministry, leadership, and service are embedded in all we do. If you're lucky enough to befriend a sister, you'll quickly learn why such relationships don't fade after you've left Mount Marty; our alumni visit the Sisters, sometimes on a monthly basis.
Our Whole-Person Approach
MMU has a proud tradition of faith-based learning, which is focused on developing well-rounded students. With personal attention and support from faculty and staff, you can achieve excellence and pursue your passions in academics, athletics, fine arts, and other activities. We'll help you gain the strong values and life skills that will make you a whole person. Plus you'll achieve connections that will last a lifetime.
We strive to prepare students for the workplace and to provide them with the skills to be successful leaders. At Mount Marty, career-readiness is blended with the liberal arts values of creativity, communications, and personal growth, which are necessary for success in the real world.
Check out what campus life is like, and see what our current students say about their time at Mount Marty. Find out about how our graduates have gone on to make an impact in their corners of the world. Then come by and experience Mount Marty for yourself. Visit our picturesque campus and get a taste of life at the Mount. See the river and the town. Our Catholic faith-based university just might be the perfect place for you to grow.
Our Commitment:
Forming leaders who are prepared for responsible local and global citizenship;
Promoting the personal growth of students, faculty, and staff;
Excellence in all educational programs;
Engaging the community in good zeal and mutual respect;
Carrying out the Catholic Benedictine tradition of higher education;
Enhancing the Catholic intellectual and spiritual legacy;
Providing opportunities for ministry and service;
Ensuring the responsible stewardship of resources;
Cultivating an appreciation for human and cultural diversity, social justice, and rural heritage.