'What I Was Meant to Do'
December 20, 2019
MMC senior Ashton Mednansky preps for postgraduate life in the Peace Corps.
For Ashton Mednansky, life after college begins a world away from Yankton when she arrives in Africa for a stint in the Peace Corps next summer. After a few months of training in-country, Ashton will be spending two years as a community health volunteer in Sierra Leone.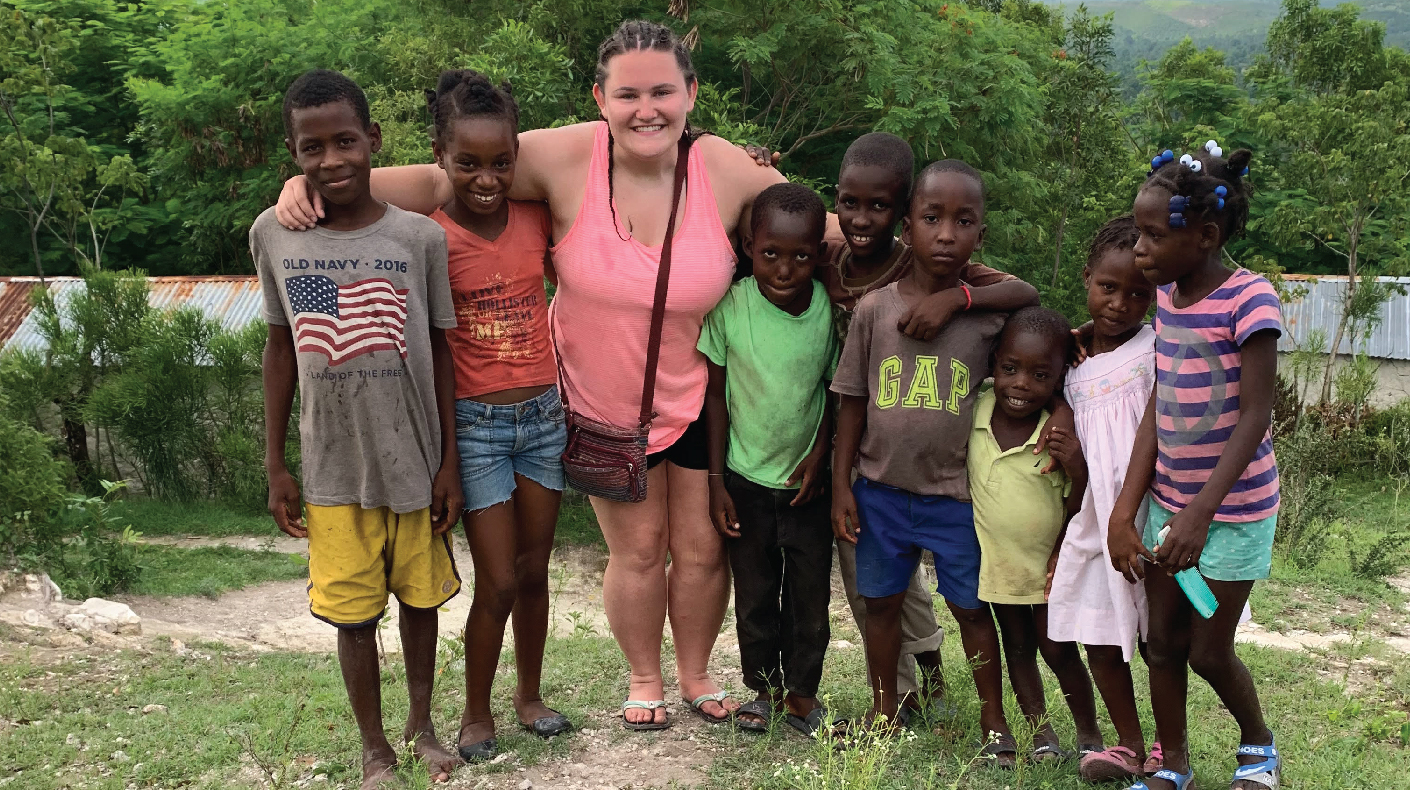 "I'll be working on three main projects while I'm there," she says. "Malaria, infection control and nutrition."
The Mount Marty College senior scored a place in the community service agency by performing well in the Peace Corps' competitive application process, which boasts an acceptance rate of just 24%. She'll graduate in May with degrees in biology and human services. By June 14, she'll be on her way to Sierra Leone.
Professional curiosity led the Avon, South Dakota, native to apply. "I was doing some research last spring, trying to figure out what I wanted to do after graduation in 2020," she says. "All I knew is that I wanted to work with and help people. When I came across the Peace Corps website and started looking into it, I instantly knew that was something I wanted to do."
Ashton's acceptance into the Peace Corps was almost as swift as her decision to apply. "It was the middle of May and summer had just started," she says. "I sent in my application and got a message in June while I was on a mission trip in Haiti that I had been selected for an interview. I scheduled the interview for the week I returned home. That interview is probably the most nervous I have ever been in my life! I was also taking a summer class and trying to catch up from being gone to Haiti for two weeks. I got an email while I was in class that I had been accepted."
Although her path took a rapid turn last summer, Ashton's journey to a life of service began well before the epiphany to join the Peace Corps. Two MMC mission trips to Haiti inspired her to offer help to those less fortunate.
"We have been blessed with so much and there is always something we can do," she says. "That first trip with Helping Hands for Haiti changed my life and gave me a new perspective on things. Haitians live in such poverty. People really do not know what is out there and the conditions that some of these people are living in. Without seeing that firsthand, it is hard to ever know what it is truly like. These mission trips made me even more motivated to help people."
She credits MMC for opportunities to gain leadership experience while in college, particularly her four years with the Student Government Association and running SGA's community service committee since her sophomore year. "I have grown so much since my freshman year and made lifelong friends here," she says. "The faculty and staff have helped me so much on this path from encouragement and guidance to life advice. They have allowed me to be who I am while shaping me into a professional. The fact that the people here really care about you and want the best for you is amazing."
Ashton's academic preparation will serve her well in Africa. "I think the fact that I have changed my major from biology to nursing to biology and human services will give me the knowledge of diseases and prevention," she says. "I have learned a lot about helping others and working with people. As a liberal arts college, MMC has shaped me into a well-rounded individual with knowledge from so many different areas."
She plans to continue a life of service after her return to America in 2022. "When I get back, I want to get a master's degree in global health," she says. "My dream job would be traveling the world working for a government or nonprofit organization like the Centers for Disease Control, the United Nations or the World Health Organization, managing and improving international health care programs."
Ashton has taken to heart the Mount Marty College mission of preparing students for a contemporary world of work, service to the human community and personal growth. "One of MMC's core values is awareness of God, and I think it is our mission as Christians to help those who need it," she says. "God calls on us to use the talents we have to serve Him and I believe that this is what I was meant to do."