Sisters of Sacred Heart Monastery bring their love of prayer to Lancer Athletics
September 28, 2022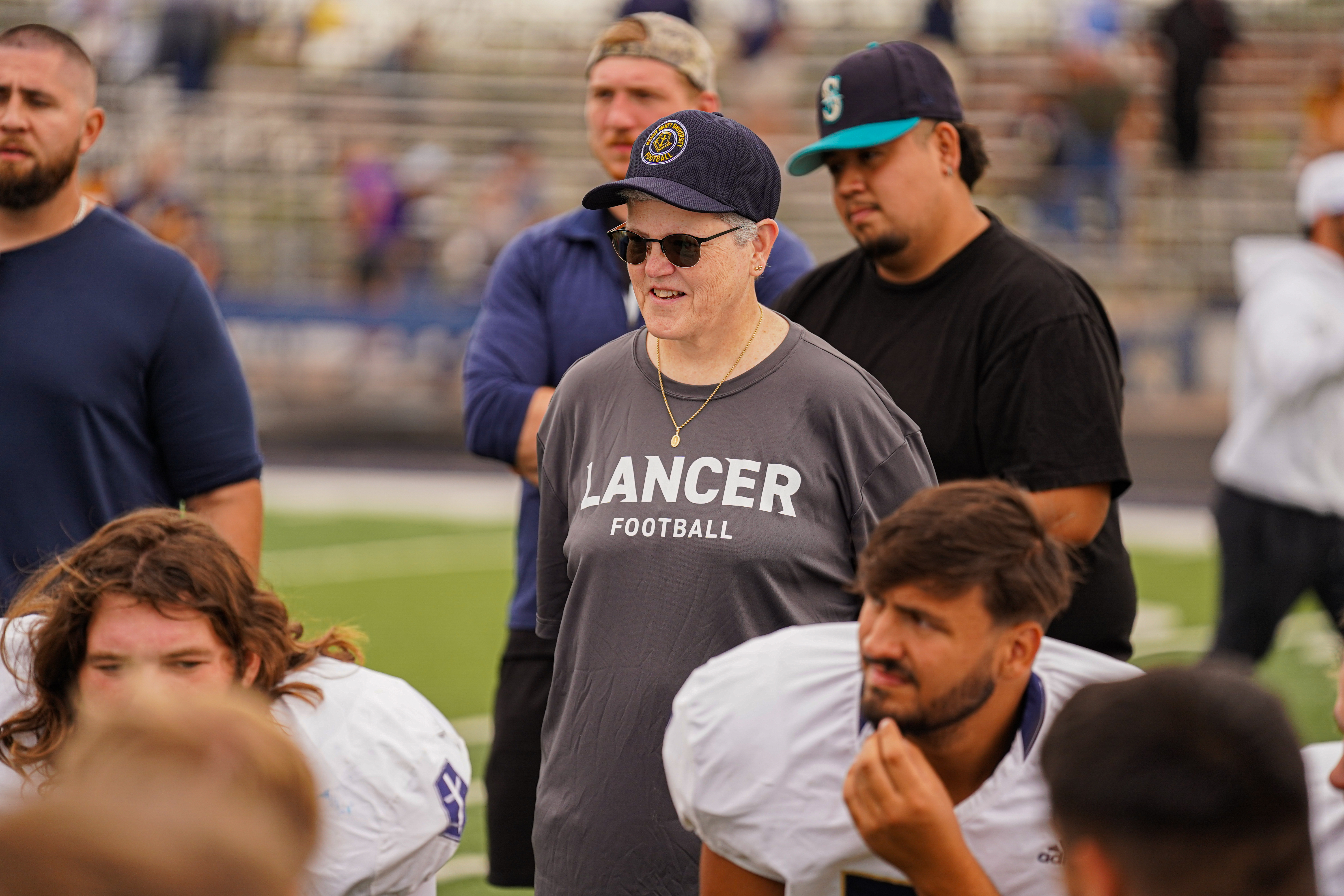 YANKTON SD, Sept. 28, 2022—Football has always been a big part of Sister Terry Lafferty's life. So, when Mount Marty University formed its football program in 2021, it only made sense that she serve as Lancer football's chaplain.

For Sister Terry, this is an opportunity to bring her love of prayer to the playing field as she blesses the team before every game and provides lessons on the value of prayer and recognition of God through sport.

"I see my role as somebody who is trying to get them to recognize that God is active in their lives, even in football," Sister Terry, who is in her second year as the football chaplain, said. "I knew I wanted to be active in their lives and thought the best way to do that is through something near and dear to me—prayer."

Knowing the team has someone they can go to for support has been a game-changer for players like Aaron Baumann, a freshman wider receiver.

"Some guys may not have someone in their life they can talk to about faith," he said. "And Sister Terry provides that."

As for the inspiration that ignited the program? The Lancers have Sister Carmella Luke to thank, who, after spending several years as a teacher and chaplain of the volleyball team at O'Gorman High School in Sioux Falls, saw an opportunity to implement a similar program at MMU.

"Young people want somebody to notice who they are and to appreciate them and support them in their life goals," Sister Carmella shared, who is also in her second year as the team's chaplain. "We focus on glorifying God through sport and remind players that life isn't just volleyball, but that volleyball is, in fact, an important part of their lives."

In the two years of its existence, the sports chaplain program has grown to involve five Sacred Heart Sisters and athletic programs at MMU, including football, volleyball, softball and men's and women's basketball.



Moving forward, both Sister Lafferty and Sister Carmella hope to see the program continue to foster trusting and supportive relationships with Lancer athletes and students.

"There's a reward in helping these students notice the gifts that God has given them," Sister Carmella said. "And that, for me, is to see them meet their potential and listen to their true call from God."