Nursing Program Forges Beneficial Partnership with the Army ROTC
December 13, 2019
For many, the road to a college degree is unclear. What is paved and smooth for some is overgrown, rough and seemingly impassable for others. Here at Mount Marty, we want to clear the way for as many students as possible. With that in mind, we are proud to announce the Bachelor of Science in nursing program has partnered with the Army Reserve Officer Training Corps (ROTC) to reserve up to 10% of the admitting cohort seats for cadets.
"This agreement will provide the cadets with an advantage in knowing their spot in the MMC BSN program is secure," says Kathy Magorian, Dean of Nursing and Health Sciences at Mount Marty. "I'm thrilled to be able to collaborate with the ROTC in this venture and am proud that the Mount Marty Nursing Program can support our military students."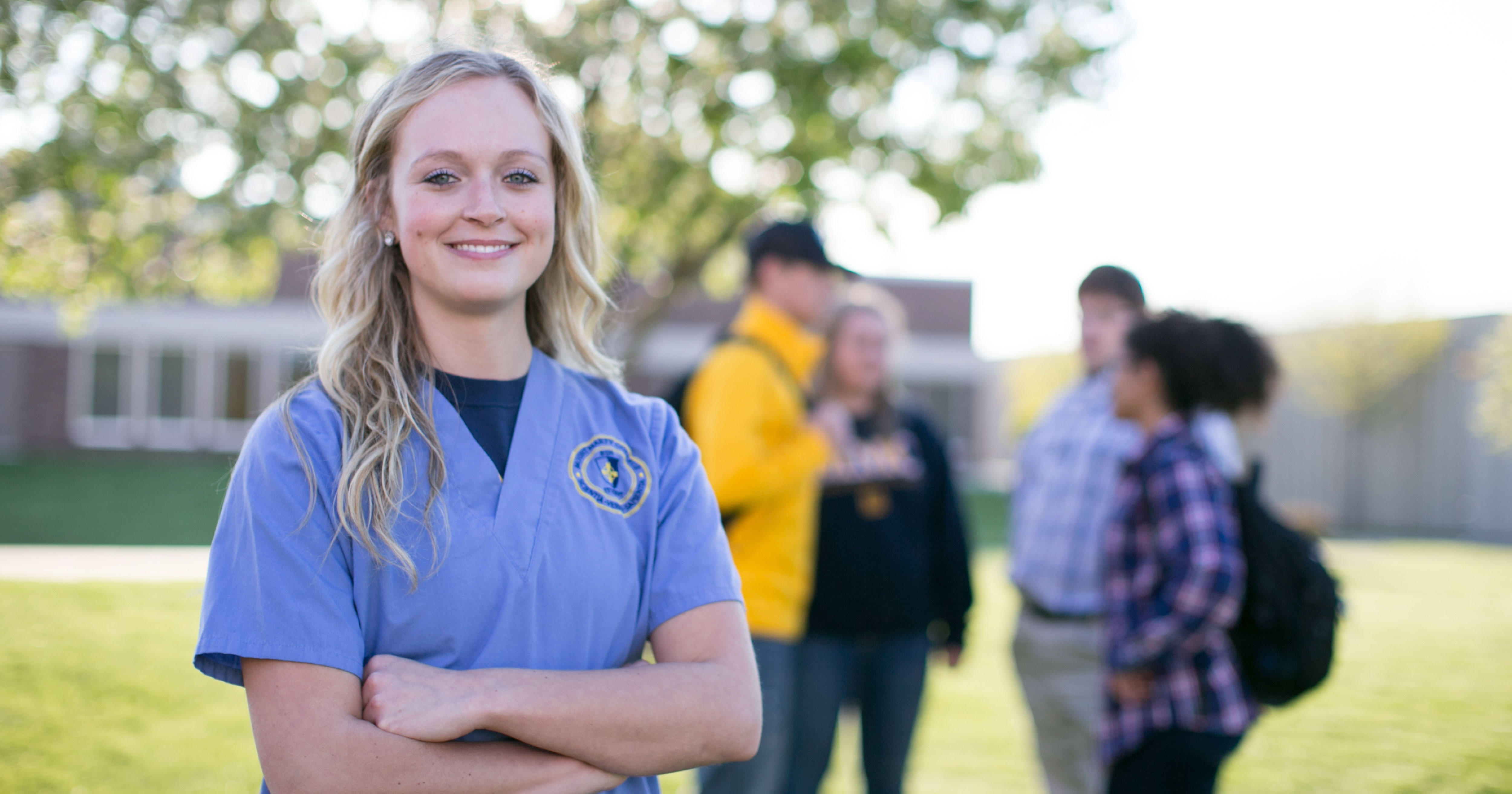 ROTC was formed as a result of the National Defense Act of 1916, and it has been an active program at the University of South Dakota in Vermillion, South Dakota, since 1919. At Mount Marty, the program has had wavering participation, with no students active in the program for several years. Through his collaboration with Kathy Magorian, Sam Otto, the ROTC Scholarship and Admissions Officer at USD, hopes to provide Mount Marty students with the opportunity to combine a Mount Marty education with the benefits of the ROTC program.
"We've just kind of started building that relationship with Mount Marty. Somewhere along the way it fell off. We'd like to build the program again," said Otto.
Students have the option of taking free ROTC courses as an elective during their freshman and sophomore years with no military obligation. These courses—which emphasize leadership, time management and army history—are meant to help students decide whether or not joining the army is right for them.
"We don't push the army on you if you take the class," says Otto, "We want to get students to make an informed decision [on] if the army is right for them or not."
For those that do decide to join ROTC's ranks, there are impressive benefits. In addition to guaranteed program admittance, provided they meet Mount Marty's minimum qualifications, they are given scholarships that cover 100% of tuition and fees, $1,200 worth of textbooks per year and a monthly living stipend of $420. In addition to their core and major curriculum, ROTC cadets are expected to complete the ROTC electives, labs and local physical training. Upon graduation, cadets are commissioned into the army as a second lieutenant and given a full-time nursing job within the army as they complete four years of required active-duty service.
"There is a lot of misconceptions about what the army is and what actually happens and nursing is one of them that breaks that mold where you know you can actually be an army nurse, and that is your full-time job in the army," explains Otto, adding, "We provide that opportunity to pay for school where you get a guaranteed job after school, and it is a pretty good paying job, too. An average second lieutenant makes about $52,000-$55,000 right out of school, so that is huge. And any follow-up training that nurses need, the army is going to pay for all of that."
The road to a college degree may not always be clear, but Mount Marty is dedicated to creating opportunities for students to succeed. If you are interested in learning more about the ROTC program, please reach out to Sam Otto at sam.otto@usd.edu or (605)-677-6059.
For more on Mount Marty's nursing program, follow the link: https://www.mtmc.edu/academics/majors-and-programs/nursing/nursing/