New CFO Draws Strength from Jesus and Relationships
November 7, 2023
Mount Marty University Chief Financial Officer Lori Read began her duties in May 2023. The Marketing Department sat down with her ahead of the academic year.
Lori Read moved into her sunny, wood-paneled office in Bede Hall earlier this spring. Read, Mount Marty's new Chief Financial Officer, is a confident executive with a background in analytics, financial aid, and accounting in the private sector. She is engaging, thoughtful, and acutely aware of today's headwinds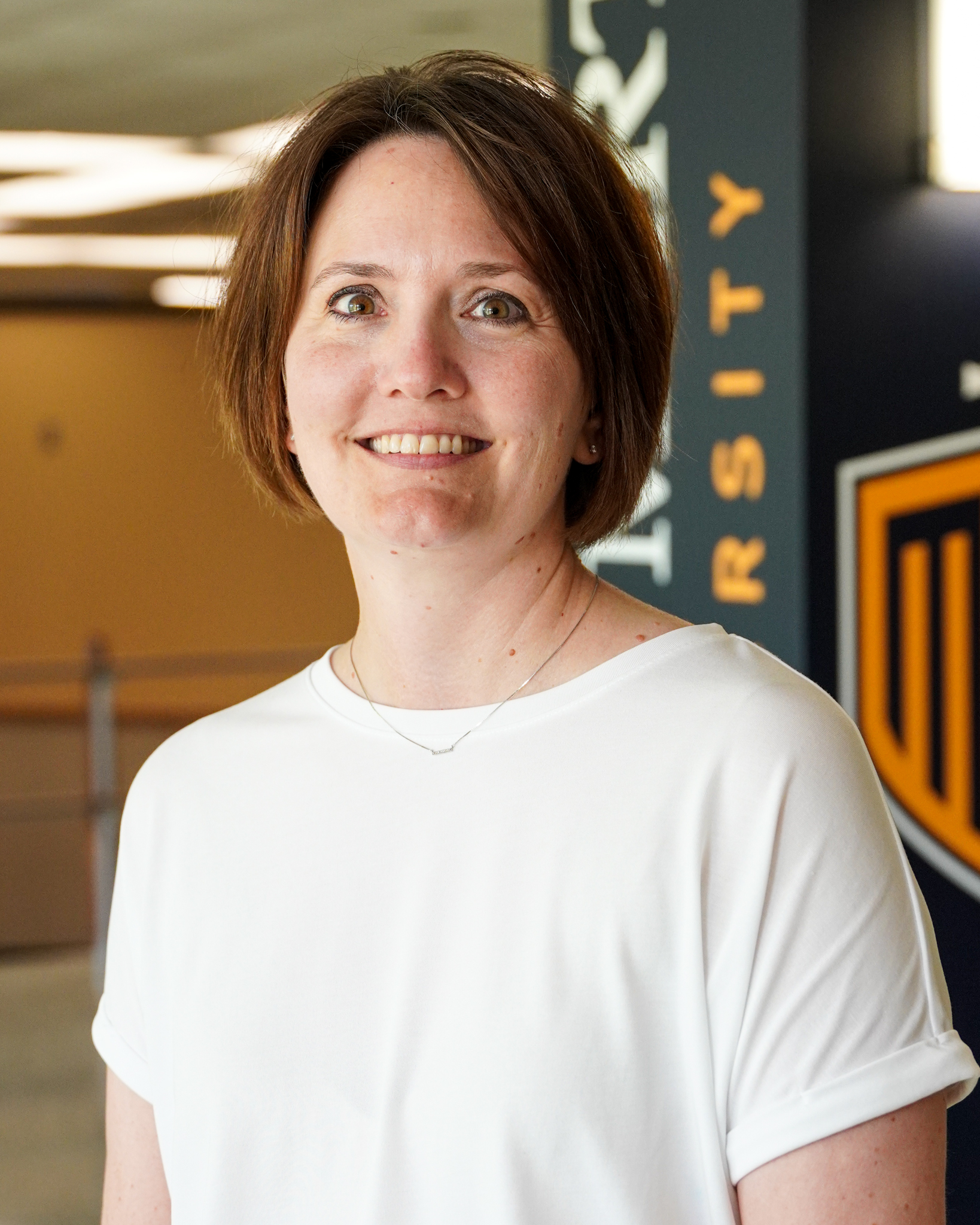 in higher education. But her focus is simple: "Learn and teach others how to live like Jesus."
Read has had an eventful 2023. "We're entering a new season," she says. After leaving her job as Director of Institutional Analytics at Concordia University in Seward, NE, she took Mount Marty University's top finance job. This coming year, while her son starts his senior year in high school in Seward and her daughter continues her college education, Read will split time between Yankton and Seward before permanently moving to the Yankton area with her husband, Chris.
Read knows this transition might be difficult. Raised on a Nebraska farm near the Clearwater-Ewing area, and a 15-year resident of Seward, she loved the stability that her position at Concordia afforded her. But she says confidently that God placed her here. "There's a pull," Read says, of Yankton and Mount Marty. She and her family have been visiting Yankton since 2017, staying for long weekends and enjoying the outdoors.
An accountant by training, Read spent eight years in demanding roles in the transportation industry with Yellow Transportation and Crete Carrier. She decided to transition into a career in higher education that provided more opportunities to be present with her kids and enjoyed building relationships and impacting students for 12 years at the private Lutheran university.
Read is an accomplished professional in both higher education and private business, but before any of that, she is a mother, wife, and faithful follower of Jesus. Read is a lifelong Lutheran and loves the values of her Church. In conversations with Sister Bonita Gacnik, Read's counterpart at Sacred Heart Monastery in Yankton, she is reminded that no matter the events of the world or in her daily life, "God has got this." It's an uncommon trait of a CFO to steep their work in Jesus, and Read knows it. She's aware that people in finance often come across as analytical and calculating. "I want to be known for the relationships I've created versus a numbers-driven result."
Mount Marty is a natural fit for Read, as she shares its core values—Awareness of God, Community, Hospitality, and Lifelong Learning. She knows Mount Marty needs a skilled hand in charge of budgets, the endowment, and implementing strategic planning, and has a plan to allocate resources so they match the institution's mission and provide financial stability.
###
About Lori Read
Read supervises the Business Office, Human Resources, Facilities, and Operations. She graduated from the University of Nebraska at Kearney with a Bachelor of Science degree in Business Administration and an Emphasis in Accounting and Management Information Systems. She earned a Master of Science degree in Business Administration from Concordia University in Seward, where she worked from April 2011 to May 2023. Lori and her husband, Chris, have two children, Delaney and Dylan.
About Mount Marty University
Founded in 1936 by the Benedictine Sisters of Sacred Heart Monastery, Mount Marty University is South Dakota's only Catholic institution of higher education. Located along the bluffs of the Missouri River in Yankton, with additional locations in Watertown and Sioux Falls, Mount Marty offers undergraduate and graduate degrees focusing on student and alumni success in high-demand fields such as health sciences, education, criminal justice, business, accounting, and more. A community of learners in the Benedictine tradition, Mount Marty emphasizes academic excellence and develops well-rounded students with intellectual competence, professional and personal skills and moral, spiritual and social values. To learn more, visit mountmarty.edu.