Mount Marty to join research collaborative for the Dakotas
October 4, 2022
MMU becomes first private academic institution to join partnership to develop innovative ways to improve health outcomes in North Dakota and South Dakota
Mount Marty University (MMU) has joined a regional research collective that works to translate medical research into clinical practice for North and South Dakotans. MMU is the first private academic institution to join the partnership.
Faculty across multiple disciplines at the Catholic Benedictine university will soon share ideas, conduct research and contribute best practices through the Dakota Community Collaborative on Translational Activity (DaCCoTA).
DaCCoTA, funded by the National Institutes of Health, brings together researchers and clinicians with diverse experiences across the Dakotas to develop innovative ways to improve health outcomes in both states. DaCCoTA funds research but also helps connect teams with complementary skillsets and expertise to fine-tune research approaches and improve results.
The selection of MMU as the latest partner reflects the university's focus on rural health and wellbeing, according to President Dr. Marcus Long. The benefits will be far-reaching for students and faculty in various programs at MMU, among them Nursing, Nurse Anesthesia, the Natural Sciences Psychology and Human Service, Medical Laboratory Science and Family Nurse Practitioner programs.
"We at Mount Marty are excited to have been chosen to contribute to the critical work of the Dakota Community Collaborative on Translational Activity," President Long said. "DaCCoTA will open doors for our students and faculty for years to come, but it will also allow us to contribute insight and expertise to projects that will improve health outcomes for patients right here on the Northern Plains."
MMU is the latest South Dakota partner for DaCCoTA — and the only private university thus far — which launched four years ago from the University of North Dakota (UND). Other partners in South Dakota include Sanford Health, Monument Health, the University of South Dakota and the Sioux Falls VA Health Care System.
MMU initiated the new partnership, according to Dr. Marc Basson, a clinical surgeon who serves as UND's Senior Associate Dean of Medicine for Research and heads up DaCCoTA. MMU representatives broached the topic after they presented palliative care research at a DaCCoTA symposium in July in Sioux Falls.
"It says something about them that they wanted to do this research." Dr. Basson said. "We don't know where the next really good idea will come from, which is why we want to cast as wide a net as possible. The key to the partnership is that everyone comes to the problem with their own unique perspective."
Folding MMU into the mix will serve to advance the DaCCoTA mission, Dr. Basson said, by connecting the Benedictine school's unique approach to problem-solving to the collaborative's existing network of clinical and non-clinical researchers.

"MMU is the only private university in South Dakota to offer doctoral programs in nursing," President Long said. "Opportunities developed by this collaboration will ultimately benefit both students and the communities they will serve."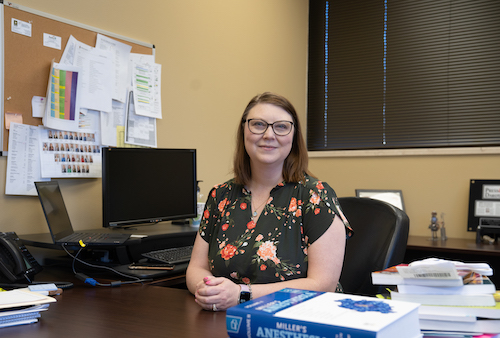 Faculty in the highly selective Doctor of Nurse Anesthesia Practice program have already begun to ponder the possibilities presented by the DaCCoTA partnership. MMU's addition to DaCCoTA highlights the value of the translational research work that happens in the Sioux Falls-based graduate program, according to Interim Program Director Dr. Andrea Roberts.
"We focus more on quality improvement projects and projects that will change practice," she said. "You have the information that has been researched, and then we actually take that, go into the clinical setting and say, 'here is our evidence-based practice. How can we change this? How can we help this group of patients have a better outcome?'"
The program is just one of many at MMU whose expertise can add value to DaCCoTA, however. DaCCoTA's "wide net" approach to collaboration means that MMU's innovators will have an outlet to explore ideas about improving the quality of care and quality of life in the rural areas of North and South Dakota.
"The DaCCoTA partnership will offer opportunities for our students to bring their best ideas to the table," President Long said. "We're excited for what the future holds."