Mount Marty Pen Pal Program Makes a Difference
May 22, 2020
During times of distress, we often search for bright spots and areas of hope. Certainly, the COVID-19 pandemic has produced unease and times of stress, but the pandemic has also inspired a new consideration for the power of community and connection.
At Mount Marty College, new forms of connecting, gathering and spreading positivity began to flood the community shortly after the institution moved to a remote course delivery format. Whether gathering digitally to pray the rosary on Facebook Live or submitting messages of hope to be shared with others, Mount Marty students, faculty and staff rose to the occasion, ensuring the Mount Marty community remained together despite the physical distance placed between them.
In Diane Smith's nursing classes, students took the desire to connect with the community a step further. To replace physical visits to locations around the state, Smith's classes instead participated in a pen pal program, enabling the students to still forge those connections with communities while also connecting with those who are most impacted during times of isolation.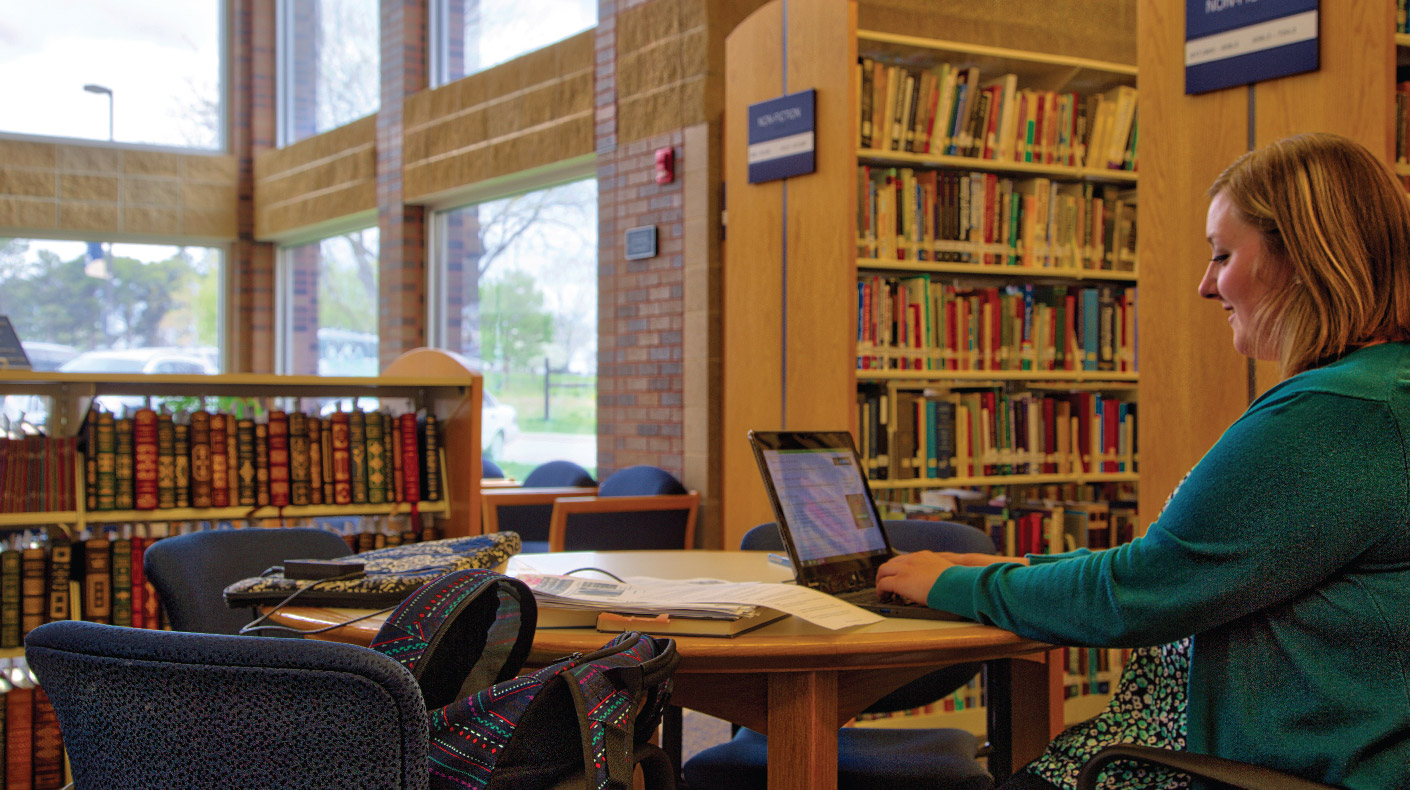 "I got involved with the pen pal program after our classes were moved online," said Mount Marty student Grant Martinson. "I am currently in a class called Lakota Medical and Culture Experience with Diane Smith where the main attraction was learning about the Lakota culture and then go serve the Rosebud reservation with a foot care clinic. In light of COVID-19, this trip was canceled and Dr. Smith was looking for alternative ways to serve and asked if our class would like to write letters to different communities."
The students responded to the idea with enthusiasm, and thus began the pen pal program.
Students from two courses—NSG 240: Lakota Medical and Cultural Experience and NSG 335: Nursing of Children—each spent four weeks writing letters to people within the spaces they were no longer able to visit, and to people in areas contained similar populations of people including Holy Spirit Retirement home, Wagner schools, the Yankton Boys and Girls Club, Avera Sister James Care Center and the Tree of Life Ministry on the Rosebud Indian Reservation.
"This seemed like a great opportunity to connect with people across South Dakota to grow a bigger community during these tough times and to help be present to students and the elderly who would appreciate knowing that someone is thinking about them," said Martinson.
Alexsis Kemp, a Mount Marty student enrolled in NSG 240, voiced similar positive sentiments regarding the program, saying, "It has given me the ability to still serve others in a way that can positively affect them without actually having to go somewhere and still being able to follow the rules that we have in place due to the pandemic."
Renee Roemer, a coordinator at the Boys & Girls Club who vetted letters passed between the Mount Marty students and club members, believes that the impact of the program will be long lasting. "It has given our members a chance to get information about what is going on, as well as serve as a distraction." She continued, "They get to read about and even see other people's lives through these letters. They share things about their families, animals and school, all while getting advice on how to stay healthy and the importance of their actions during this time."
Further, Roemer says the pen pal program helped relieve some of the difficulty of maintaining a connection with members during the period when they were not able to physically be together.
"With these letters," said Roemer, "our youth are still able to hear from a positive role model, and share about how they are doing in school and what they miss about the Club. It is their choice to respond or not, but it gives me peace of mind just to know that they are hearing from people."
Those receiving the letters were not the only people to benefit from the program. In fact, many of the Mount Marty students participating in the pen pal program noted that the act of reaching out was a form of comfort and catharsis during such turbulent times.
"I have had a challenging time with the changes that have been made in my 'routine' as it is hard to be away from friends and to be removed from a typical classroom setting, but writing the letters every week made me focus on the good that has been happening," said Mount Marty student Heaven Lane. "Through this time of constant change and not knowing what the future will hold, it is nice to take your mind from it to simply talk with someone about their life. Unfortunately, we don't have the opportunity to make a physical impact on the lives of the people within these communities. However, by making an emotional connection and just being there for someone and letting them know you care has hopefully been helpful to those people."
In all, Mount Marty students sent out over 400 letters during the duration of the program, providing not only education on safety and precautions but a sort of healing that can come only through interpersonal human connection.
"I feel that this has benefited the community by continuing to show that Mount Marty is a part of something greater than itself and that we deeply care about those around us who are greatly impacted by the COVID-19 pandemic," said Grant Martinson. "I am proud to share fellowship with people I have never met and to know that I have positively impacted others through this pen pal program."
Mount Marty's mission is to prepare students for a contemporary world of work, service to the human community and personal growth. During the COVID-19 pandemic, the ability of our students, faculty and staff to uphold this mission was put to the test—and they passed with flying colors.
Though there are still many challenges ahead of us as our region, nation and world continues to grapple with the pandemic and all that must change as a result, our community has proven that distance creates no limitation on our ability to serve and make an impact.
To learn more about Mount Marty, including the mission and opportunities available on campus, visit mountmarty.edu.