Mount Marty College to Host Free Soccer Clinic for Area Youth
March 20, 2019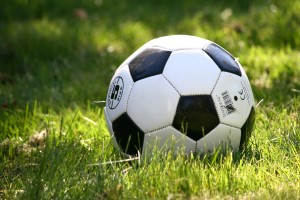 On Saturday, April 6, 2019, Mount Marty College (MMC) and Lancer soccer will host a free soccer clinic for youth from across the region. The one-day event, which is open to youth ages 8 to 11, will run from 9:00 to 11:30 a.m. at the soccer fields on the grounds of the National Field Archery Association (NFAA) in Yankton.

This is the first time MMC has held such an event. Carlos Saenz, head coach for the Lancer men's soccer team says he hopes the clinic will become an annual occurrence. "We're really excited about this clinic; not only is it a great opportunity for area kids to interact and learn basic skills from college-level athletes, but it's also a great way for our players and coaching staff to thank the community for everything they've done for us."

With registrations already underway Saenz says kids from across the region are signing up. "We've only been advertising for a week, and already we have youth from Yankton, Norfolk, Vermillion, Sioux City, Sioux Falls, and Le Mars show interest in attending. We're hoping to have a diverse group of kids on the field in April."

Saenz, a native of Lima, Peru added that he hopes this clinic will also work to unite cultures. "I myself, and many of the players on my team are bilingual so language barriers won't be a barrier for anybody which is just another reason it will be a great day for the kids to come together and grow their love for the sport."

Registration is open to boys and girls ages 8 to 11 and participants are limited to 100 youth. The deadline for registration is April 1, 2019.
The free soccer clinic is sponsored by Connecting Cultures, American Foods Group, Greater Yankton Living, and Onward Yankton.

For more information about the free soccer clinic at Mount Marty College contact Carlos Saenz at carlos.saenz@mtmc.edu or 402-508-0568.