Mount Marty College Stages The Addams Family Musical for Halloween
October 28, 2019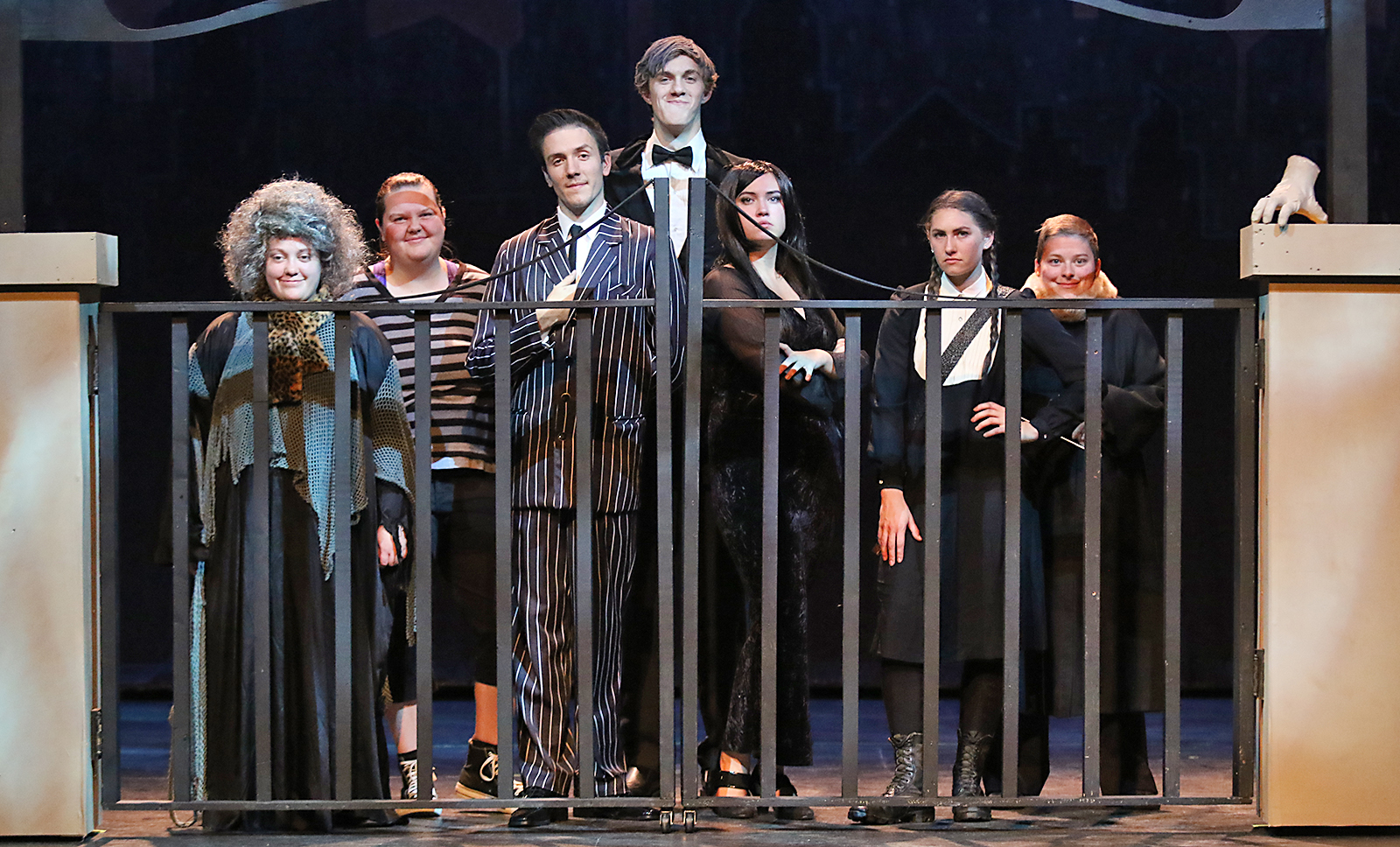 Creepy, kooky, mysterious and spooky … Mount Marty College is bringing ghoulish fun to the Yankton stage this week with the production of The Addams Family Musical. The production is the first of five in Mount Marty's 2019-2020 theater season.
Based on the Charles Addams cartoons that ran in The New Yorker magazine for 50 years last century, the quirky Addams Family characters have appeared on television, in movies and on stage. This 2019 version of the Broadway hit musical has the whole gang — Gomez, Morticia, Wednesday, Pugsley, Grandma, Uncle Fester and loyal butler Lurch — hobnobbing with the "ancestors" for the annual Addams get-together in the family's Central Park home. But there's a twist this Halloween — daughter Wednesday is all grown up and in love.
The production features composer Andrew Lippa's catchy tunes, lively dances, unique plot twists and technical gimmicks to enthrall the audience.
The cast of 25 includes 17 Mount Marty students and one faculty member, plus seven community members, says director of theatre, Andy Henrickson. Several dozen other MMC students are working behind the scenes to help bring the show together.
"For the past few years we have opened up our auditions to the community beyond MMC students and have enjoyed the opportunity to work with faculty and staff from the college as well as community members," Henrickson says.
For students, the show is an example of the hands-on experience that Mount Marty provides for those pursuing careers in performing arts. Mount Marty's bachelor of arts degree in the performing arts combines the college's choral, instrumental music and active theater programs to help students prepare for successful careers.
Sponsored by First National Bank of Omaha, The Addams Family Musical runs October 31 through November 3 in Marian Auditorium. The curtain rises at 7:30 p.m. Thursday through Saturday with a 2 p.m. matinee on Sunday. Tickets are $10 for adults and $8 for students. Season passes are also available. Call 605-668-1234 or order online and check out the full schedule for the MMC Theatre and Performing Arts 2019-2020 season at www.mountmarty.edu/boxoffice.