Mount Marty College Nurses Receive Awards at South Dakota Nurses Association Meeting
November 25, 2019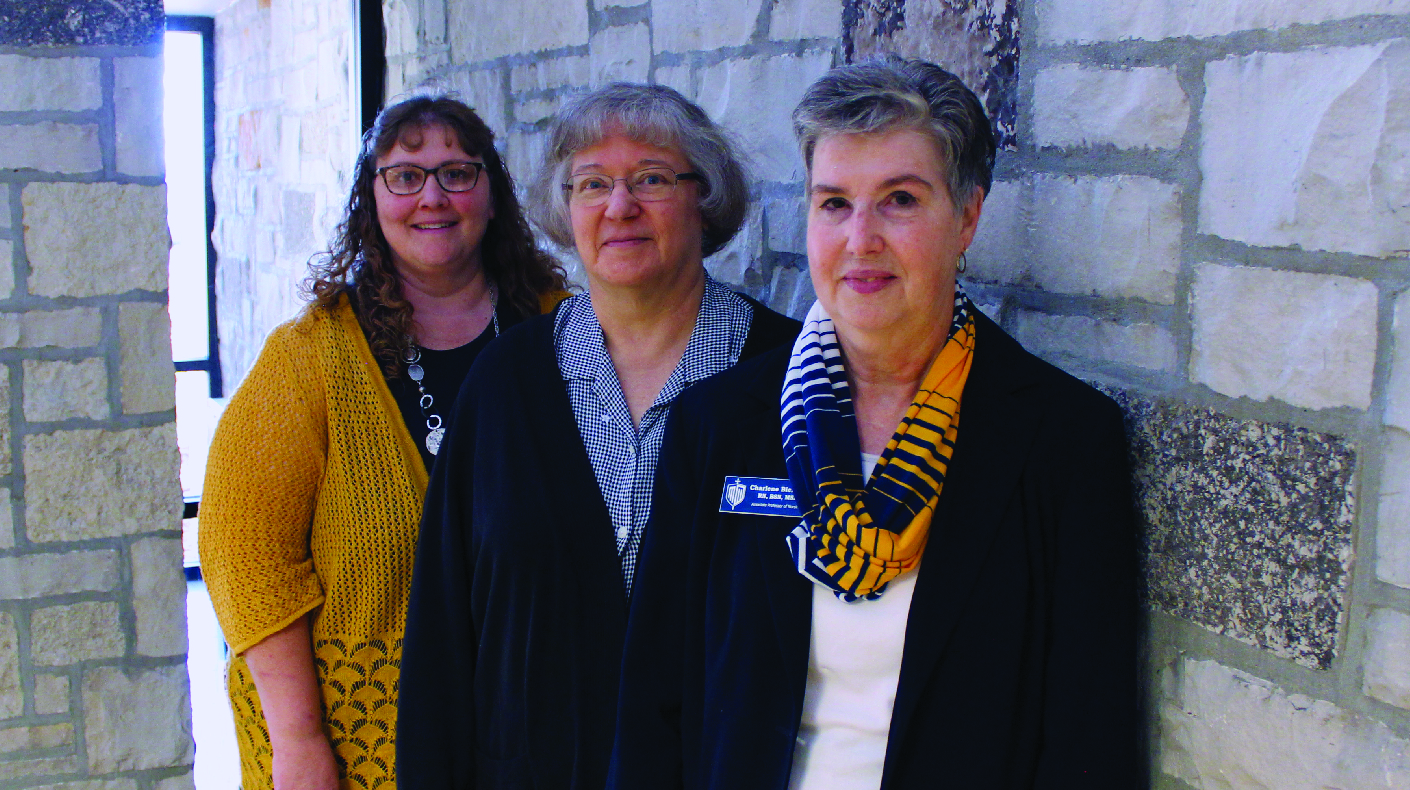 Recognized for their contributions, leadership and commitment to the nursing profession and direct patient care, three Mount Marty College (MMC) nursing educators received awards at the South Dakota Nurses Association (SDNA) Convention/Annual Meeting held October 6-7, 2019.
Among the MMC award winners at the meeting, Associate Professor of Nursing Charlene Bierma received the District Nurse of the Year Award, Professor of Nursing Sister Corinne Lemmer received the Pioneer Nursing Award, and MMC Assistant Professor of Nursing Carol Stewart received the Nursing Practice Award.
"Mount Marty has been educating baccalaureate nurses since 1964, and these awards demonstrate a continued and consistent caliber of excellence in the development of nurses for over 50 years," said Mount Marty College Dean of Nursing and Health Sciences Kathy Magorian. "We are proud to produce nurses who are capable, competent and safe so the healthcare of residents of South Dakota are in good hands."
Bierma, an MMC alumna, received a District Nurse of the Year Award for her significant contribution to the district's nursing profession through her work as a nursing educator and role model, helping to raise a highly capable generation of committed, talented area nurses.
Awarded the Pioneer Nursing Award, Lemmer was recognized for her trailblazing spirit, leadership and methods as a nursing practitioner. This award recognizes a nurse who exemplifies the spirit that motivates other nurses to follow on a path less traveled.
Recipient of the Nursing Practice Award, Stewart was recognized for her strength of character, commitment, and competence as it pertains to direct patient care and for her contributions to the advancement of the nursing profession. Each year, SDNA presents the award to a registered nurse who demonstrates excellence in helping patients maintain optimum levels of health and functionality as individuals and members of the community, improving overall quality of direct patient care in the district, and for being a leader who inspires a higher level of commitment and patient care in his or her peers.
A constituent member of the American Nurses Association, SDNA is a professional organization for registered nurses in South Dakota. The association works to support professional nursing through advocacy, communication, networking and collaboration across nursing specialties. To learn more about SDNA, visit www.sdnursesassociation.nursingnetwork.com.
Emphasizing both care and cure, MMC's rigorous nursing program offers specialty training in pediatric, maternity and medical-surgical nursing as well as gerontology, mental health, critical care, and community health. Students gain clinical experience at a variety of locations, including Avera Sacred Heart Hospital, Mickelson Center for Neurosciences and the Yankton County Community Health Nursing Agency. In spring 2018, 100% of MMC's students pursuing a Master of Science in Nursing degree passed their national board certification exams.
MMC is a Catholic, Benedictine institution of higher education located in Yankton, South Dakota that offers undergraduate and graduate degrees with a particular focus on student and alumni success in high-demand fields such as health sciences, education, criminal justice, business, accounting, recreation management and more. A community of learners in the Benedictine tradition, Mount Marty emphasizes academic excellence and develops well-rounded students with intellectual competence, professional and personal skills, and moral, spiritual and social values. To learn more about MMC, visit www.mountmarty.edu.