MMU Student and Yankton Native Awarded Presidential Scholarship
May 23, 2022
May 23, 2022, YANKTON, S.D. – Mount Marty University (MMU) has selected Yankton-native Joseph Stibral as the Mother Jerome Schmitt Presidential Scholar for the 2022-2023 academic year.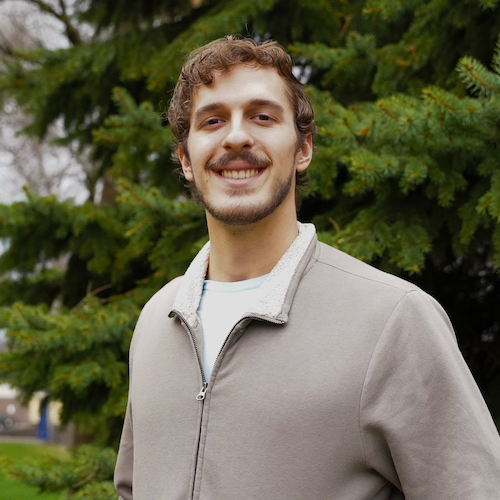 A nursing major from Yankton, South Dakota, Stibral was selected to receive the prestigious, full-tuition scholarship based on his scholastic achievement, participation and contribution to the academic and civic community, along with faculty recommendations.

When asked about his essay application, titled "Leaders Must Listen: A Reflection on My Time at Mount Marty University," Stibral shared, "The rule of 'listening' has helped me to slow down and think through some important things. As the Bible says, we are to be 'slow to speak and quick to listen.' That's some wisdom that's hard to argue with."

Aside from his studies in nursing, Stibral is Student Government Association president, Student Nursing Association president and a choir member. He has also performed in many theatre productions. Stibral is active in intramural sports and campus ministry, where he participated in the Walk for Life, Busy Person retreats, Liturgy of the Hours and prayer partners.

Each spring, the scholarship awards a student heading into their senior year at MMU full tuition for one academic year. The application asks students to submit a 1,200-word narrative addressing how the Rule of Saint Benedict shapes the ideals of MMU—including how those ideals are exemplified by the university community—and how an education at MMU has influenced them and how they see their career path creating their future.

As Stibral looks ahead to his senior year this fall and a career as a registered nurse, he says he feels beyond blessed for both the scholarship and his experience at MMU.

On May 4, MMU also awarded several Student Life awards, which Student Affairs staff members voted on. This year's recipients included:
Walter J. Bigley Memorial Award: Daniel Roche of Norfolk, NE
Benedictine Balance Award: Seth Wiebelhaus of Fordyce, NE
Leadership Among Peers Award: Grant Martinson of Marshall, MN
Father Thomas Wordekemper Service to the MMU Community Award: Abby Thomas of Loretto, MN
Father Owen Award: Justin Pioske of Chisholm, MN, and Haley Gonsor of Aberdeen, SD