MMC Honors 128 Graduates, First Doctors At Spring Commencement
May 14, 2019
YANKTON — On Saturday, May 11, 2019, the friends, family, faculty, and staff of Mount Marty College gathered in Laddie E. Cimpl Arena to celebrate the accomplishments of the graduating class of 2019 — and witness history in the making as four students became the first MMC grads to receive their doctoral degrees from the College.
During the hour-long ceremony, the College conferred four Associate of Arts degrees, twenty-two Bachelor of Science in Nursing degrees, one Bachelor of Science, forty-three Bachelor of Arts degrees, seventeen Master of Science in Nursing degrees, five Masters of Education degrees, and four Doctor of Nurse Anesthesia Practice degrees. The commencement ceremony also honored 32 students who are slated to graduate in August.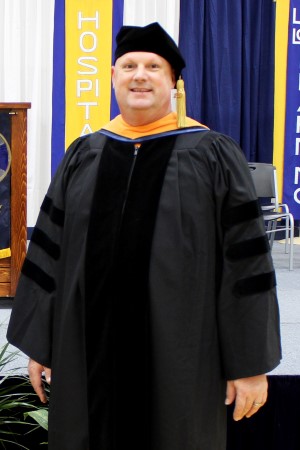 The symbolism of a student come full-circle was not lost as Chris Bender, one of MMC's newly minted doctors, served as commencement speaker. Bender has a special relationship with MMC, having received his Bachelor of Science in Nursing ('95), Master of Science in Nurse Anesthesia ('05) and now his Doctorate of Nurse Anesthesia Practice ('19) from the College. Today he is the anesthesia director for Vance Thompson Vision in Sioux Falls, South Dakota and is co-inventor of the MKO Melt conscious sedation troche.
During his commencement address, Bender shared the wise words of Winston Churchill with a crowd of attentive ears. "Success is not final; failure is not fatal: it is the courage to continue that counts."
Bender went on to explain the understanding he's cultivated surrounding this statement, "Both success and failure require the courage to continue," said Bender. "Success requires it for continued success, failure requires it, well, because no one wants to be a failure." To Bender the key to embracing success and avoiding failure is the pursuit of excellence and the decision to take advantage of as many opportunities as possible; a belief he puts into practice now, as his invention embarks on the beginning stages of FDA approval, and two years ago as he joined his fellow graduates, Doctor Taylor Rehfeldt, Doctor Angela Kent, and Doctor Andrea Roberts in a journey toward higher education. "It has been really awesome to get to know Taylor, Angela, and Andrea better. Those three women are very smart, talented, and motivated. It doesn't necessarily define who I am today, but for all eternity we will be connected as the first graduating doctoral class, and that's pretty special."
Mount Marty College offers degree programs from the associate to the doctoral level in popular fields such as nursing and education. For more information about majors and programs at MMC visit www.mtmc.edu.