Logan Wagner Named Head Golf Coach and Assistant Basketball Coach at Mount Marty College
March 28, 2018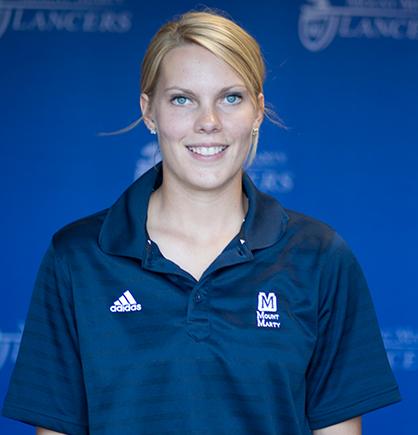 YANKTON – Mount Marty College (MMC) in Yankton, South Dakota, recently announced the appointment of Logan Wagner ('17) to the roles of head coach for the men and women's golf teams and assistant coach of the women's basketball team.
Lancer Nation is familiar territory for Wagner. The Parkston, South Dakota native graduated from MMC in 2017 with degrees in business and accounting. An athletic stand-out, Wagner excelled both on the green and the basketball court.
The highlights of her collegiate golf career include six tournament wins, placing in the top ten in GPAC Golf all four years and closing out her career with 12 of Mount Marty's lowest 15 scores of all-time.
Also a leader on the court, Wagner was a four-year letter winner in basketball, earned all-conference honors three times and broke the school record for most career three-point field goals. Wagner racked up more than 1,000 career points, helped the 2015-2016 team to a national semifinal appearance and was named Mount Marty's offensive player of the year in 2017.
As a senior Wagner was named the 2016-2017 Female Athlete of the Year.
Head Women's Basketball Coach and former Head Golf Coach, Todd Schlimgen, is looking forward to Wagner's return. "We are extremely pleased that Logan decided to return to Mount Marty as the head golf and assistant women's basketball coach." said Schlimgen. "Her combination of hard work, determination, discipline, competitiveness, and coaching ability will be very beneficial to the student-athletes as well as the coaching staff for both sports."
For the past year, Wagner has been at Concordia University in Seward, Nebraska where she currently serves as the graduate assistant golf coach for the men and women's golf teams. Wagner says she is thankful for the guidance and relationships she formed at the school. "I want to thank Coach Muller and the entire athletic department at Concordia. I am forever grateful for and appreciative of the relationships I've built there and for everyone who embraced me and did so much to prepare me for this next chapter in my life."
Though her experiences outside of Lancer Nation have been great, Wagner is looking forward to returning to her alma mater as a coach. "I am very excited to be returning to the campus and community that did so much to serve me as a student-athlete," says Wagner. "I look forward to the challenges and opportunities that lie ahead, and will work hard to help the golf programs and women's basketball program reach their max potential."
MMC Athletic Director, Chris Kassin says Wagner's experience will round out the department. "We are very excited for Logan to join the Mount Marty College coaching team. Her knowledge of what it takes to be successful in both sports will be a tremendous asset to our department."
Wagner will take the helm of the Lancer golf teams starting in the fall of 2018.
For more information on Lancer athletics, visit www.mmclancers.com.