Faith Draws Mount Marty Alumna Kathy Magorian to Leadership Role as New Dean of Nursing and Health Sciences
September 9, 2019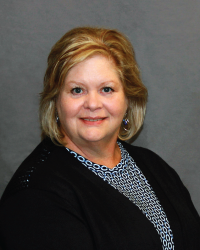 Kathy Magorian '97 has been selected to lead Mount Marty's nursing and health sciences program as its dean. "The idea of coming back to Mount Marty was always something I hoped might happen," she says.
Her desire to join MMC is driven by more than typical alma mater loyalty. Magorian says she decided to return because she was at a point in her career when she realized that she needed to be part of a faith-based school.
In addition to the program's many opportunities for hands-on experience, Magorian says it stands out from other nursing programs because Mount Marty instructors are able to teach future nurses the importance of the holistic approach, which tends to the body, mind and spirit using Benedictine values.
"When you have an institution whose values are rooted in the gospel and whose mission is centered on the awareness of God, the product of that educational environment is one that far exceeds any institution who can't address that spiritual component," Magorian says.
Magorian has joined a successful Lancer team of educators and students. Emphasizing both care and cure, Mount Marty's rigorous nursing program offers specialty training in pediatric, maternity and medical-surgical nursing as well as gerontology, mental health, critical care and community health. Students gain clinical experience at a variety of locations, including Avera Sacred Heart Hospital, Mickelson Center for Neurosciences and the Yankton County Community Health Nursing Agency. In spring 2018, 100% of Mount Marty students pursuing a Master of Science in Nursing degree passed their national board certification exams.
A proponent of lifelong learning, Magorian received her Bachelor of Science in Nursing degree from Mount Marty in 1997 and her Master of Science in Nursing degree from the University of Southern Indiana in 2005. She obtained her Doctor of Education degree from the University of South Dakota in 2013.
Before she earned her master's degree, Magorian taught in Mount Marty's nursing program for six years. She then became director of the nursing program at the University of South Dakota's Vermillion campus, which was a position she held for 11 years. After, she taught at Briar Cliff University for one year before becoming dean of nursing at Mount Marty.
Magorian says the health care industry currently needs two things: numbers — given the worrisome nursing shortage that has been projected for years — and nurses who are passionate, humble and wanting to improve the health of patients and their surroundings.
"At our core, we must never forget why we do what we do, which is to improve the health of our patients and the communities they live in," Magorian says.