All in the Family
October 31, 2019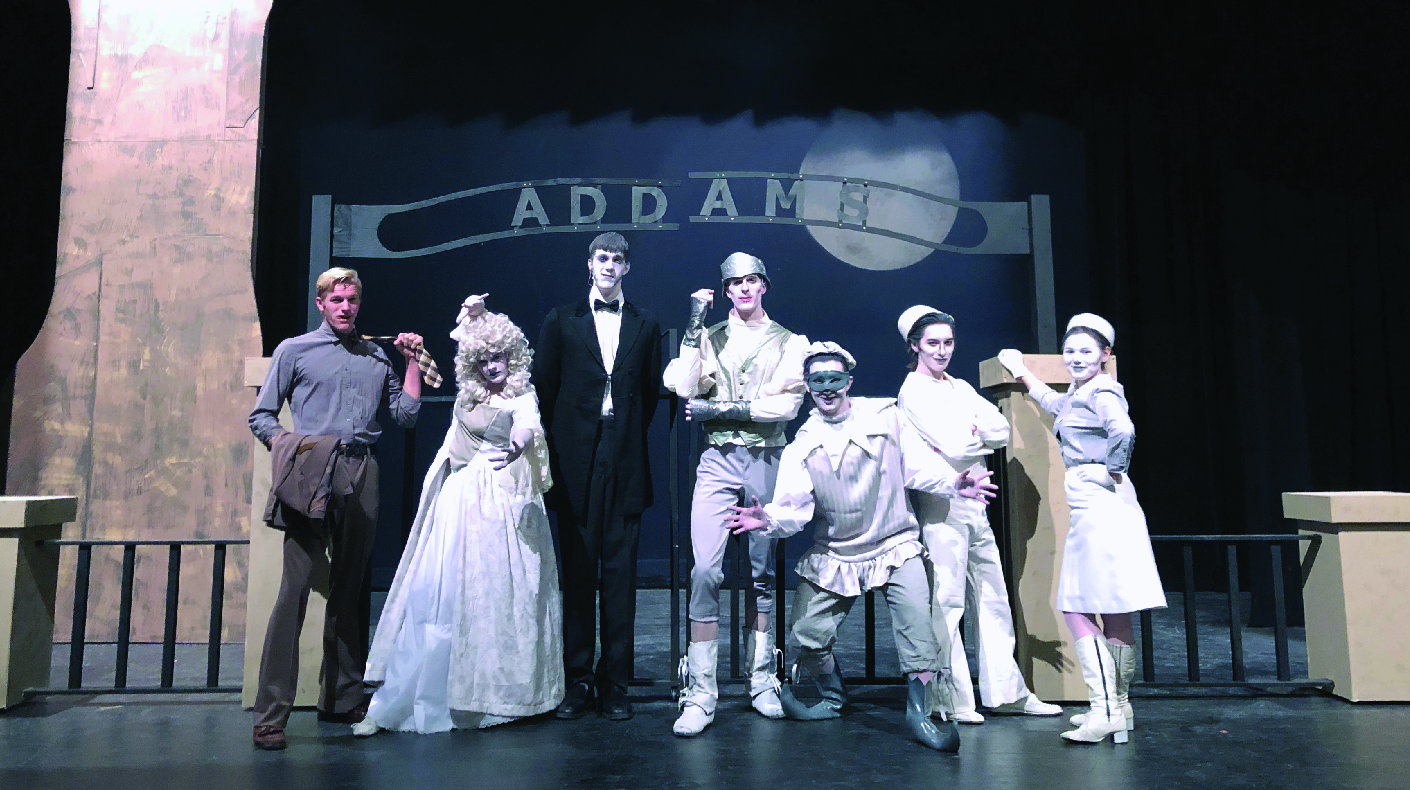 Family values are alive and well at Mount Marty College. The school's latest theater production is living proof — in a kooky, spooky, ooky sort of way. The Addams Family Musical debuts in Marian Auditorium on Halloween, sporting a cast of students, faculty and community members. From the first finger snaps of the overture, you'll be hooked on the ghoulish fun.
Based on the Charles Addams cartoons that ran in The New Yorker magazine for 50 years last century, the quirky Addams Family characters have appeared on television, in movies and on stage. In this 2019 version of the Broadway hit, the whole gang — Gomez, Morticia, Wednesday, Pugsley, Grandma, Uncle Fester and loyal butler Lurch — will be on hand to hobnob with the "ancestors" for the annual Addams get-together in the family's Central Park home. But there's a twist this Halloween — daughter Wednesday is all grown up and in love with (gasp!) a normal young man.
As Gomez and Morticia try to come to grips with this new side of their daughter — complete with a bright new wardrobe — the audience will delight in composer Andrew Lippa's catchy tunes, accompanied by lively dances and unique plot twists. A familial strain runs through the production, and we're not just talking about the eccentric characters onstage.
The Stibral and Fargo families are making multiple contributions to the cast of The Addams Family Musical — four Stibrals and three Fargos populate the production's playbill.
It's a lovely happenstance, says MMC Theatre director Andy Henrickson. "For the past few years, we have opened up our auditions to the community beyond MMC students and have enjoyed the opportunity to work with faculty and staff from the college as well as community members," he says. "Who would have thought a couple of young men who were cast last year in our productions would now be enrolled at MMC!"
The Stibral family has been treading the boards in Yankton community theater for some time now. The four home-schooled siblings performed songs and skits at local churches when they were younger, says MMC freshman Joey Stibral, but "it wasn't until high school that I participated in a theater company. My three younger siblings were right behind me, and those shared experiences both on and off stage helped us bond closer than ever before."
A nursing major at MMC, Joey says he found his past experience with "the Mount" as a community member led him to attend college here. "I knew I'd feel comfortable performing on this campus as my home," he says.
Joey plays one of the Addams family ancestors in the musical. "The Conquistador is definitely the loudest of the spirits," he says, "very much a proud Spaniard." As an ensemble cast member, Joey also performs a passionate tango number. His brother Josh has been cast as Wednesday's love interest Lucas, brother James plays Lurch, and sister Elizabeth appears as another ancestor.
"It's special that the three of them can perform with me even as I'm at college," Joey says.
"Family members certainly bring a familiarity factor to the production," Henrickson says. "We are fortunate with our family connections in The Addams Family Musical to have family members who get along with each other and enjoy spending time together."
For Quinn Fargo, the Mount Marty theater experience dates back six years when he and his siblings were in the Lewis & Clark Theatre Co. production of The King and I. "I always have a fun time in the shows I'm in, especially when I have some of my family in the show," he says. Quinn, who plays the zany Arlecchino ancestor, performs with his brother Seth and sister Natalie Nayokpuk, fellow ancestors in the choral ensemble. Serving as dance captain, Quinn also performs a mean tango in the production, a talent right up his alley as a performing arts major.
"The bottom line with our productions is to find individuals who want to be a part of something bigger than themselves, to be part of the team here in the theater," Henrickson says. He and fellow speech and theatre instructor Jim Hovland take pride in promoting the college's core values of hospitality and community. "Theater, at its heart," he says, "is all about community."
It worked for Quinn Fargo. "I chose Mount Marty because it felt like they wanted to have me here," he says. "It is everything I hoped it would be and more."
So get your witch's shawl on and grab a broomstick you can crawl on. Then make your way to Marian Auditorium October 31 to November 3 and pay a call on the Addams family. Showtimes are 7:30 p.m. Thursday through Saturday with a 2 p.m. matinee on Sunday.
Tickets are $10 for adults and $8 for students; order online at www.mountmarty.edu/boxoffice. Ooky fun!