3D printer sparks new service project at Mount Marty
February 22, 2022
MOUNT MARTY UNIVERSITY, YANKTON, S.D. — When Sister Bonita Gacnik, OSB, spotted an idle 3D printer on campus it sparked an entirely new teaching opportunity and the beginning of a new service project for the Bio-Chem Club at Mount Marty University.

Through e-NABLE, an online global community of volunteers who make free and low-cost upper limb devices, Sr. Gacnik and Bio-Chem Club co-presidents, Emily Dorn and Carlie Wetzel, print and ship hand and arm prosthetics to children and adults who were born without or have lost their upper limbs.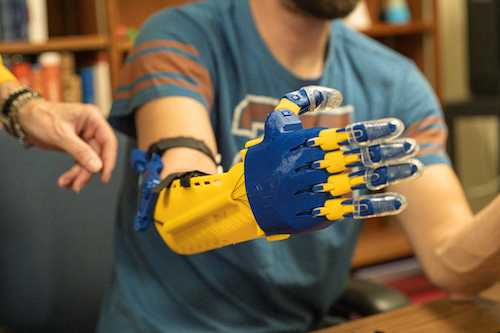 "Our goal is to give these prosthetics to people who have a need," Sr. Gacnik said. "Many people in the United States can get a prosthetic hand or a prosthetic arm, but there are some who can't, and our hope is to find those people."

Remarkably, they found their very first client just over 300 miles away in Elm Springs, South Dakota.

"Austin [Trask]'s mother contacted me last fall asking if we could help him. At that point, I had never made a prosthetic arm before, but he and I worked on it all day together," Sr. Gacnik said. "We had to do some restringing and remolding, but we were able to actualize our idea and send him home with his prosthetic arm."

While a highlight of his experience was seeing first-hand the University's powerful platform of education and service coming together to build strong communities, Trask also shared how amazed he was at seeing the Bio-Chem Club's pursuit to engage in real-world needs with real people in our communities.

"It makes me smile to have experienced Sr. Bonita's genuine enthusiasm for utilizing the talent and creative energy of the students to learn and improvise the practical application of such versatile technology and software," Trask said.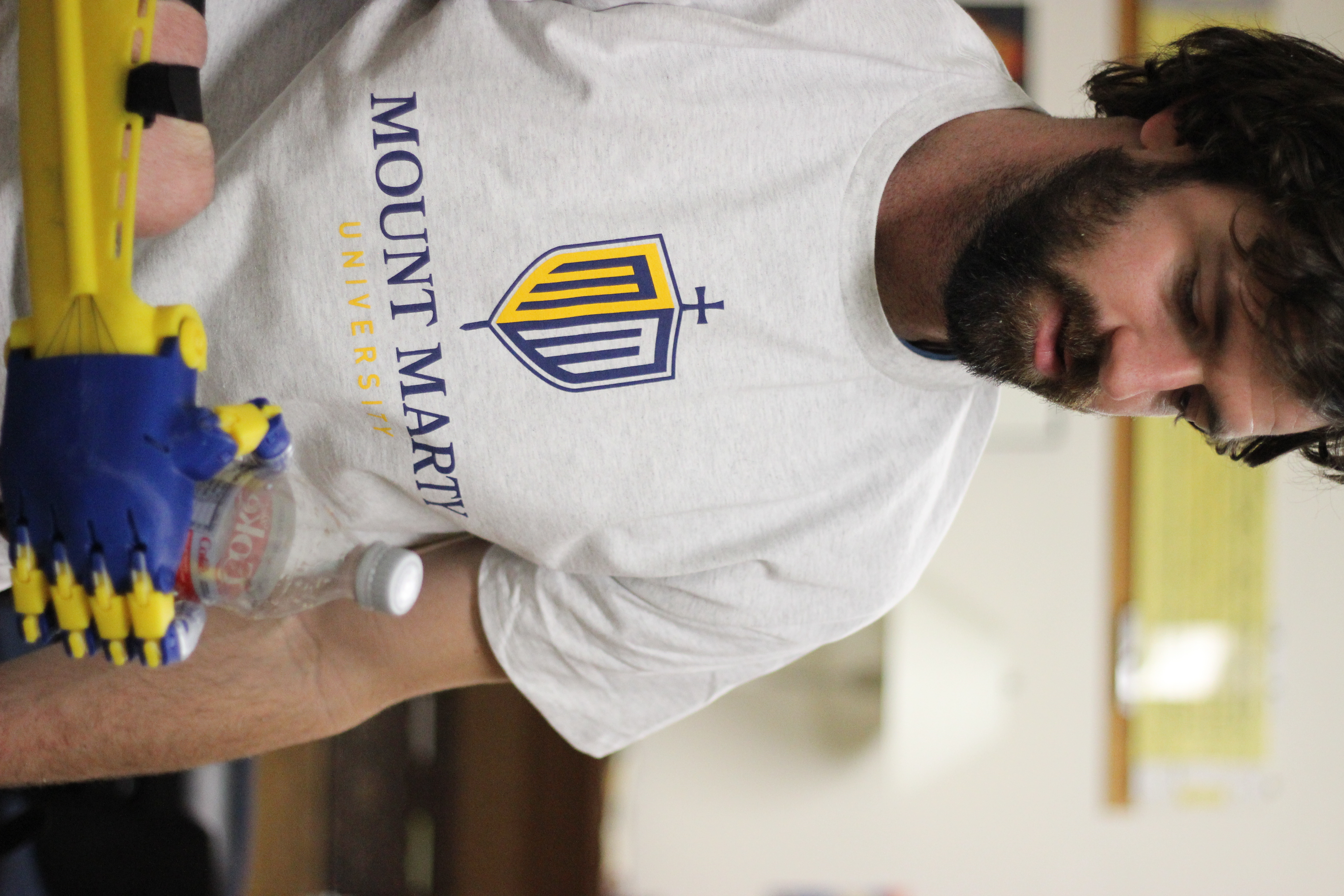 To create Trask's prosthetic limb, custom measurements were gathered and fed into a software program to perfectly size and print each piece of the prosthetic. The prosthetic was then strung with 80-pound test fish line, allowing him to grip and hold items with the flex of his elbow.

"There are so many people in the world, and maybe even the Yankton area, who might need this," Sr. Gacnik said. "In the end, making the prosthetics isn't the goal. It's about giving them to somebody. To give someone a chance to hold an apple and eat it or hold a bottle of water and drink it."

Sr. Gacnik also notes that the project is compatible with what Mount Marty is all about: service.

While working as a software engineer in Boulder, Colorado, Sr. Gacnik felt called to join the monastery and devote her life to the Benedictine way of life.

"My older sister was a Benedictine in our monastery at the time, so I would come up here and spend time with her," Sr. Gacnik shared. "As a new member of the monastic community, it's important not to come with an agenda other than to embrace Benedictine spirituality and the monastic way of life. Our individual ministries flow from this."

In her first few years at the monastery, Sr. Gacnik's passion for teaching led her to receive her Master's in math and computer science, credentials necessary to begin her teaching career at Mount Marty in 1989.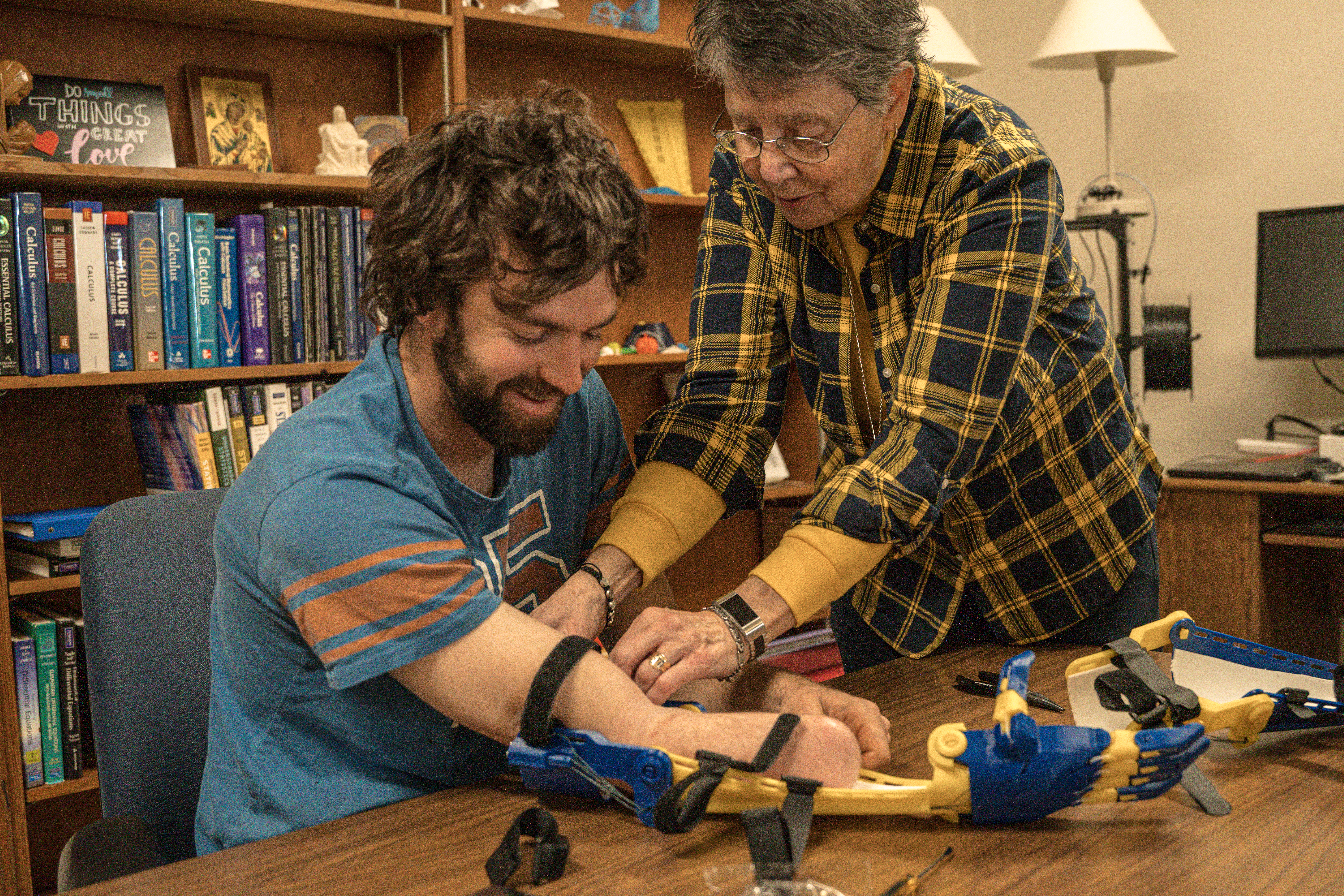 Mount Marty University has seen Sr. Gacnik go from math instructor and director of the Information Technology Department to developing the school's computer science major. Today, she serves as a mathematics professor, co-director of the radiologic technology program, and now advisor of the Bio-Chem Club.

When asked what she loves most about what she does at Mount Marty, Sr. Gacnik shared, "I tell my students, 'Whatever you do, allow it to be fun.' I really try to enjoy the mundane things in this life and to focus on doing things right. For me, that's joy in and of itself."