Heron, Dr. Jason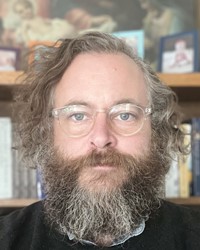 Title:
S. Wilma Lyle Endowed Chair of Theology, Assistant Professor of Theology
Department:
Arts and Humanities
EDUCATION
B.A., Indiana Wesleyan University
M.A., University of St. Thomas
M.A., Asbury Theological Seminary
Ph.D., University of Dayton
COURSES TAUGHT
BLI 101
BLI 201
Jesus the Christ
The Christian Life
Peace and Justice
Introduction to Theology
Composition
Creative Nonfiction
BIOGRAPHY
My wife, Hannah, and I have six children: Margot, Eloise, James, Thomas, Frances, and Lily. We've moved around a lot as my academic career has unfolded. We moved to Yankton in 2017. Since that time, I have served MMU as an assistant professor in the Theology and Philosophy department. Sometimes, the English department let's me teach writing and literature courses. These are my first loves, so I'm so grateful to get to cross disciplines. I love teaching. It gives me a lot of life. I'm grateful for my students, who continue to push me to be better and better. MMU has provided me with an ideal environment in which to become a better listener and a lifelong learner.
Research Interests
Catholic social thought

Virtue ethics

Benedictine history and spirituality

Liberal arts education
Publications
I have published articles in New Blackfriars, Nova et Vetera, Journal of Moral Theology, Journal of Religious Ethics, and Journal of Catholic Social Thought.