Dahlen, Dr. Larry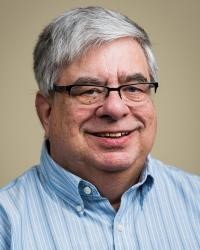 Title:
Professor of Nurse Anesthesia

EDUCATION
B.S., Nursing, Moorhead State University
M.S., Nursing, University of North Dakota
Ph.D., Nursing, University of Nebraska
COURSES TAUGHT
ANE 602 Advanced Anatomy and Physiology
ANE 604 Advanced Anatomy and Physiology II
ANE 608 Advanced Anatomy and Physiology III
ANE 606 Advanced Pathophysiology I
ANE 610 Advanced Pathophysiology II
ANE 632 Role Development Practicum I
ANE 672 Cognizance in Nurse Anesthesia Practice
BIOGRAPHY
Dr. Larry Dahlen received his initial nursing education at St. Luke's Hospital School of Nursing (1971 to 1973), anesthesia training at St. Luke's Hospital School of Nurse Anesthesia (1975 to 1977), his Bachelor of Science degree in Nursing from Moorhead State University in 1985, Master of Science in Nursing from University of North Dakota in 1989, and Research Doctorate (PhD in Nursing) from the University of Nebraska in 2007.
His clinical experience includes work at a level II trauma center, office-based anesthesia, anesthesia in a free-standing same day surgery center, and anesthesia in a rural setting. The majority of his time was spent at the level II trauma center while providing anesthesia coverage at the other areas. He has been in an anesthesia care team setting the majority of the time but functioned with considerable autonomy.
Academic achievements
2009 - Eva Vraspir Escellence in Nursing Alumni Award Moorhead State University
2011 - Distinguished Faculty Award Mount Marty College
2014 - National Didactic Instructor of the Year American Association of Nurse Anesthetists
PUBLICATIONS
Dahlen, L., & Oakes, J. (2017). A review of physiology and pharmacology related to acute perioperative pain management. AANA Journal, 85(4), 300-308.
Dahlen, L., Zimmerman, L., & Barron, C. (2006). Pain perception and its relation to functional status post total knee arthroplasty: a pilot study. Orthopaedic Nursing, 25(1), 264-250.
Martinez, J., Moos, D., & Dahlen, L. (2006). Droperidol's effect on QT interval. Journal of PeriAnesthesia Nursing, 21(2), 82-87.