treble hook. | Finding the Light: Looking into the Eyes of an ESA
February 14, 2023
I was fifteen years old when I thought maybe I did not belong here, in this world. Depression and anxiety had taken me captive and had convinced me every ounce of light left in my life had been diminished. I had to fight for my life, and it was a battle I was not convinced I could win.
A few months later, I leaned over a tiny, crate cage and laid my eyes on two, dark brown eyes. As I lifted him to my chest he wrapped his front paws around my neck, almost as if he was hugging me. As he folded into my arms, I felt my body ease into his warm embrace.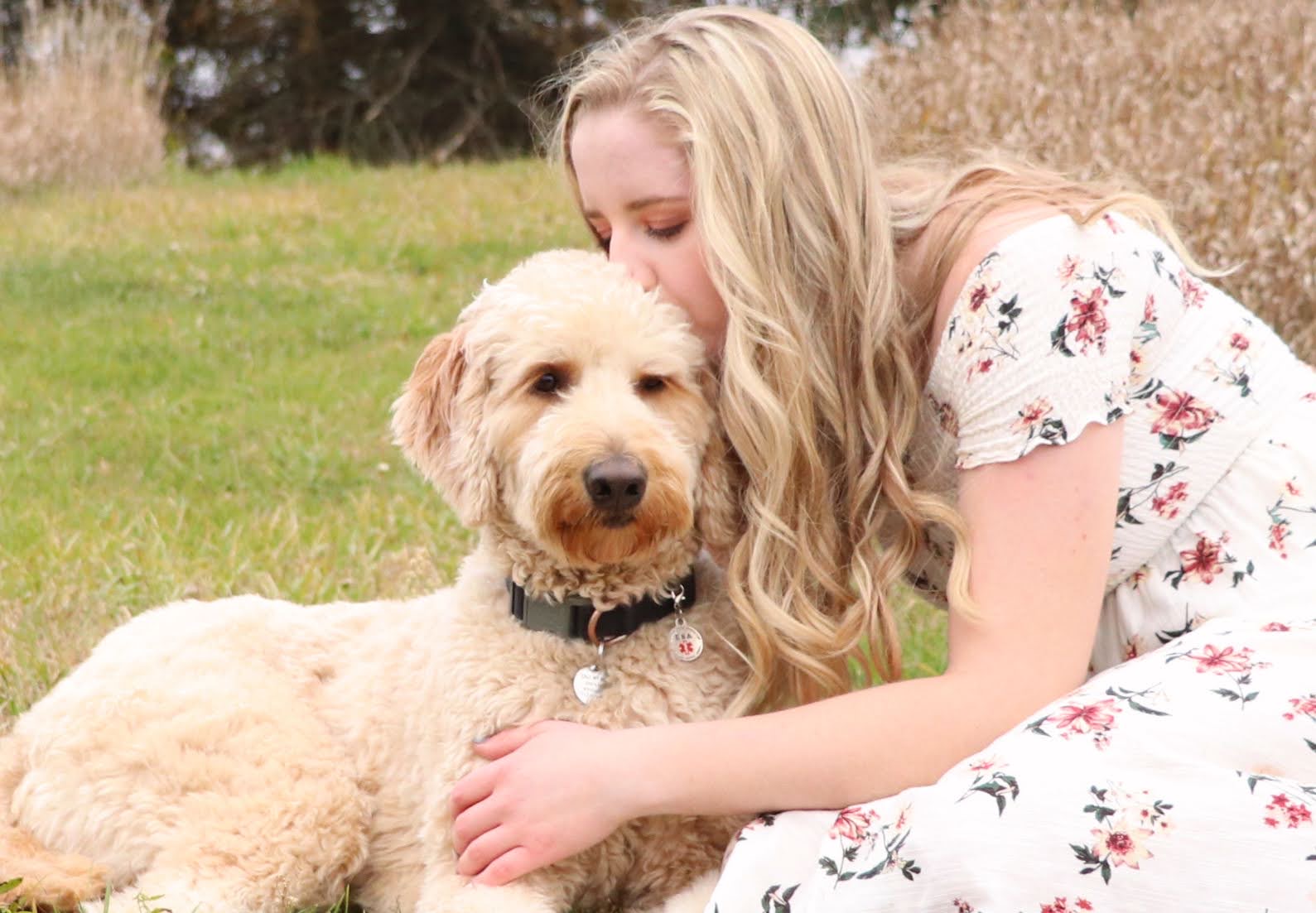 It was the first time, in months, I had allowed myself to truly fall into someone else's love. I would like to believe we chose each other, but whatever the truth may be, he played a key role in sparking light back into my life. My mother told me, "He opened you up to loving someone again, and the companionship allowed you to welcome touch back into your life."
The actual process of having him officially certified as an Emotional Support Animal (ESA) was not too difficult. To receive certification I had to obtain a documentation letter from a professional third-party. ESA documentation varies exponentially from the documentation of a Psychiatric Service Animal, and proper research and consideration should be discussed with a professional before deciding which route to take. "The differences between a pet and an ESA are important to be aware of," stated the director of Counseling Services at Mount Marty University, Keley Smith-Keller, "and the efficacy of having an ESA is fairly well documented."
SEE THIS LINK FROM THE ONLINE MAGAZINE, BMC PSYCHIATRY FOR MORE INFORMATION.
Several students on Mount Marty University's (MMU) campus have ESAs, and I have witnessed, first hand, the light they bring into other students' lives. Calli Davis, a student at MMU, shared the support she has received through having an ESA: "Even when I feel at my worst, Matilda always lifts my spirits." Having the knowledge and awareness of what these animals provide, gives those who have ESAs the ability and reassurance to learn, educate, and advocate on the relevance and benefit of finding support. Gabby Ruth, a student at MMU, believes her ESA assisted her in gaining awareness: "Salem helps me recognize the importance of taking care of myself, and she helps me with my anxiety, reminding me of joy on difficult days."
| | | |
| --- | --- | --- |
| | | |
| Calli Davis and her cat, Matilda | Gabby Ruth and her cat, Salem | Kendra Horsley and her dog, Novy Bear |
Having access to an emotional support animal has allowed me to grow in more ways than one. My grandmother believes, "Your dog's knowledge of what you need, in means of emotional support, is incredibly reassuring because he reminds you that you are not alone." His presence has taught me the possibility of opening my heart to unconditional love and gentle grace. The light, which was once engulfed by darkness, slowly crept out after the day I looked him in the eyes, and his devotion has endured through every trial and tribulation I have walked through since. My papa once said, "This dog puts his paw on your leg, letting you know everything will be alright, and he is the loving companion which brightens up your life."