Mount Marty University Announces New Doctor of Nursing Practice Program
April 15, 2021
Mount Marty University announced another major advancement in their programming this spring with the introduction of a Doctor of Nursing Practice (DNP) program with an emphasis in leadership and education. This terminal degree enables nurses to take the next step in their career by becoming a nursing educator or executive leader in clinical or educational settings.
After a year touched by growing focus on healthcare and wellness, it is apparent there is so much more to be done to improve healthcare in the region. Mount Marty University is proud to further their position as a leader in nursing education by filling a critical gap that exists between direct patient care and the leaders and educators who guide it.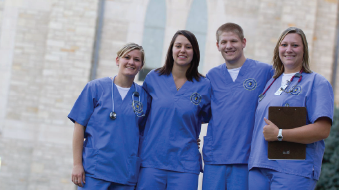 The Doctor of Nursing Practice (DNP) at Mount Marty is designed specifically to prepare individuals for specialization in nursing leadership and education, incorporating a high level of leadership in practice and scientific inquiry. Additionally, the program incorporates pedagogical methodologies, adult learning theories and evaluative measures of learning outcomes into the curriculum. In the end, DNP graduates will emerge with the tools to serve as a leader and educator able to guide patient care to improve outcomes.
According to Dr. Kathy Magorian, MMU's dean of nursing and health sciences, the goal of this program is to prepare graduates to serve as expert practitioners with the ability to quickly synthesize information and apply that information as an educator or leader to improve patient outcomes.
"This program will provide an opportunity – one that currently does not exist in the state – to master's prepared nurses who desire or are required to pursue their terminal degree," says Magorian. "A focus on leadership and education allows expansion of the advanced practice nurse or nurse educator to hone their skills in these two critically underrepresented areas in the nursing profession."
Both USD and SDSU offer DNP programs, but Mount Marty's is the only to focus on leadership and education.
Known for outstanding undergraduate, graduate and doctoral nursing opportunities in nursing and education, Mount Marty University is perfectly situated to launch this program. Further, Benedictine values of leadership and community service are engrained in all of MMU's programming, which will complement the core goal of the program to prepare leaders and educators who will further the nursing profession.
The program, which will launch this coming fall, will take seven semesters to complete with a course load of four to eight credits per semester. Those interested in learning more or submitting an application are encouraged to head to mountmarty.edu/dnp.
The DNP at MMU is currently seeking accreditation through CCNE.