First Ever MMC Soccer Clinic a Success
April 19, 2019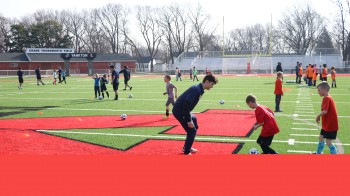 YANKTON, SOUTH DAKOTA — April 6, 2019, was an exciting day for young athletes who gathered at Crane Youngworth Field in Yankton for the first ever Lancer soccer clinic. Seventy-five players, ages eight to eleven, from across the region spent the morning learning soccer basics under the guidance of Lancer men's head soccer coach, Carlos Saenz, and his team.
Saenz says he was happy with the turn-out, "We were really excited about how the day went. We got a good number of kids from Yankton and the surrounding towns, but we also had players from places like Sioux Falls, Sioux City, and Norfolk." Saenz added that there were even a few students who came all the way from Lemars, Iowa to take advantage of the free clinic.
The budding players worked on necessary skills like ball control, passing and receiving, and dribbling and shooting but Saenz says there was also a strong focus on fun. "We wanted the kids to learn but we also wanted to foster their love for the sport, so we practiced a lot of skills but we also made sure the kids had a great time, and thanks to our amazing sponsors, each kid left with their own a soccer ball, bag, water bottle, towel, and frisbee."
Saenz added that the clinic wasn't just fun for the youth — it was also fun for the collegiate athletes who helped run the event. "For our players, I think it helped them remember why they love soccer so much. They had a blast with the kids, and I think they understood the importance of being good role models for the youth."
Looking forward Saenz hopes the clinic will become an annual occurrence. "Nothing is set in stone, but we had good feedback from the participants, and it's also a great way for our players and coaching staff to thank the community for everything they've done for us, so we're hoping that this is something we can do every year."
For more information about Lancer Soccer visit http://www.mmclancers.com/ or follow them on the Mount Marty College Soccer Facebook page.