Marian Pyper Legacy
October 7, 2016
Mount Marty College is grateful for the estate gift left to the college by Bob and Marian (Dendinger) Pyper in 2016. Through their generosity, they have changed the lives of students by providing Mount Marty College scholarships. Please read below to find out more about Marian Pyper's loyalty to Mount Marty and the values that led her to her gift.
Our family has always referred to our aunt, Marian Pyper, as "one of a kind". Marian lived to the age of 98 years. She was a proud but humble person, and was known for her sense of humor and love of God and her family. She grew up on a farm just west of Hartington, Nebraska with her parents, Martha and Will J. Dendinger; she was the second born of five children.
Marian often reminisced about their idyllic farm life: a one-room school house, the innocent times when their best friends, the Burneys (Dwight) and the Elliots (Erl) would bring their families together and the children would play games, make ice cream or lemonade, and dance away on the farmhouse kitchen floor. Her fond memories of learning to drive the family car at age 14 and of harvest time and driving cattle the six miles into Hartington town made for interesting and evocative stories.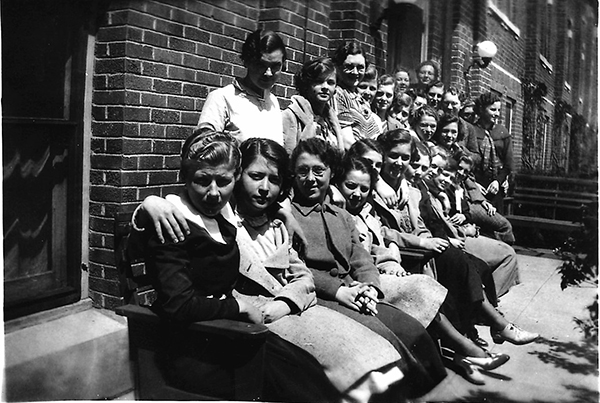 Marian Dendinger attended Mount Marty High School with her three sisters.
As an adult, Marian was excited to spread her wings as she travelled all over the US and eventually, during the backdrop of WW2, she made her way to San Francisco to see what opportunities might await her there. Marian quickly got work as a sales lady at one of the finest department stores in town, followed by work as a secretary for an export firm. Next, was a stint with the United Fruit Company in Panama. She worked for a year on a banana plantation, joining her sister Kathleen who was a company nurse. A final overseas assignment was 5 years on Guam, working in the personnel department of a company which was rebuilding the island after the war.
As fate would have it, when Marian's plane landed on Guam a very nice young man named Bob Pyper (a Navy vet from Kankakee, Illinois) was sent to pick up all of the new hires in a company truck. As the new workers deplaned, Marian rush ahead of the pack and ensconced herself in the front seat of the truck. Without even saying hello, Marian turned to Bob and stated: "Tomorrow is Sunday and I am Catholic and need to be picked up in the morning to get to Mass." Bob, a Presbyterian, immediately replied: "I'll pick you up at 8 a.m."
Thus, the Pyper's 40+ year love story began. Bob was a devout convert to Catholicism, and the Pyper marriage was a very happy partnership. They settled in San Jose, CA in 1951. Though they prayed to have a family, no children came; their eight nieces and nephews were the beneficiaries of their loving attention including many fun adventures around northern California. Our aunt and uncle were moral beacons to us for our whole lives.
My dad's sisters attended boarding school at nearby Mt. Marty Academy in Yankton. Nell, Marian, Harriette and Kathleen spoke fondly of their time at Mt. Marty and Marian believed that her 4-year experience at Mt. Mary formed a solid academic and spiritual foundation for the rest of her life. She often spoke of the Benedictine nuns who were her teachers and of the lifetime friendships she made during high school.
While Marian made monetary contributions over the years to the Mt. Marty College scholarship fund and other charities, when she thought about her legacy, she cited the wise decision of her parents in trusting and choosing the Benedictines of Mt. Marty to educate their daughters. Martha, a teacher by profession, and Will J. Dendinger, a cattle farmer, instilled into their children the values of hard work and honesty based upon their cherished Catholic Church teachings and their basic Midwest values. It became Marian's long-time desire to honor her parents loving examples and to show her gratitude to them and to Mt. Marty for their fundamentally positive roles in her life.
Marian did believe in honesty, hard work and independence. She and Bob, a plumbing salesman, invested in the stock market over many decades and, in local real estate. She and Bob were "savers" and while they lived very modestly, their lives were rich in friends, family and numerous activities. They were also dedicated volunteers: at their church, in a local hospital and at the San Jose airport. At the center of their lives was always the Catholic Church. Marian and Bob were daily communicants and recited the rosary together every evening. They also supported many seminarians during their studies for the priesthood.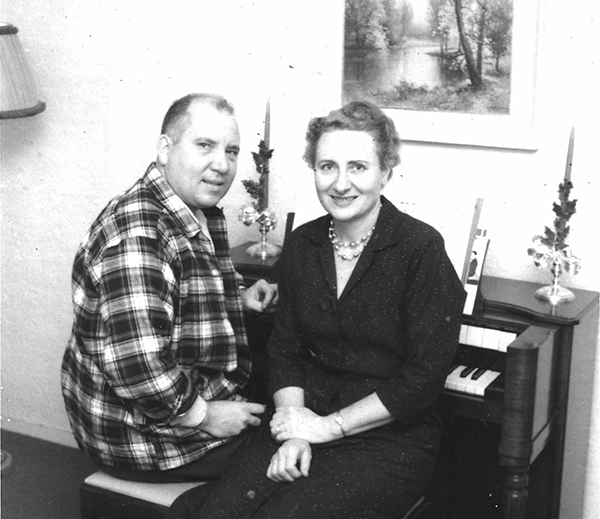 Bob and Marian Pyper
Bob, a man who truly loved Jesus, was called to be with Him in 1985. Marian missed Bob every day until she, to, was called to join him in heaven earlier this year.
Our family thanks Mt. Mary College for their stewardship and for this opportunity to honor our grandparents and aunt and uncle. We send our best wishes for success to all the students who will benefit from this scholarship now and in the future.
Contributed by Gail Dendinger Morthole.