Business Administration
Program Type: Major, Minor
Program Level: Undergraduate, Associate
Department: Social Sciences
WITH A BUSINESS ADMINISTRATION DEGREE, YOUR SKILLS ARE MARKETABLE IN NEARLY EVERY CORNER OF THE BUSINESS WORLD.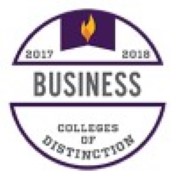 Whether you have a knack for finance, marketing or have a keen interest in health care or human resources, our business administration program will help you share your unique talents. In fact, College of Distinction has awarded Mount Marty University's Business Administration program a first-rate program and recognized MMU as professional accreditations in these fields.
IMPROVE LIVES, IMPACT THE WORLD.
Today's business and market trends guide the business administration program at Mount Marty—and so do our faculty. Our professors understand current business practices and how they relate to accounting, management, business law, and economics because they've done it! They have the professional experience to help you challenge assumptions and dig deeper to find solutions that really work for the modern business world. Both in and out of the classroom, our faculty get to know you and will help steer you in the direction of your God-given gifts, whether you're into investment banking or want to launch your own business idea. You'll also participate in an internship during your junior or senior year, working to improve the community and gain the in-depth knowledge you need to become a leader in your field.
Start your journey.
HAVE ANY QUESTIONS OR CONCERNS?
READY TO GET STARTED?
view the comprehensive costs