Alumni Awards
Each year, the Mount Marty Alumni Association selects the following alumni awards:
The Outstanding Young Alumni Award recognizes a recent graduate (last 10 years) for demonstrating loyalty to MMU, involvement in Church and Civic activities, and the expression of the MMU mission in his or her life.
The Distinguished Service to Church and Community Award is given to an alumnus who exhibits notable leadership abilities in service to their Church and/or community at the local, state, regional, or national level.
The Distinguished Service to Mount Marty University Award is given to an alumnus who is loyal to the Mission of the University, has shown continued interest and support, and reflects honor upon the school with his or her Christian lifestyle.
The Distinguished Professional Achievement Award is given to an alumnus who consistently demonstrates leadership, competence, dedication, integrity, and a commitment to continued education in their chosen profession.
Want to nominate someone?
Congratulations to the 2022 Award Winners!
This year, the Mount Marty Alumni Association will present five Alumni Awards at the Alumni Mass on Sunday, October 30.
OUTSTANDING YOUNG ALUMNA
Jessica (Jurgensen) Clark '12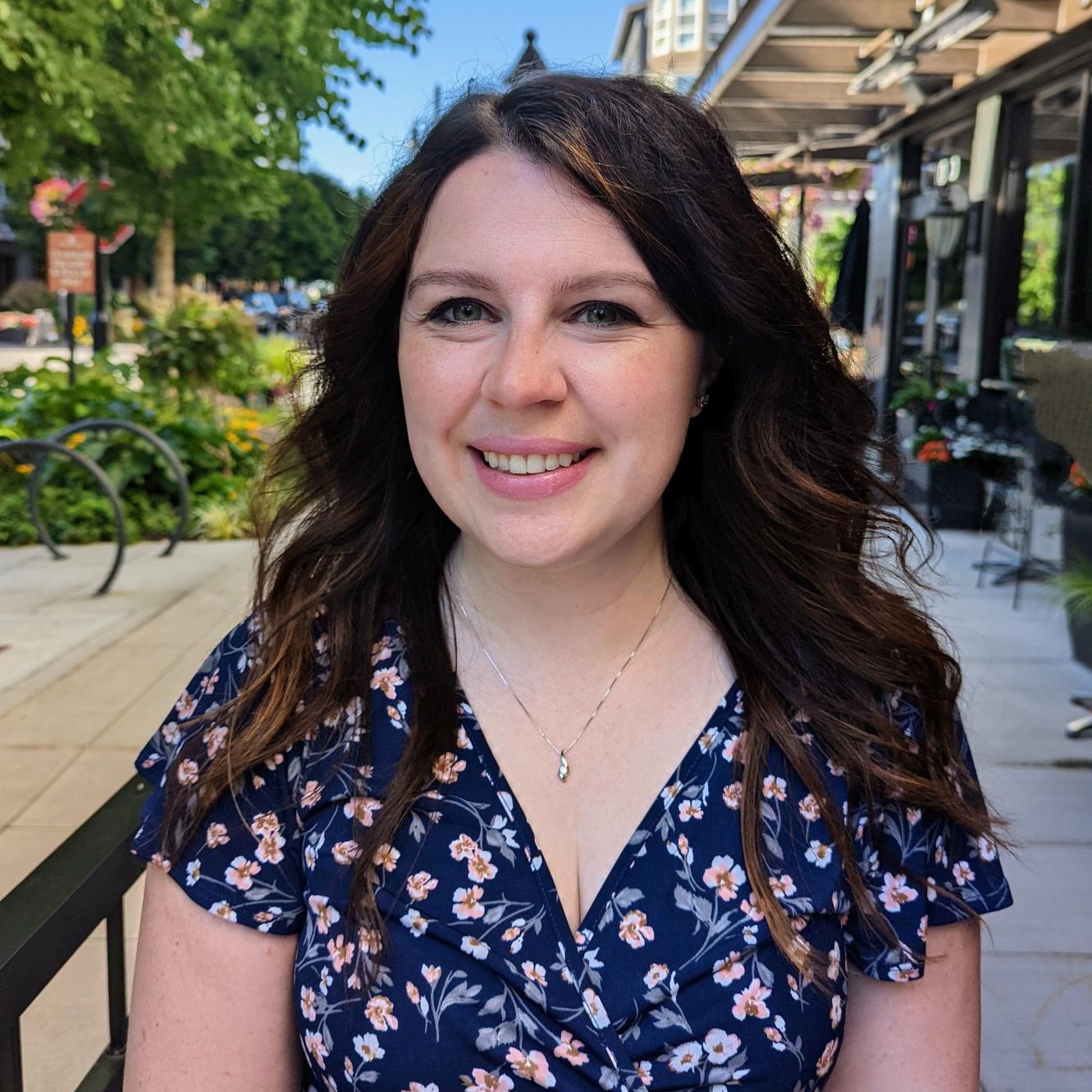 Jessica (Jurgensen) Clark grew up and went to high school in Vermillion, SD. While majoring in nursing at Mount Marty, Jessica played clarinet all four years in the band andpep band. She graduated from Mount Marty in the spring of 2012.
After graduating from Mount Marty, Jessica worked at the Avera Sister James Care Center, now called Majestic Bluffs. She says her time there was extremely impactful and gave her the opportunity to serve the community that provided her the holistic foundation she carries with her today as a nurse. She also worked at Sanford in Sioux Falls on the Renal Dialysis Transplant Unit. After that first year of nursing, Jessica then moved out west to work at EvergreenHeath Hospital in Kirkland, Washington, where she has worked ever since. Jessica is proud of her Midwest roots and happy that she gets to share them in the Pacific Northwest.
In her words, "It was hard to leave SD, but moving out here has been an incredible experience, and only has made me a better nurse. I've had so many opportunities to grow in the hospital that I plan to call my home as long as I'm living out here. The community is extremely supportive of our hospital."
Since being at EvergreenHeath, Jessica has been a bedside nurse, preceptor for new and experienced nurses, affiliated clinical instructor for nursing students, charge nurse, nursing supervisor, chair of both the Nursing Shared Practice Council and the Unit Based Council, shared Assistant Manager of 4 units over a span of 2 years, and now a Nurse Manager for the past year.
Jessica felt the call to get into leadership, because she knew she wanted to serve the nursing profession as an advocate for those at the bedside. Serving as the assistant manager and now manager of the COVID unit has inspired her even more. In Jessica's words, "There is no one stronger than a front-line worker during a pandemic that we are still very much fighting. I would do anything for my team, they truly deserve everything." Jessica also finds ways to celebrate the many disciplinary teams within the hospital to promote morale, as she believes we all need each other to effectively care for our community.
Jessica has been recognized as a Sanford Health Hero winner in 2013, a Daisy Award Nurse winner in 2018, a Nurse Excellence Award Winner for "Inspiring and Motivating" in 2020, and a March of Dimes Nurse of the Year award nominee in 2020. She has generously volunteered in her community through food drives and COVID vaccination clinics.
DISTINGUISHED SERVICE TO CHURCH AND COMMUNITY
Claire (Sung) Reiss '66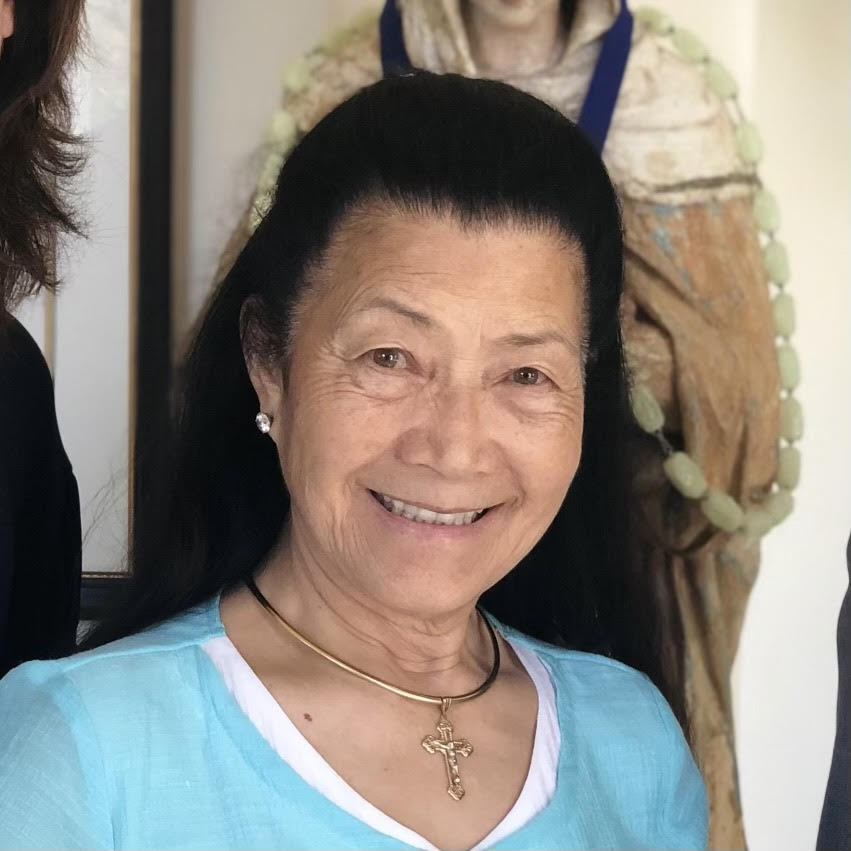 Claire Sung was born in February of 1941, in her family's ancestral village in Guizhou Province, China. Her father was a diplomat for the League of Nations and was often persecuted in China. Her mother, originally from Greece, raised six children in a foreign country, often without her husband.
In the early years of her life when Claire was living in China, her family was sent to live in a straw hut in a very poor area of the country. Under Communist rule, Claire withstood nightly interrogations, degradation, and more than once, she tried to save her mother from torture. During this dark and difficult time of her life, Claire fixed her mind on the Blessed Virgin Mary and found strength.
Eventually, the family moved to Taiwan and Saudi Arabia. Claire was then given the choice to study music in Rome, attend a private girls' college in England, or go to the Benedictine Girls School in Crookston, MN on a scholarship. At the time, Claire was discerning a call to religious life and trusted that God's will would be done. Her family decided that Claire and her younger sister, Rose, would go to the United States to the Benedictine Convent School. They went through quite the shock traveling from Saudi Arabia to New York City in January!
After completing high school in Minnesota, she attended a small liberal arts college called Mount Marty. The Sisters of Sacred Heart Monastery had recently built a hospital and a nursing home and were in need of nurses and lab workers. Claire took medical technology courses and was a chemistry major at Mount Marty. She remembers the Sisters being very industrious, bright, hardworking, and devoted to their prayer lives. Claire greatly admired them.
After graduating from Mount Marty, Claire moved to New York City, where she was introduced to Bob Reiss, who would end up becoming her husband of 37 years until his death in 2005. Together, Claire and Bob lived in New York City, St. Louis, and eventually several places in California, where Claire still lives today. They had two daughters, Lida "Natasha" Reiss and Vida "Tanya" Reiss, and one granddaughter, Sancia Claire Milton.
During their marriage, Claire and Bob were very generous in supporting charitable causes. Claire continues that mindset today. She supports the homeless shelter in San Diego, named Father Joe's Villages, which serves one of the largest homeless populations in the United States with dignity and respect. She is also involved in and supports numerous other Catholic and social organizations including her local adoration group, Children's hospital of Orange County, La Jolla Playhouse, Voices for Children, Jesuit Retreat Center, and Catholic Social Services.
Claire has continued to support and serve Mount Marty by being a member of the Board of Trustees from 1997 to 2000. She has donated over $2 million dollars to Mount Marty to further our mission, recently establishing an endowment to support our new mission scholars program. In 2003, Claire received an Honorary Doctorate from Mount Marty.
Through it all, Claire has remained committed to her spiritual life and her relationship with God and continues to attend daily Mass and prayer.
DISTINGUISHED SERVICE TO MOUNT MARTY
Dave '76 & Marcene (Tomjack) '75 Dickes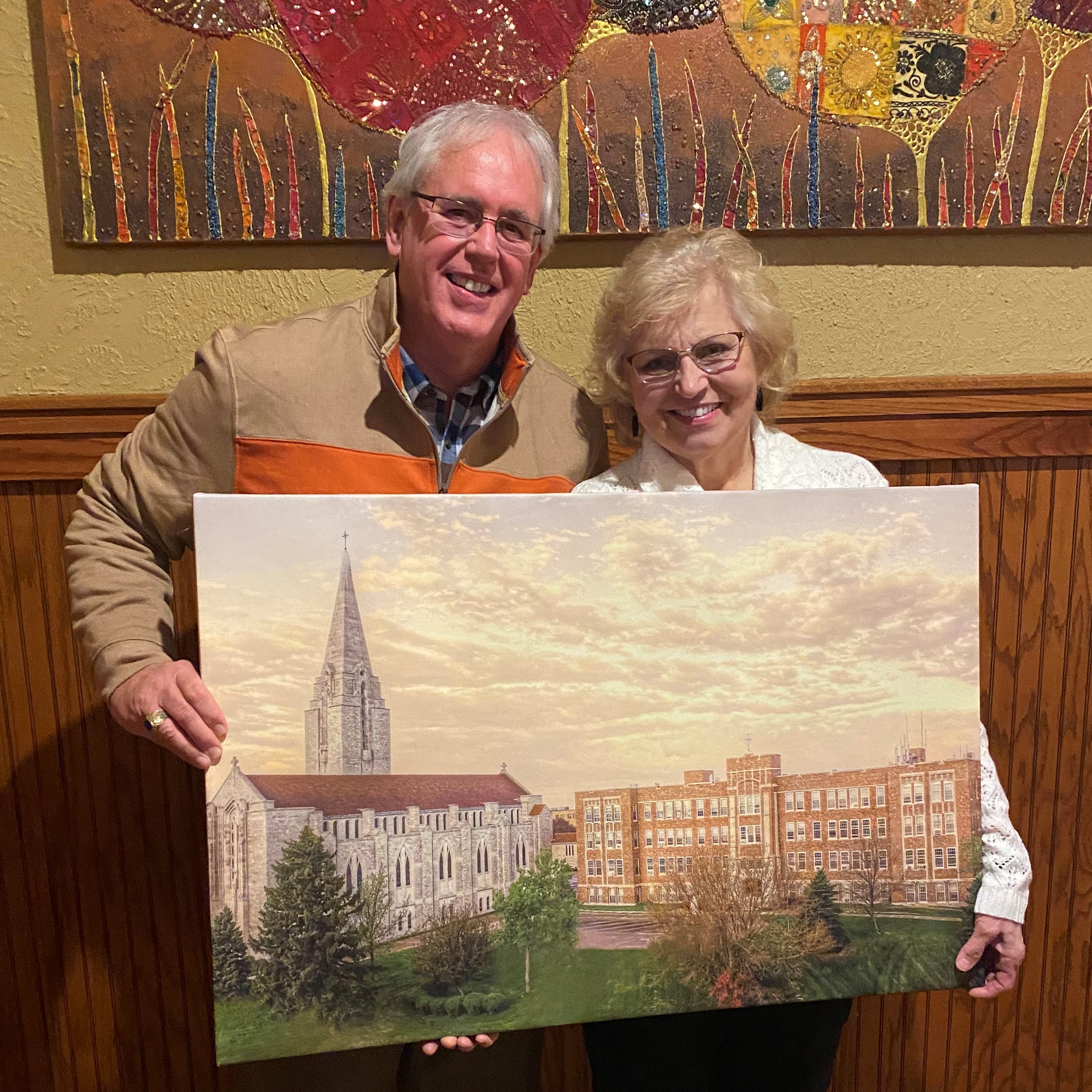 David Dickes was born and raised in Yankton, South Dakota. He attended Sacred Heart Elementary School and Yankton High School graduating in 1972. David experienced the Catholic Benedictine influence of Mount Marty early through his mom, as well as many aunts, cousins, and high school friends who are Lancer alumni. So he decided to attend Mount Marty while working a part-time job. As a student majoring in Business Administration and living off-campus, he learned early that getting more involved in campus activities was necessary to his success. He became more involved with the Business Club as well as Student Government as a sophomore. David served as MMU Student Government Treasurer his junior year as well as Student Government Vice President his senior year. David graduated from Mount Marty in May 1976.
Marcene (Tomjack) Dickes was born in Canton, South Dakota, grew up on a farm in Northwest Iowa, and attended West Lyon Community School (K-12). She knew she wanted to help people as a Registered Nurse since she was in the seventh grade, and Marcene followed her dream! She attended Mount Marty as the school had a consistent outstanding reputation for preparing and developing students into excellent registered nurses, and she also wanted to continue her Catholic growth and education. Marcene graduated from Mount Marty in December of 1975 and began working in Omaha, Nebraska at the University of Nebraska Medical Center (UNMC) as a med-surg staff nurse.
In October of 1976, Dave Dickes and Marcene Tomjack were married. They made Sioux Falls their main residence for the next 45 years, while raising five children: Chris (Mount Marty, Class of 2000), Patrick, Amy, Sarah, and Erin.
Both Dave and Marcene had lively and incredible career paths. David worked for the NCR Corporation, for Sandoz/Novartis Pharmaceuticals Corporation (where he was recognized as a Sandoz/Novartis Pharmaceuticals Senior Professional in 1993, the most esteemed award in the company), as the Executive Director of McDonald's House Charities of South Dakota, as the Marketing Director of Dow Rummel Village in Sioux Falls, and for his own insurance business.
Marcene worked for Sioux Valley Hospital (now Sanford Hospital) for 16 years, eventually becoming the Director of Perinatal Services. She then worked for Avera McKennan for nine years in a variety of roles that she often had to build from scratch, including the Director of Women's and Children's Services. After her time at Avera, Marcene was employed by Children's Mercy Hospital in Kansas City, Missouri as Administrative Director of the Department of Pediatrics. After three years in that role, she was recruited to the University of Kansas Physicians Group as Senior Administrator, Department of Pediatrics.
In 2011, David and Marcene moved to Chicago, Illinois where David was self-employed as an independent insurance agent, and Marcene was employed by La Rabida Children's Hospital and Clinics as an Assistant Vice President. Then in 2013, David and Marcene returned to the Sioux Falls and Yankton area to be closer to David's mom after his father passed away. Marcene worked for Avera eCare and eventually the South Dakota Human Services Center (HSC).
When Dave and Marcene returned to South Dakota, David's career and life came full circle with Mount Marty. Earlier that year, the Dickes attended Mount Marty's Athletic Hall of Fame where Marcene was inducted as a member of the 1972/1973 Volleyball Team and their son Chris was inducted as a member of the 1997/1998 Men's Basketball Team. During that trip, Dave heard about the open position of Director of Alumni Relations, which he accepted in July of 2013. In 2017, David continued as a fundraiser for Mount Marty, establishing new and rekindling old relationships with alumni, donors, and friends of the University. He retired in January 2022.
Marcene feels that her time spent at Mount Marty was such a beautiful place to grow in faith and for experience both in learning and in life. Mount Marty will always be a special place for her as that is where she met and found her wonderful husband and life partner… David Dickes.
DISTINGUISHED PROFESSIONAL ACHIEVEMENT, UNDERGRADUATE DEGREE
Dr. Kevin Kennedy '76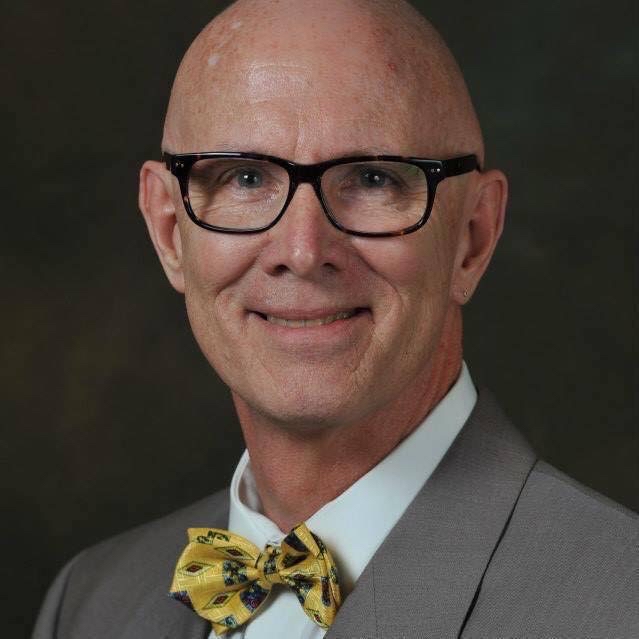 Dr. Kevin Curtis Kennedy was born on July 28, 1953, in Sioux Falls, SD. He graduated from Beresford High School in 1972. After high school, he attended Mount Marty, where he received his Bachelor of Arts degree in Communications in 1976.
After studying at Mount Marty, Dr. Kennedy went on to receive his Master of Arts degree and eventually his Doctorate of Education from the University of South Dakota. In 2022, he received an Honorary Doctorate in Philosophy from Abide University, Los Angeles, CA.
During his doctoral academic preparation he was a graduate assistant for the Center for Developmental Disabilities, School of Medicine-USD. He completed study at the Mott Foundation in Flint, MI in community education during a summer between working on his masters and doctorate degrees. Education was always in the forefront of his life and he exemplified this in his work and teaching skills.
His academic background prepared him to be Executive Director of Southeastern South Dakota Activity Center (SEDAC), Resident Hall Director at Briar Cliff University, Dean of Kilian Community College, lecturer at USD, Governors State University, Graduate Advisor/Lecturer, Olivet Nazarene University, co-taught Federal Grant writing at Governors State University, University Park, IL and finally retiring from Florida Southwestern State College on June 30, 2015. His experience in higher education spanned over 30 years in higher education with his first job as admissions counselor for Mount Marty.
Dr. Kennedy was involved in professional and community theater throughout much of his adult career. He was involved in an acting group in Sioux Falls which provided one-acts on the topic of suicide. These performances were presented in communities in southeast SD and were featured on CBS evening news. His love and passion was the theater and acting. He was also a member of "The Balladeers," a singing group in Yankton, SD back in the '80's.
He raised money on a dancing dare for Muscular Dystrophy winning first place in the 24 hour dance competition. He volunteered his time at the Lee Co. Alliance for the Arts answering the phone, greeting visitors and assisting with fundraising activities. He became an avid runner and participated in Frontrunners, Sarasota and ran in the Gasparilla.
Some of his many accomplishments included: Area Arts Council Board Member, Area Heart Association Corporate Board Member, State Special Olympic Board of Directors, State Association of Mental Retardation Executive Committee and Nominations Committee, and Council Member for St. Agnes Catholic Church in Vermillion, SD. Today, Dr. Kennedy resides in Florida.
DISTINGUISHED PROFESSIONAL ACHIEVEMENT, GRADUATE DEGREE
Taylor Rehfeldt '16, '19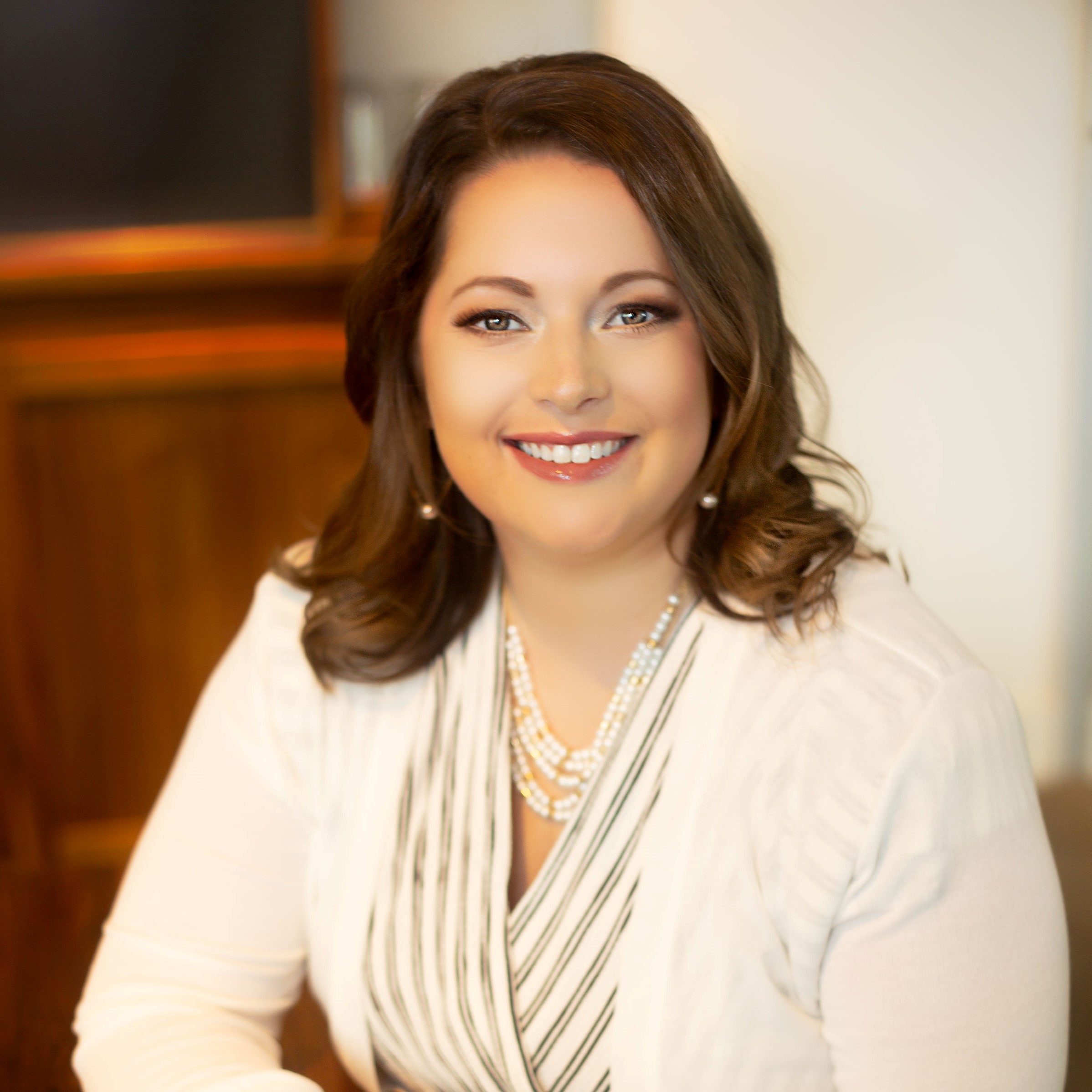 For over a decade, Dr. Taylor Rehfeldt has been a noteworthy and influential community leader in South Dakota. You may know her from her current community leadership roles as a South Dakota State Representative for District 14 or Assistant Program Director for the Mount Marty University Nurse Anesthesia Program— or perhaps from her prior leadership roles of President (2019-2020) and Vice President (2017-2018) of the South Dakota Association of Nurse Anesthetists or President (2020) and Vice President (2019) of the Sioux Falls Chapter of the South Dakota Nurses Association.
Dr. Rehfeldt grew up in Rapid City, SD and moved to Sioux Falls, SD in 2011. She has a Master of Science in Nurse Anesthesia from Mount Marty University (2016) and was one of four students to obtain the first Mount Marty University Doctorate in Nurse Anesthesia Practice (DNAP) in 2019. Dr. Rehfeldt also has a Bachelor of Science in Interdisciplinary Sciences from South Dakota School of Mines and Technology (2010) and a Bachelor of Science in Nursing from South Dakota State University (2011).
Since 2018, Dr. Rehfeldt has been on the faculty of Mount Marty University. Currently, she is the Assistant Program Director and Clinical Director for the Mount Marty University Nurse Anesthesia Program. She is driven to create new educational opportunities for Graduate Certified Registered Nurse Anesthetist students and takes pride in creating new clinical educational partnerships with hospitals throughout the Midwest.
Dr. Rehfeldt has been honored for her contributions to her profession, patients, students, and community. She received the Ira P. Gunn award from the American Association of Nurse Anesthetists (AANA) in 2021, Sioux Falls Chamber of Commerce "4 under 40" award in 2021, the South Dakota Chapter of the American Association of Gynecological and Obstetric Surgeons Advocate of the Year Award in 2020, the South Dakota Association of Nurse Anesthetists (SDANA) Outstanding Leadership Award in 2020, and the Mount Marty University Director's Award in 2016.
The values of service and life-long learning drive Dr. Rehfeldt to serve her community. She serves on the Advisory Board for the Center for Prevention of Child Maltreatment with thegoal of eliminating child abuse and maltreatment in South Dakota. She also serves on the South Dakota Opioid Abuse Advisory Board to develop strategies to prevent opioid abuse and misuse. Finally, she serves on the IM26 (Medical Marijuana) Oversight Committee. The committee is new, and they are responsible for analyzing the medical marijuana program and making recommendations to the legislature. She was elected to the South Dakota State House of Representatives in 2020 and has been dedicated to serving her district and state.
Dr. Rehfeldt and her husband, Corey Rehfeldt, have two children, Flynn and Judith. They live in eastern Sioux Falls and enjoy visiting downtown, as well as biking, golfing, fishing, traveling, and camping at Lake Thompson.