Exercise Science
Program Type: Major
Program Level: Undergraduate
Department: Education
The mission of the exercise science program at Mount Marty University is to develop competent and contributing entry-level professionals as well as provide a foundation for graduate-level coursework and programs in physical therapy, occupational therapy, athletic training and strength and conditioning. The knowledge, skills and abilities gained will enable students to create and implement strength, cardiovascular and flexibility training programs, as well as have the understanding of several standard health and fitness assessments such as body composition, maximal and submaximal cardiovascular and strength testing, among others. These skills will help facilitate others in achieving healthy, active lifestyles and enhance athletic and fitness performance.
Start your journey.
HAVE ANY QUESTIONS OR CONCERNS?
READY TO GET STARTED?
view the comprehensive costs
QUESTIONS? CONTACT: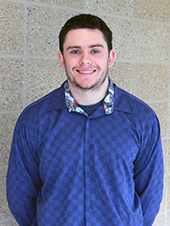 daniel flahie
program director, assistant professor of exercise science and health
email: daniel.flahie@mountmarty.edu

phone: 605-668-1336

kendra becker
instructor of exercise science
email: kendra.becker@mountmarty.edu

phone: 605-668-1363