Elementary Education
Program Type: Major
Program Level: Undergraduate
Department: Education
ELEMENTARY EDUCATION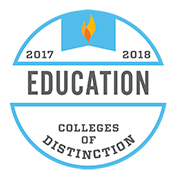 Mount Marty University is well known for producing high quality, caring teachers. You can make a difference in the lives of students and inspire the next generation of learners by pursuing your passion in teaching at Mount Marty University . As an elementary education major, you'll take courses in educational psychology, children's literature and language arts methods, and complete a full semester of student teaching. And our faculty will work with you to help you secure that all-important first teaching job. Because of Mount Marty's professional accreditations in this field Colleges of Distinction has awarded Mount Marty University's Education program a first-rate program.
Start your journey.
HAVE ANY QUESTIONS OR CONCERNS? REQUEST MORE INFORMATION TODAY!
READY TO GET STARTED?
QUESTIONS? CONTACT:
jamie van winkle
instructor OF teacher education
email: jamie.vanwinkle@mountmarty.edu

phone: 605-668-1271