Home
Benedictine Leadership Institute
The power of a Benedictine education
Today more than ever, the world needs leaders; people who are ready to make tough, ethical decisions in a world that changes at lightning speed — problem solvers and critical thinkers who lead with both heart and mind and know what it means to make a difference in the lives of others.
A Valuable, affordable degree
At Mount Marty University, we believe every student has the potential to serve the world and transform lives, organizations, and communities. We believe it's our responsibility to foster the service and leadership within you, so we work hard to ensure our Benedictine experience is affordable. Our scholarships and financial aid packages make a private education just as affordable as a public education, and our students benefit from a unique experience that can't be found anywhere else.
The Benedictine leadership institute
Through the BLI — Mount Marty's renewed core curriculum — the words of St. Benedict will guide you in finding your place in the world. Regardless of the major you choose to study, you and all of your classmates will …
As St. Benedict asks, "Listen carefully… with the ear of your heart." You have an impact to make.
BLI Sponsored Events
The annual Aquinas Lecture is the result of a partnership between Mount Marty University, the Catholic Diocese of Sioux Falls and the Classics Institute at Dakota State University. The series seeks to deepen conversation in the diocese and region as it relates to the Catholic intellectual life. The lecture will be held annually on or near St. Thomas's January feast day.
The 2019 Lecture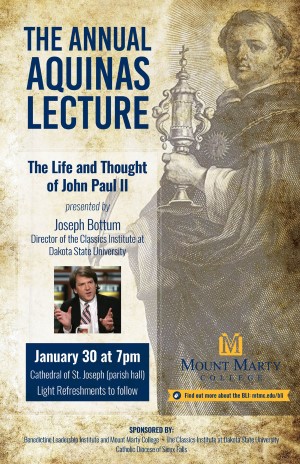 The 2019 lecture will take place at the Cathedral of St. Joseph in Sioux Falls on January 31, 2019, and feature a talk entitled "The Life and Thought of John Paul II" by Joseph Bottum, director of the Classics Institute at Dakota State University in Madison, South Dakota.
Attendees are encouraged to use the Duluth Avenue entrance. The event is free and open to the public and light refreshments will be served. A question-and-answer session will follow the forty-five-minute talk.
For more information about the Aquinas Lecture email Joe Rutten at joseph.rutten@mountmarty.edu.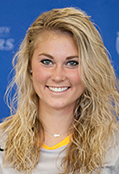 Hear what alumna Sierra Kloth ('17) told KELOLAND about MMC, Joe Rutten, and news about the BLI.