From LAPD to Professor
September 12, 2023
a letter from dr. stephen bell
As I finish my first year at Mount Marty University, I have been reflecting on my experiences. I entered academia after 22 years with the Los Angeles Police Department. I am well aware that I had a fortunate and unique career with the LAPD. I spent nearly a decade in plain clothes assignments ranging from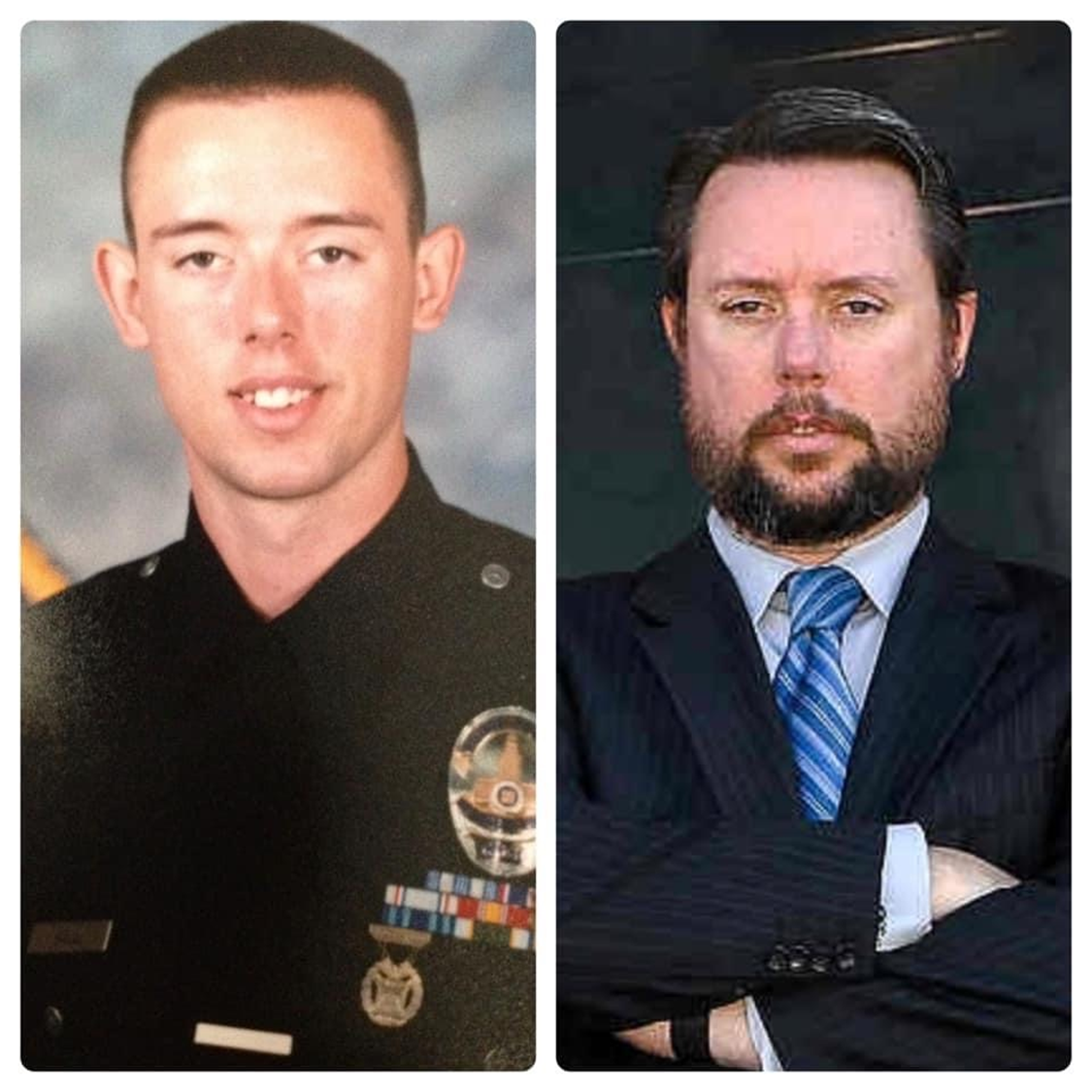 roles as a sexual assault detective, to an undercover operator, to ultimately supervising multiple undercover units. The LAPD provided me with those exciting and challenging assignments, but it also presented me with the resources to continue my education and ultimately complete a PhD.
One of the first faculty members I met when I arrived on campus was Dr. Jim Reese. We quickly found that our research and writing interests significantly overlapped, and he invited me to speak to his Crime, Literature, & Film class about my experiences with the LAPD. Some of the stories I regaled the class with were funny, some were tragic, but most importantly, they were all raw, candid, and real.
I told the story of my first undercover assignment. After years of watching TV shows about undercover cops in LA, and seeing the fancy cars, flashy clothes, and beautiful women, my first operation involved me riding a bike on skid row to see if anyone would steal it. Neither flashy, nor fancy, but an introduction to the reality of undercover work.
Additionally, there was the time my partner and I discovered a woman lying on the sidewalk in the middle of skid row. She was in the late stages of labor. Both of us were young officers and neither of us had children at the time. Although we called the ambulance, time was not on our side and I found myself in the shocking position of kneeling on the downtown LA sidewalk in the middle of the night and catching a baby as she entered this world in the most unfortunate of circumstances and locations.
I also shared the story of the excruciating feeling that comes with the death of not only one but two partners during my time on the job. Overall, the theme of the talk was the ups and downs associated with real, not television, police work.
After the talk in class, I received several letters of thank you. Included with these letters were a number of follow-up questions. In order to properly address these letters, I must first thank Dr. Reese and his class for allowing me to share these lived experiences.
By far, the most common questions asked about the logistics of daily undercover work. First, I will say that my experiences were nothing like the movies. These were not operations lasting months or even weeks. Most investigations only lasted a few hours, and we went home every night. The formalized training paled in comparison to the experiential education I received. There was lots of following the leads of my more tenured partners and a great deal of trial and error. It takes some time for a sheltered preacher's kid from Kansas to learn how to infiltrate organized crime casinos or interact with human trafficking participants.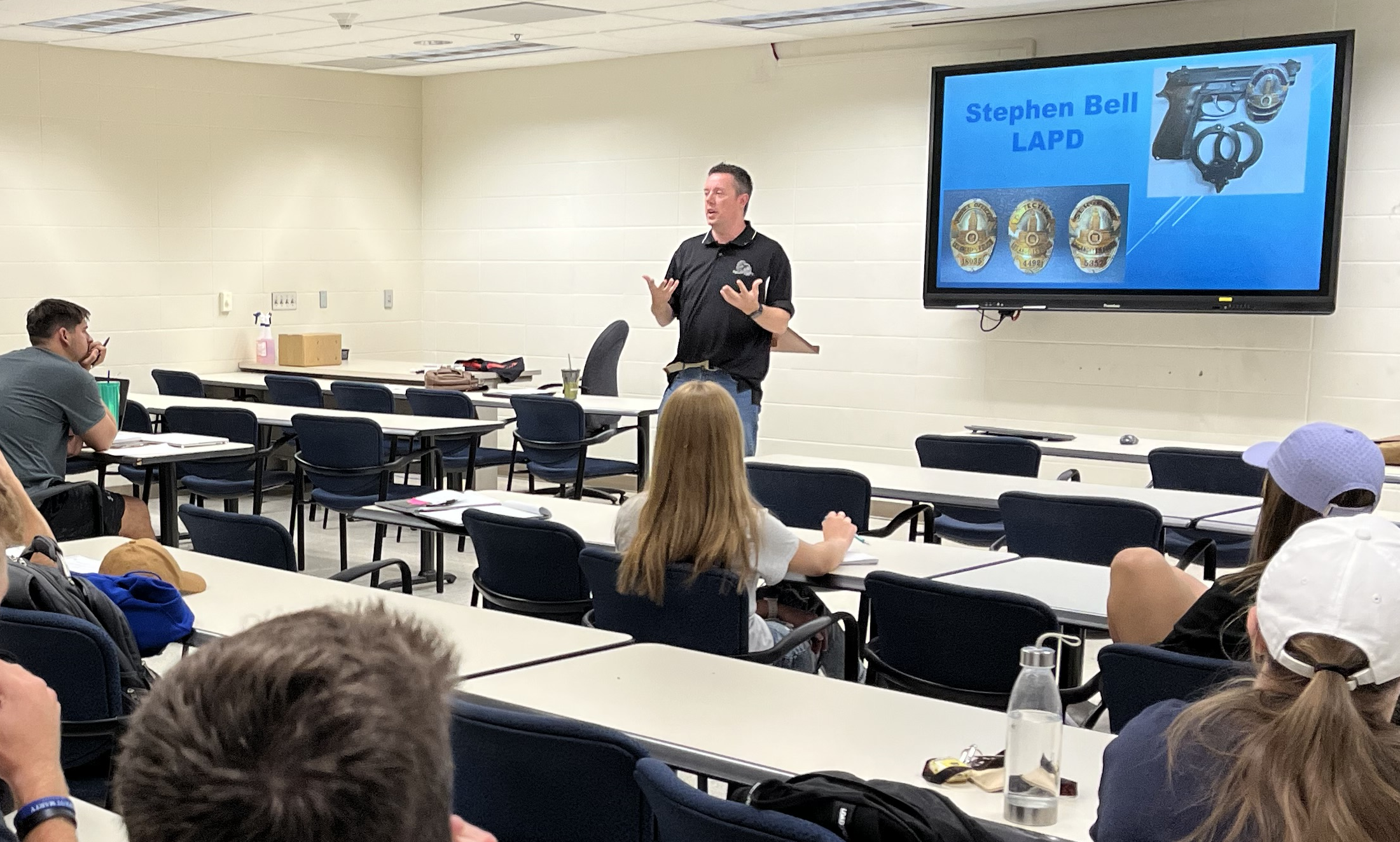 All those experiences taught me several different lessons. First, I learned how to think on my feet; however, this doesn't happen by accident. Preparation creates the best outcomes. Having a backstory already prepared is much more believable than trying to be a quick thinker when someone started questioning who I was. Secondly, the investigations often involved serious criminals who committed violent acts. These acts are called unspeakable for a reason. My friends and family should never have to hear the details of these experiences. That could easily tarnish the shine with which they see the world. Why would I take that away from them by exposing just how terrible people can be? I learned to compartmentalize my feelings and my experiences. Being one person at work and another person at home was a necessity to maintain a separation in the two realities.
Regardless of the ups and downs I discussed with the class, I would do it all over again. I won't go so far as to say I wouldn't change a thing, because if I could, I would definitely change a few things. That being said, it was an adventure and now I am in the middle of a new adventure as an academic, a criminologist, and a professor at Mount Marty University.
FROM LAPD TO YANKTON, SD
Tianna Bumbaca-Kuehl
Stephen Bell is a small-town California preacher's kid, who moved to the plains of Kansas halfway through high school, and then back west, to the big City of Angels. Bell enlisted in the United States Air Force where he was stationed back in his native-born state as a Military Police Officer. Bell had heard countless stories from some of the Air Force Reservists who were also full-time Los Angeles Police Department (LAPD) officers.
After being sworn into LAPD, Stephen Bell served 22 years until retiring into teaching. Once he received his doctorate, Dr. Bell became a Professor at Mount Marty University, where he is head of the Criminal Justice Department today. From the streets that encompass the second-largest city in the country to a state with less than one-quarter of that population, Dr. Bell has some stories to tell.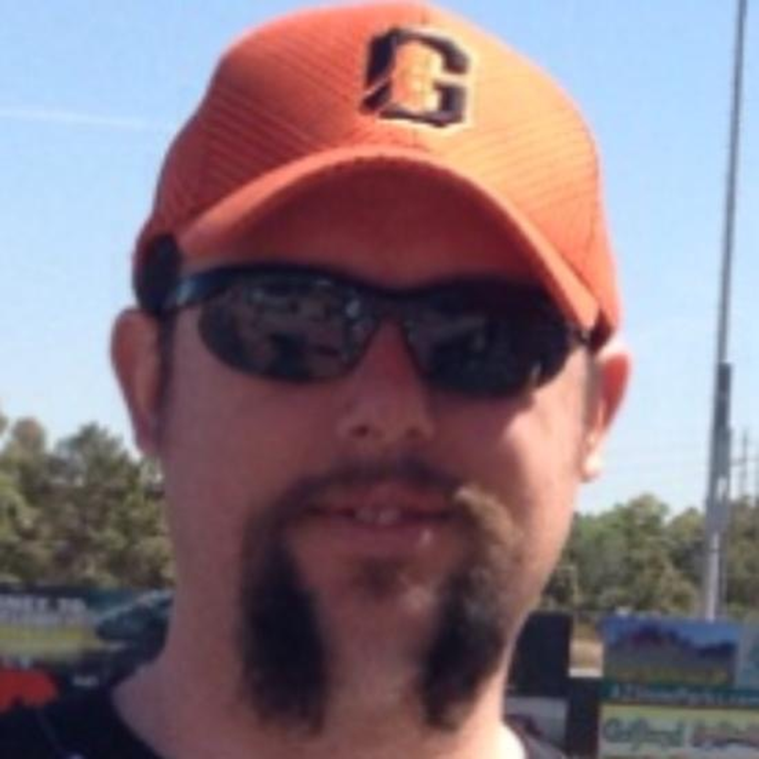 Growing up in a small town in California, Dr. Stephen Bell had a structured and, as he would say, "A preacher's kid" way of life. I, like Dr. Bell, wasn't exposed to everything like some are in the big city, but we still have some of the influences of the California atmosphere. You know that there are bad people out there as you watch it on your home television, but the scale is much less in rural communities.
I come from the second smallest county in California where monthly there are about 1,000-2,000 calls for service; while LAPD where Bell resided for his years, has about 5,000-6,000 calls per day. One can only imagine the fluctuation of calls that an officer gets working at a department of that size.
While Bell was at the Central Station, he had jurisdiction over Skid Row. One of the hardest aspects of living around a dense population of homeless is to be able to describe to someone the influence they have on their surroundings. Coming from a small town, or even more commonly somewhere like South Dakota, it is hard to fathom a homeless population the size of some towns. Skid Row in Los Angeles, which is 4 square miles, is known for its large population of homelessness and drug use.
Within your neighborhood you want your streets to be clean, drug use to be kept away from your doorstep, and be able to walk down the sidewalk and not be looked at like a meal by someone lying on the ground with only pepper spray on your keychain for protection. But, then you get asked where the humanitarian is in you?
Upon graduating from the academy and a year of a probationary period, Officer Bell was allowed to make a wish list of stations that he would want to work at; "There were 18 police stations at that time and I would have put Central as number 18 if I could, but we were only allowed to give three…".
After getting settled in, Bell put in his paperwork to transfer, wanting nothing to do with such an area until the tables turned. Bell was introduced to the Narcotics Enforcement team which had an outstanding balance of adrenaline and extra money, where he then stayed with Central for six years. With a similar opinion, Dr. Bell says that he wanted nothing to do with cleaning up after the homeless and having to handle people who care more about their drug fix than how much time passes between one shower and the next.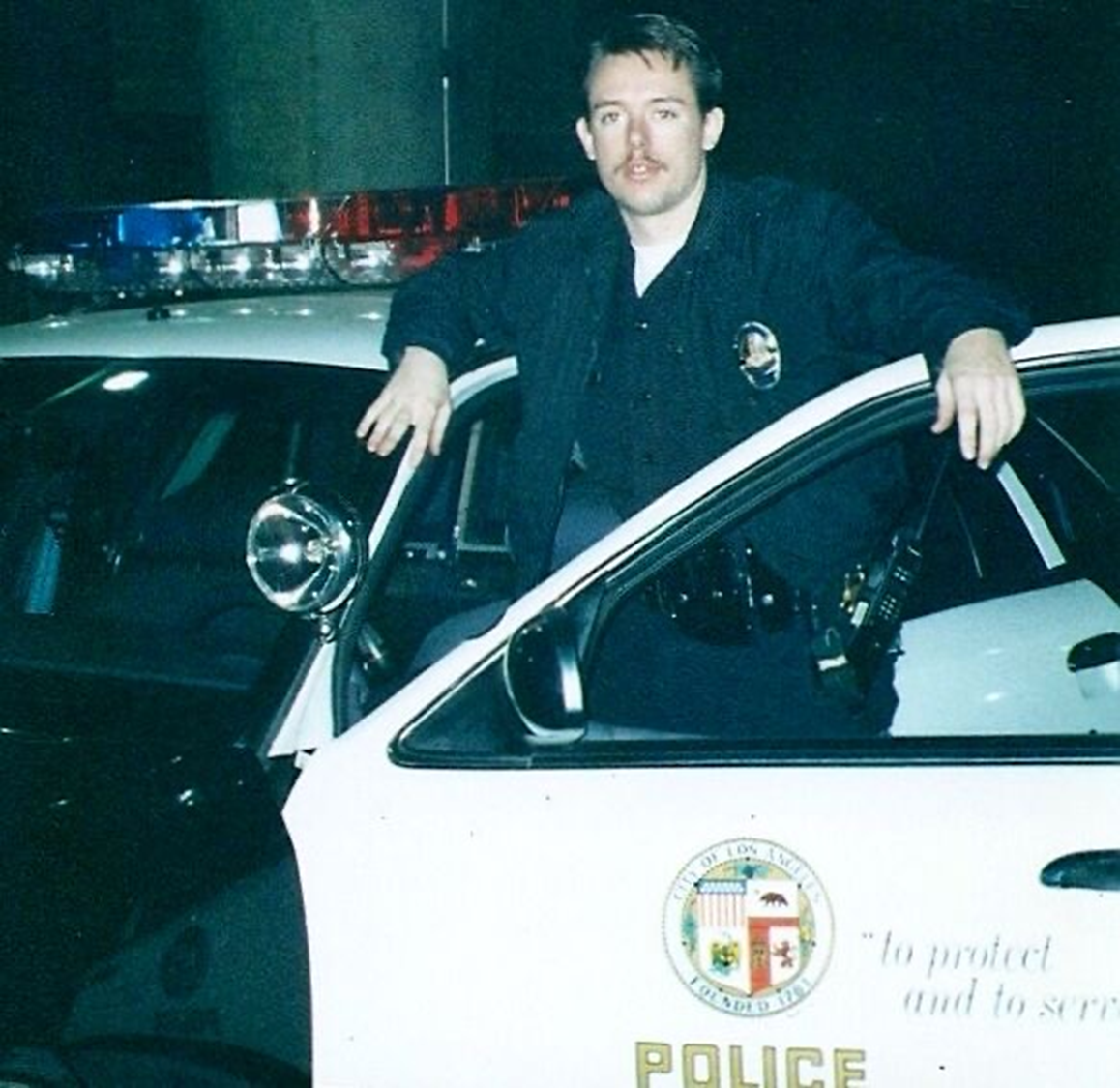 In his positions there he got to do surveillance on major drug transactions, where gangs from South LA would come up and deal with the people living on Skid Row. He loved not having direct contact with these individuals; he was the eye in the sky. "No one ever looked up," he said; sometimes he was seven to ten stories high witnessing the drug transactions from the skyscrapers. One might think that these presumptions about the homeless are harsh or unfair but look at it from the point of view of the officer. They go all in no matter what to protect their community from all aspects of crime. More commonly than not, they are frowned upon by the community they serve and protect.
Traveling through 6 different stations while serving his years as an officer, he was an undercover investigator who was either going into bars and strip clubs, soliciting prostitutes, or was a surveillance officer, following wanted individuals who had previously committed criminal acts.
Officer Bell started from the bottom and eventually became the supervisor of his unit where he oversaw the officers that were beginning their undercover careers just as he previously had. Working all these different operations and being in the supervising positions, Bell was doing more of the behind-the-scenes part of the undercover job.
The last chapter of his policing career was in the years of the riots and Black Lives Matter movements. There were many peaceful protests but in some cases, the protests turned into violent attacks on neighboring buildings, including arson, burglary, and vandalism. His job was to infiltrate the riots along with being on the other side with face shields and riot protection. He said, "It was tough to see the folks [LA citizens] that I was there to help-regardless if I was infiltrating the riots or not-I was still a police officer… I'm here to help you… then to be disparaged by those same folks… To hear the hatred and the vitriol was so disheartening, even the mayor of LA calling us [police officers] "killers"".
It leaves individuals angry and having opinions of unfairness and depravity of constitutionality to hear about individuals like George Floyd and Rodney King, but it also pains the officers who walk out their front doors every day with the thought in the back of their heads that there's a chance they might not ever come back through again. It will always be a revolving door. At no point in time will everyone feel at peace, but understanding both sides is a fair step. Dr. Bell, being in the position of infiltrating the riots and standing on the other side with the riot protective gear, has a fair viewpoint of two sides to an extensive controversial story.
As promotions were made and years went by he got closer to retirement. Bell had the feeling he had completed his goals as an officer. He reached the highest ranks and put a good chunk of his life and efforts into policing and wanted something new. While he was an officer he also finished a masters degree and then got his doctorate in Criminal Justice Leadership. Dr. Bell wanted to have a larger influence on the criminal justice system now that he is retired from LAPD.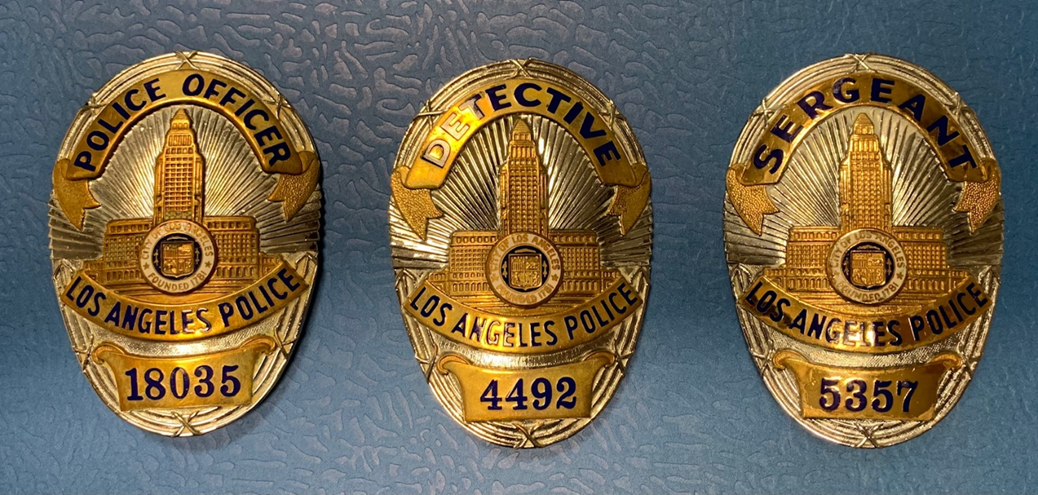 As an MMU professor, Bell not only has an influence on his students but also as a criminologist in the world of academia. In that sense, Dr. Bell does research and conducts studies that influence the criminal justice world. One of which has now been published, is a study of law enforcement officers who transition into professors and the differences in the process for individuals with law enforcement backgrounds as opposed to academic backgrounds only. His second study which is pending publication, is on how proposition 47 affected law enforcement officers and how they enforce the law in California. Bell hopes both studies will have an influence on the criminal justice system in major ways. From the streets of Los Angeles to the small town streets of Yankton, South Dakota, and from officer to professor, Dr. Stephen Bell has lived the dream and beyond.
Going through schooling myself to become a police officer and serve in the military, I praise Dr. Bell for his accomplishments. I want to have a major effect on the criminal justice system just like Professor Bell. In 2021 the death of law enforcement officers increased by 29% and appreciation for them seems to be evaporating into thin air; however, my mind still hasn't changed. The difference that I want to make and the stamp on the world that Dr. Bell has offered and continues to be, is the drive that this society needs. Peace officers are needed everywhere, now more than ever.
about Tianna Bumbaca-Kuehl
Tianna Bumbaca-Kuehl is a junior at Mount Marty University, who is double majoring in Human Services and Criminal Justice. Tianna is a part of the women's soccer and track and field teams, as well as the president of the Criminal Justice Honors Society. A resident of the Santa Cruz Mountains in California, she loves traveling and the outdoors. She believes reading and writing are the foundations of positive mental health, and that with a pen and paper, only magic can be formed.