80 for 80 Scholarship Endowments
increasing scholarship support through the endowment
In honor of Mount Marty College's 80th anniversary, the Sisters of Sacred Heart Monastery generously "seeded" 80 new endowment funds with $10,000 each.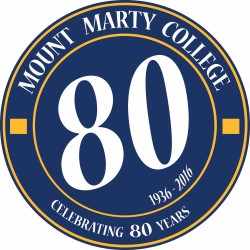 Thank you to all the generous ndividuals and families who contribute an additional (minimum of) $15,000, or $3,000 per year for five years, to set up their own named endowment fund. These 80 new funds now provide a minimum $1,000 scholarship to a Mount Marty College student every year.
If you are interested in learning more about establishing an endowed scholarship, contact the Office of Advancement at 605-668-1542 or dept.advancement@mtmc.edu.
80 for 80 Anniversary scholarship Endowments
Established and Funded Scholarship Endowments
Al & Irene Kurtenbach Family Endowed Scholarship (1)
Al & Irene Kurtenbach Family Endowed Scholarship (2)
Al & Irene Kurtenbach Family Endowed Scholarship (3)
Al & Irene Kurtenbach Family Endowed Scholarship (4)
Ashley Riibe (Allphin) Memorial Scholarship
Nancy Ekroth and Dianne Vedral Endowed Scholarship
Long Family Health and Wellness Scholarship (1)
Elaine Clare Olson Rasmussen Memorial Scholarship
Bernard L. & Geraldine M. Guss Endowed Scholarship (1)
Kathleen Gatzemeyer Endowed Scholarship
Jean (Dobbs) Kurtenbach and Joan (Dobbs) Hickey Endowed Scholarship (1)
Jean (Dobbs) Kurtenbach and Joan (Dobbs) Hickey Endowed Scholarship (2)
Jean (Dobbs) Kurtenbach and Joan (Dobbs) Hickey Endowed Scholarship (3)
Jean (Dobbs) Kurtenbach and Joan (Dobbs) Hickey Endowed Scholarship (4)
Micah & Tabitha Likness Family Endowed Scholarship
Bernard & Lorraine Fischer Endowed Scholarship
Michael & Gerrie Healy Family Endowed Benedictine Scholarship
Steve & YaVonne Slowey Family Endowed Scholarship
Joan, Darlene and Marian Endowed Scholarship
Dr. John & Peggy Frank Endowed Scholarship
Long Family Health and Wellness Scholarship (2)
Gerry & Clark Likness Endowed Scholarship
Dr. Steve & Ruth Feeney Endowed Scholarship
1976-1977 MMC Men's Basketball Team Endowed Scholarship
Patrick Frank Friendship Scholarship
Edna & Marilyn Pates Scholarship
MMC Class of 1976 Endowed Scholarship
Trinity Endowed Scholarship
Richard & Diana Foster Family Endowed Scholarship (1)
Richard & Diana Foster Family Endowed Scholarship (2)
Richard & Diana Foster Family Endowed Scholarship (3)
Osnes Family Endowed Scholarship
Matt & Meredith Hayes Endowed Scholarship
Denis & Mary Beth Fokken Family Scholarship
Joan Gross Scholarship
Vionna Ranney Endowed Scholarship
Dr. Brooks Ranney Endowed Scholarship
David J. & Marcene A. Dickes Family Endowed Scholarship
Venner Family Scholarship
Benedictine Education Scholarship
Joan (Van Well) DeRouchey Nursing Scholarship
John & Fern Nemmers Endowed Scholarship
1986-1987 Men's Basketball Team In Memory of Dan Burns
Sr. Margretta Doyle Scholarship
Commers-Hanks Family Scholarship
Buschelman Farms Scholarship
Bernard L. & Geraldine M. Guss Endowed Scholarship (2)
Noah Michael Flaherty Memorial Scholarship
Leon & Barbara (Rowley) Feilmeier Endowed Scholarship
Sr. Martin Mergen Endowed Scholarship
Avera Scholars Endowed Scholarship (1)
Avera Scholars Endowed Scholarship (2)
Christine (Lang) & Steven Pharr Family Scholarship
Warren & Suzanne Dixon Family Endowed Scholarship
Nursing Endowed Scholarship (1)
Drs. Cecelia Rokusek & Robert Petrik Health Professions Scholarship
Robert Kappel Endowed Scholarship
Gallagher, Ruhlman, Franklin, and Tobin Endowed Scholarship
Mildred S. Danforth Scholarship
Lucille Dufek Memorial Scholarship
Jon & Barb Swegarden Scholarship
Judy Ann Shelby-Tech Endowment
Martha Foecke Memorial Nursing Scholarship
Karen and Doug Ekeren Family Endowed Scholarship
The Norma Eischen Hedin Endowed Scholarship
Robert & Bonnie Wheeler Scholarship - 1
Alan Lindgren Legacy Scholarship
Alan Lindgren CRNA Memorial Scholarship
Avera St. Benedict Scholars
Bernard L. and Geraldine M. Guss Family Endowed Scholarship (3)
Nursing Endowed Scholarship (2)
Msgr. William Schmitt Endowed Scholarship
Wayne and Lori Ibarolle Family Endowed Scholarship
90's Endowed Scholarship
LeRoy and Betty Streff Endowed Scholarship
Agnes Kostel Endowed Scholarship
Fred and Joan (Van Well) DeRouchey MMC 1972 Nursing Scholarship
Mother Jerome Schmitt Endowed Scholarship
Msgr. William Schmitt Memorial Scholarship
Karen Gall Uher Memorial Scholarship