Elly Miiller
vermillion, sd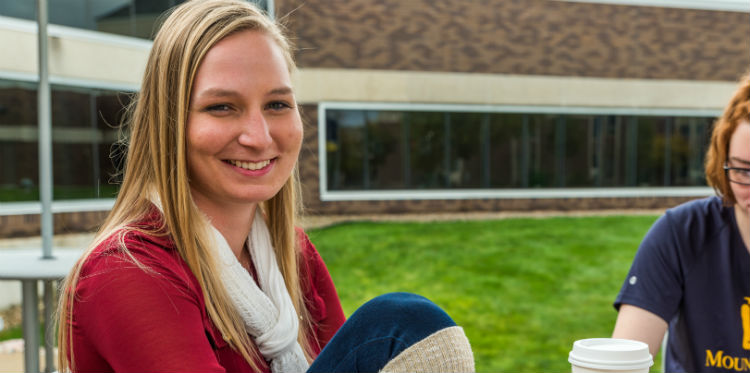 ELLY MIILLER
PRE-PROFESSIONAL '17
CAMPUS: YANKTON
POST-GRADUATION PLANS: Master's Degree in Prosthetics and Orthotics at Baylor College of Medicine, Houston
Why Mount Marty?
Pre-med and biology double major at Mount Marty College, Elly Miiller always had her mind set on a career focused on helping others. Last summer, the Vermillion, South Dakota, native had the opportunity to put her passion for service to use as a volunteer at Camp No Limits, a camp specifically designed for children with limb loss.
"My experience and what I learned at camp about others, and about myself, has inspired me to pursue a career in prosthetics and orthotics so that I may continue to work with people who have overcome the impossible and have such a great outlook on life despite living with limb loss," she says.
Elly's heart for others is a big reason why Mount Marty felt like such a great fit from the start. She's also taken to heart the college's core values of hospitality, community and lifelong learning. "Because of these core values, I know I am prepared to meet new people, and I have the skills to communicate and relate to them on a more personal and emotional level," she says.
Mount Marty's Impact
Elly quickly found that the professors and teachers at MMC are dedicated to helping students reach their full potential. "One professor that has had a particular impact on my education at MMC is Dr. Sorenson," she says. "His knowledge and passion for the biological sciences has motivated me to study hard and learn all that I can during my time at Mount Marty."
Sister Maribeth, Elly says, has also had a big impact on her during her time at MMC. "She sets a model example of leading a life of faith and service. I hope one day I am as dedicated and caring as Sister Maribeth."
When the time came during senior year to begin applying for graduate school programs, Elly found that faculty support was as strong as ever.
"I applied to several graduate programs and got an interview at Baylor College of Medicine," she says. "Upon hearing about my upcoming interview, the faculty and staff went above and beyond to help me prepare for my interview. Because of their help, I had the confidence I needed to do well in the interview and be accepted into the program."
The MMC Values
Leadership and involvement have greatly shaped Elly's college experience. She's involved in several groups and clubs on campus, including Catholic Leadership, Women's Golf and the Shooting Team. She's also Pastoral Council representative of the Class of 2017, president of the Mount Marty Shooting team and has served as an orientation leader for the past two years.
"I thoroughly enjoy working with the freshmen during orientation weekend, answering questions and getting to know their interests so that I can point them in the direction of clubs they may be interested in to make their time at MMC fun and rewarding," she says.
Both inside and outside the classroom, Elly is confident that Mount Marty's small size is an important factor in her success.
"I have had experiences at Mount Marty that would have been less likely to have occurred at another school or larger university," she says. "By attending MMC, you become more than a number. Everyone on campus knows your name and is interested in learning about you and hearing about your successes. With the small class sizes and the one-on-one interaction with your professors, you are given the tools you need to be successful in whichever career field you choose."