New Students
Welcome to Mount Marty College. We're eager to help you discover Where you fit.
MMC has a proud tradition of faith-based learning that is focused on developing well-rounded students. With individual attention and support from faculty and staff, you can achieve excellence and pursue your passions in academics, athletics, fine arts, and other activities. We'll help you gain strong values and life skills along with connections that will last a lifetime.

We strive to prepare students for the workplace but also to provide them with the skills to be successful leaders. Career readiness at Mount Marty is blended with the liberal arts values of creativity, communications, and personal growth, which are needed for success in the real world.

Learn more by browsing our website and visiting our campus. Find out if you belong at MMC!


A private Catholic college education: More value, but a public school-like cost.
Our financial aid experts work hard to make sure a Mount Marty education is affordable – 97% of our students receive financial aid (scholarships, grants, and/or traditional loans). A specially monitored advising program and dedicated advisors will help you establish a four-year degree completion plan so that you attain your degree in a timely manner at this private Catholic college.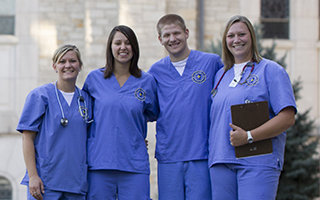 By enabling you to complete your degree within four years, Mount Marty saves you extra tuition costs and helps you enter the workforce sooner. We're dedicated to your success and very proud of our students' 95% job placement rate.
For more answers to your questions about Mount Marty College, check out our Fast Facts.

When you're ready to make the connection with Mount Marty College, you can apply for admissions.