Drue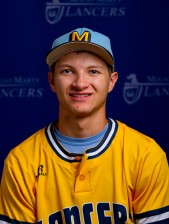 Drue Soukup
English Education '19
Wagner, Sd
Stepping up to the plate
Drue Soukup is always thinking about his future. The senior English education major from Wagner, South Dakota is using his college experience, and his place on the Lancer Baseball team, to shape a tomorrow that he loves —and he's grabbing every opportunity along the way, including the chance for international travel.
Unexpected Growth Opportunities
Drue spent part of summer 2018 playing baseball in the Netherlands as a member of the USA Athletes International baseball team. It was an opportunity he came across because of his coach. "The trip was exclusively offered to me through a recommendation from Andy Bernatow," explained Drue, "I had to make a decision fairly quickly, but ultimately my family and I decided this was an opportunity of a lifetime and I couldn't pass it up."
Drue says his time playing in the Robur '58 Series Tournament was a great success. "As a team, we were able to go 4-0 and win the tournament. Personally, I went 4-10, three singles, one home run, three stolen bases, and three walks. I was also able to record a win on the mound, pitching five innings and giving up two earned runs."
Drue says the trip wasn't an all-work-and-no-play experience, "In our downtime, we went sightseeing in Amsterdam and the Netherlands, seeing Amsterdam was beyond unique." says Drue, "The buildings were simply stunning and vintage, it was like walking right back into WWII era — but you have to watch out, or you'll be hit by someone riding a bike. They don't stop! Everything is always in constant motion."
Drue also found the process of making clogs fascinating. "They use soft wood and use a "copy machine" that whittles it down to an exact size. They can be made in any size or shape."
If international victory and incredible sightseeing weren't enough, Drue says he came home with something he considers even more valuable. "I think being able to get an international experience under my belt gives me an edge that some people will never have, and the connections I made with my teammates are irreplaceable. They are all top-notch guys and have a love and respect for the game."

For Drue, his ten-day-adventure in the Netherlands is just one of many great experiences he's had at The Mount. "I feel that Mount Marty is shaping me to excel in my profession and to be the overall best version of myself, and I feel that Mount Marty instills that idea into every student that comes here."
Drue went on to say that all of the faculty members in the Education department have been influential in his success, but most recently he's been happily challenged by his new advisor, Jennifer Weber. "Dr. Weber has challenged me to become the best "teaching" version of myself. The mini-lessons she implements in her classrooms make the teaching experience feel real."
ROUNDING THIRD
Things are about to feel even more real for Drue. He's student teaching at Yankton High School this fall, and with nine short months and just one baseball season left in his college career, Drue has some wise advice for college-seekers. "Don't pick a school just because that's where everyone goes. You have to decide what you want your future to look like, then choose a school that gives you the best opportunity to make it happen."
When asked what made him choose Mount Marty Drue replied, "I liked Mount Marty because of the location, the baseball program, the size, and because I was able to work hard and get scholarships, which has made school highly affordable for me."
Sounds like Drue hit a home run.