Admissions
a private University education within your reach
You deserve a school that provides more than just a degree. You deserve a chance to explore your passions, a career that makes a difference and a campus that feels like home. You'll find all that and more at Mount Marty University, where we believe in faith-based learning that is focused on developing you as a whole person.
A smart investment for you
Mount Marty is an affordable university in South Dakota. You may be surprised to find that attending a private, Catholic university can be just as affordable as attending a public university while also offering you a wealth of experiences not available on a larger campus. With smaller class sizes, you'll find so many opportunities for hands-on experiences like internships, research, travel and labs, so you'll be ready to face anything in your career.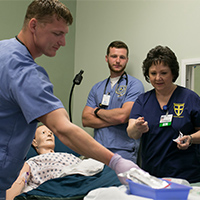 If you are interested in a career that allows you to lead, serve others and make an impact in your future, you will find our programs, which include nursing, teacher education, recreation management, criminal justice and business administration, a perfect fit. You'll be able to balance your career-ready degree with a liberal arts education that gives you the best of both worlds.

Whether you're an athlete, a musician, an academic, and explorer or a volunteer, you'll find a sense of belonging at Mount Marty. We were named one of the best small colleges in the Midwest by U.S. News, and it's our small, intimate community that helps our students flourish. Explore your passions and find your purpose at Mount Marty.

College should feel like your home away from home. Explore our campus with one of our student ambassadors today!