3 Things To Do Before You Pick a College

Johanna Scheich '14 didn't initially plan to come to Mount Marty. A now successful scheduler for U.S. Senator John Thune in Washington, D.C., Scheich attributes her success to the relationships and experiences gained during her time at Mount Marty. She uses her God-given talents and beliefs to help people every day in her career and in her personal life. To help other high school students feel less stressed about the "big college decision" process, Scheich informs others about "Three Things To Do Before You Pick A College," a blog post capturing the things

she

wishes

she'd have

known

when

making her college choice.
If you are like me, "What are your plans for after high school?" makes your heart beat a little faster than normal and causes you to search the internet for the latest college rankings. Starting my junior year, I think everybody in my hometown asked me that question. My Grandma. The guy who ran the local gas station. All of my teachers. The friendly ladies at church. My uncle—who was not-so-subtly decked out in-state college gear. Everybody.
"Oh, I'll probably go to college, but not sure where," I'd answer, desperately trying to seem nonchalant. I wouldn't have told you then, but I can tell you now: I was scared! This was my first big decision. Suddenly, I felt like I had to decide exactly what I wanted my life to look like for the next 5, 10, 20, 50 years. That's a lot of pressure! Some of my high school friends were pumped for college; they already knew where they were going and even had their major picked! I had other friends who were nervously waiting to get an acceptance letter from their dream college. During my senior year of high school, I kept saying, "I'm in no rush," and those around me validated my easygoing attitude with, "Oh yeah, you've got plenty of time to decide." Which was true!...until I needed to make the decision. Before and while I was making my college decision
, I wish someone would have suggested these three things:
#1: Talk to those who know you best. Ask for

honest

feedback from your friends, family, teachers, coaches, and mentors. Their perspective may help you see your own skills and potential in a different light. They might even have advice based on their own experience. My
mom encouraged me to consider Mount Marty. The first time she gave me the suggestion, I shrugged it off. I knew nothing about the school. The second time, I decided to at least attend Scholarship Days. A week later, much to my surprise, Mount Marty offered me a scholarship. I was grateful!...but I wasn't sold on attending the small, Catholic college in Yankton, South Dakota.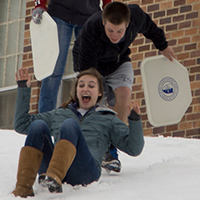 #2: Check your expectations. Our culture (movies, books, social media, etc.) often gives us unreasonable expectations, including the idea that the right college will have a giant sign pointing to it saying, "This Is The Right Choice!" A
fter Scholarship Days at Mount Marty, I went on more college visits, slowly taking the "no's" off my list and wondering if I would ever feel an overwhelming "yes." I heard all kinds of stories about people who saw butterflies! rainbows! and even unicorns! (okay, maybe not unicorns) when they stepped on the college campus of their dreams. I didn't have that. Through the process of elimination, (and a LOT of prayer) my college decision came down to two schools.
#3: Be open to the bigger plan.
Make sure you're in touch with the Big Guy upstairs! He has incredible plans for you, and you have been given everything you need to be successful. By the end of my senior year of high school,
I decided to go to Mount Marty because it was cheaper than the other option, I could play collegiate basketball, and I would be relatively close to home. Not very exciting, right? I know, but the thing is, after four years at Mount Marty, I was able to look back and see all the blessings I couldn't have possibly expected as an 18-year-old.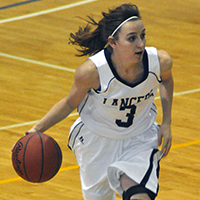 I didn't expect to major in English, let alone major with an emphasis in writing and literature and a minor in Philosophy. I had no idea that I would become a tutor for the Student Learning Center, president of the choir, president of the Student Government Association, and a starter, captain, and Student Assistant Coach for the women's basketball team. I didn't know I would become a published author and receive distinguished awards from the Great Plains Athletic Conference and the literary journal Paddlefish.
I was not thinking I would get to act in a musical, sing with the Chamber Choir
, and dance with the Smoothies at the International Championship of Collegiate A Cappella (yes, the same competition featured in Pitch Perfect!). No one could have told me that I would work with a team of amazing peers to create a business model that led to a student-built fitness center or plan and organize an annual charity run that still happens on campus today.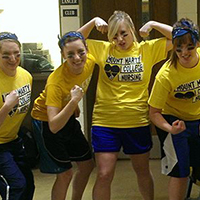 I feel proud of my accomplishments and so honored and humbled by the accolades I received during my time at Mount Marty, but what I really treasure is the people I met in the Yankton community, the relationships with the sisters of Sacred Heart Monastery, and the incomparable friendships that made me who I am today and continue to shape my life. I absolutely never imagined that Mount Marty would eventually lead me to my current job, a scheduler for U.S. Senator John Thune in Washington, D.C. In everything, always, God's plan is way better than anything I could have imagined for myself!
Bonus! #4: Surround yourself with good people, for change is the only constant. As a high school student, I wasn't thinking about how I would change over the next four years. Whatever you decide to do after high school and for the rest of your life, find people that support you and make you a better person. You are who you hang out with, and if you find somebody that you want to be like, find a way to be around them.