For more information

(605) 668-1488

(605) 668-1462
follow European Travel with Mount Marty University on Facebook
Spring Break Tour
Italy: Venice, Florence, and Rome. Mount Marty University's
Education First

Spring Break Trip, March 2-11, 2018

Italy leaves no stone unturned—and no traveler underwhelmed. You'll see where Venetian dukes once ruled at Doge's Palace, stroll across the medieval Ponte Vecchio, and stand in the former epicenter of gladiatorial combat in the Colosseum. Renaissance artworks like Michelangelo's statue of David and Botticelli's The Birth of Venus bridge the Middle Ages with modern times, and reflect the flourish of enlightenment that occurred in Europe between the fourteenth and the sixteenth century. Find us on Facebook at European Travel with Mount Marty University. "Like" this page and you will get updates on this trip that will include photos and links to other items that will enhance our travel experience. For more information about the 2018 trip contact Dr. Rich Lofthus at rlofthus@mountmarty.edu or Dr. Jamie Sullivan at jsullivan@mountmarty.edu.
2017 Ireland, Wales and England Spring Break Tour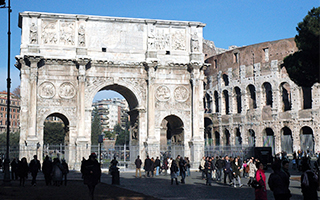 Explore the British Isles and historical sites throughout Ireland, Wales and England during our 2017 spring break tour. This trip will include a journey along the Ring of Kerry Irish coastline, a stop at Blarney Castle, two nights in the music-loving city of Dublin, a ferry ride across the Irish Sea to Wales, a drive through Snowdonia National Park and a visit to Beaumaris Castle. In England we will tour Shakespeare's
birthplace, stroll through Oxford University and spend two
days and nights in sight-filled London.