Flahie, Daniel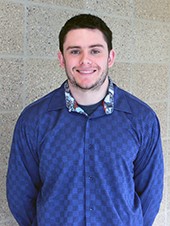 Title:
Program Director, Assistant Professor of Exercise Science & Health
Department: Exercise Science and Health
Degrees Held:
MSED, Wayne State College, 2017
BS, Dakota State University, 2015
AA, Grays Harbor Community College, 2012
Daniel Flahie is currently the Program Director and Assistant Professor of Exercise Science & Health as well as the Strength and Conditioning Coach for Men & Women's Track & Field, Women's Basketball, Cheer & Dance and Women's Soccer here at Mount Marty. He also owns his own company Flahie Fitness, which specializes in remote personal training and program development and coach education for High Schools lacking Strength and Conditioning personnel or resources. He is also one of the Biomedical Research Infrastructure Network (BRIN) research mentors at Mount Marty, which is funded by the National Institute of Health. His work focuses on exercise in the elderly.
Daniel holds both a Bachelor's (Dakota State University) and Master's (Wayne State College) degrees in Exercise Science and is currently pursuing a Ph.D. (Concordia University Chicago) in Health & Human Performance with a focus in Gerontology. He is a Certified Strength and Conditioning Specialist (CSCS), Certified Speed and Agility Coach (CSAC), Functional Movement Screen Level 1 (FMS), Y- Balance Test (YBT), Reflexive Performance Reset Levels 1 & 2 (RPR) Certified, Original Strength Level 1 certified and a certified Track & Field Technical Coach.
Daniel has several years' experience as a personal trainer and strength coach and has been published over twenty times in magazines such as the Nebraska Coaches Magazine, the National Strength and Conditioning Association's Personal Training Quarterly and the Training & Conditioning Magazine, among many others. He has been featured as a speaker at the Track and Football Consortium and the Annual Nebraska High School Association's Multi-Sport Clinics. Daniel also co-hosts the "Die Healthier Podcast" available on iTunes, GooglePlay, Pandora, and many other locations. You can follow and connect with him on Twitter and Instagram @danielflahie.