Roberts, Dr. Andrea L.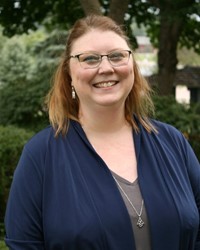 Title:
Program Director, Assistant Professor of Nurse Anesthesia
Office:
Sioux Falls, SD. Room #110
Degrees Held:
DNAP, Mount Marty University, 2019
MSNNA, University of Texas Health Science Center, Houston: U.S. Army Graduate Program in Anesthesia Nursing, 2002
BSN, Seattle University, 1995
Andrea L. Roberts, DNAP, CRNA, APRN is currently the Interim Program Director for the Graduate Program in Nurse Anesthesiology. For Mount Marty College, she has taught Anesthesia Pharmacology, Advanced Pharmacology, Instrumentation and Technology in Anesthesia and lectured in Anesthesia Principles.
Andrea has worked as a CRNA in the US Army, and in Alaska, Maryland, Delaware, Minnesota, South Dakota, and Nebraska. Her main clinical site is Sanford Luverne Medical Center in Luverne, Minnesota. She has worked in team settings and independent practices, but mostly rural independent settings.