MMC Names Shiann Hansen the 2019-20 Mother Jerome Scholar
April 4, 2019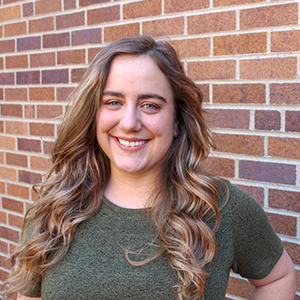 Mount Marty College (MMC) has selected Shiann Hansen as the Mother Jerome Schmitt Presidential Scholar for the 2019-2020 academic year. An education and English major from Alton, Iowa, Hansen was selected to receive the prestigious, full-tuition scholarship based on her scholastic achievement, participation, and contribution to the academic and civic community, along with faculty recommendations.
Hansen, a 2016 graduate of Gehlen Catholic High School in Le Mars, Iowa, is the third member of her family to attend MMC. Her two older sisters, Lacy (Hansen) Rohlf '06 and Margie
(Hansen) Anderson '09 attended MMC as well, and she fondly remembers exploring campus and getting a glimpse of college life at a much younger age than most of her friends. For Hansen, MMC was always a welcoming place, and now, on the cusp of her senior year, she is honored to represent the school as the Mother Jerome Scholar.
"Being named the Mother Jerome Scholar is such an honor," says Hansen. "For me, it's more than a scholarship. It's about being a role model to other students on campus. I've always looked up to the Mother Jerome Scholars that came before me, and I am humbled and honored to be in the same position."
Hansen has been heavily involved during her time at Mount Marty. She takes part in Catholic Leadership and has played a part in nine theater productions for the school. She has also been a member of the Education Club, Chamber Choir, Smooth Benediction, Women of Wisdom, and took on a number of leadership roles including serving as Vice President of the Performing Arts Club, an MMC Ambassador and as Lead Social Media Ambassador for the MMC Marketing department.
She's been busy, but Hansen wouldn't want it any other way, "Getting involved in a lot of groups on campus is key. My involvement at MMC has helped me to develop my character, and I've made many important connections through the groups that I've been a part of."
The Mother Jerome Schmitt Presidential Scholarship is presented every year in honor of its namesake, Mother Jerome. She assisted in opening Mount Marty Academy in 1922, where she taught for ten years. In 1932 she was elected prioress of Sacred Heart Convent and served in that position for 29 years. Under her leadership, Mount Marty Junior College began in 1936. Mother Jerome Schmitt served as Mount Marty College's first president from 1936 to 1957.
Learn more about the Mother Jerome Schmitt Presidential Scholarship and other scholarships and financial aid available at MMC at www.mtmc.edu.