MMC Student Making an Impact at Boys & Girls Club of Yankton
March 31, 2020
"I'm not here to give a presentation, am I?"
This is what Savannah Sullivan remembers asking her supervisor after she was awarded Lead YDS of the Year during the Boys & Girls Club of the Northern Plains annual meeting. Savannah had made the trip to Sioux Falls this past January unaware that she was even nominated for the prestigious award, having been told only to prepare a presentation.
"It was a surprise to me," said Savannah, "and it was awesome.
The Boys & Girls Club of Yankton opened in 2008, providing a space for children to learn and grow, develop meaningful relationships with caring adults, participate in programming and character development experiences, and create hope and opportunity where there may have been little before. It also creates an opportunity for members of the Mount Marty community, including Savannah Sullivan, to gain valuable experiences and insight.
Savannah is a senior at Mount Marty College, on track to graduate this May and begin her career as a teacher. For Savannah, teaching was an obvious choice. Her father was the principal of her small private school growing up, exposing her to a world of educators from a young age.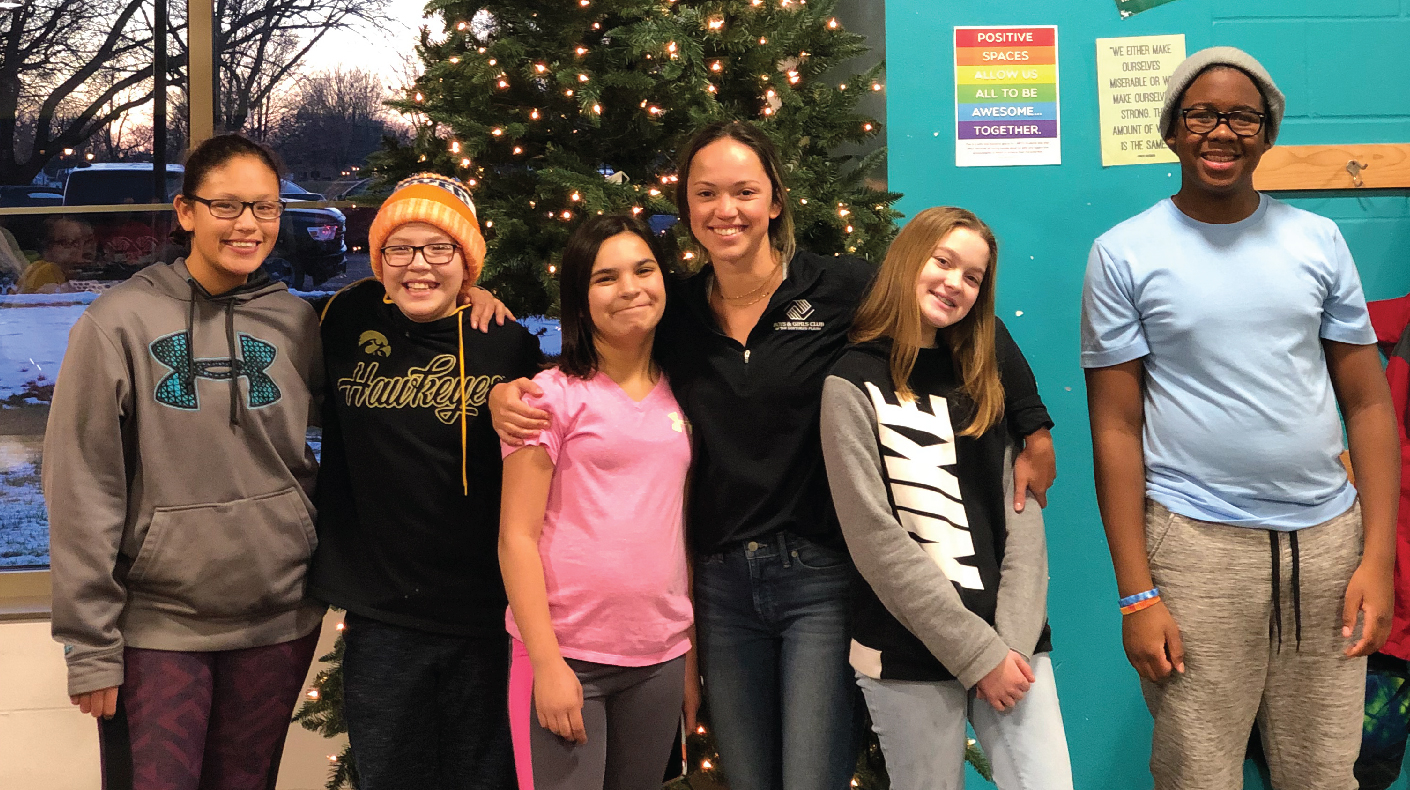 "I grew up surrounded by teachers," said Savannah. "I realized that I loved that atmosphere and I loved being in school. I've known since my freshman year of high school that this is what I've wanted to do."
When Savannah arrived at Mount Marty, she was a volleyball recruit. But when she felt her focus was straying too far from her education, she made the decision to leave the volleyball team. But that decision created a new problem – boredom.
"I was just sitting there and doing nothing when I'm used to going, going, going!" Savannah said. "Then I found the Boys & Girls Club online."
Savannah joined the Boys & Girls Club in 2016, finding it a beneficial way to gain experience related to her education and stay busy at the same time. But the process of growing used to the programming, and the challenges many of the attendees faced, was difficult for Savannah.
"Right away I threw myself in and thought I want to help them all, I want to save them all," Savannah said. "I had to detach myself and not bring work home every single night crying and wondering what I was going to do for these kids. In reality, you have to trust the process and go in and make hard calls, hoping that the people with the right degrees can do what they can to help."
Savannah credits Mount Marty faculty with helping her adjust to the challenges, saying, "I've had the best professors in education that anyone could ask for. They've taught me to be who I am today. I've been really blessed to be here."
Mount Marty's education programs offer unique experiences, including putting students in classrooms before many of their counterparts in other programs—classroom observations begin right away in the first year and limited field placement begins in the second year.
But Mount Marty teaches more than just a major. With core values of awareness of God, community, hospitality, and lifelong learning, Mount Marty hopes to send students into the world as leaders who will make an impact on their communities.
Savannah is a student that exemplifies this goal.
Rather than applying for positions in schools that resemble what she has encountered in her own educational experiences, Savannah hopes to either continue her work with the Boys & Girls Club or work within a lower socio-economic area, such as the Pine Ridge Indian Reservation, following graduation.
"I've just been so privileged thus far to be in tight-knit communities where we all love each other and want to see each other succeed," said Savannah. "It's cushy, it's lovey, I've been in it my entire life. I just felt selfish. I need to do something with what I have been blessed with and give it to other people. If I can be that one person they can go to or feel comfortable with or make mistake with, that's who I want to be."
The Boys & Girls Club has given Savannah the experience to see the world through a different lens, one that is not at all rose-colored. Though Savannah will be applying these life-lessons to a career in education, she strongly encourages others to become involved with the Boys & Girls Club.
"Every major can benefit from working there," she said. "It's really changed my life. I can't see myself being who I am today without them."
Mount Marty College is proud to see students like Savannah Sullivan making an impact in the Yankton community, which has always been such a generous host to our student body. Learn more about the club here: https://www.greatfuturessd.org/yankton