MMC Hosts Kings and Princesses for Ball
April 4, 2019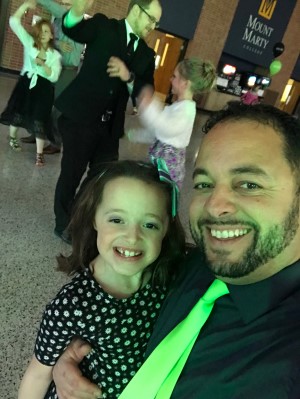 On April 12, 2019, Mount Marty College (MMC) is excited to play host to dozens of area girls and the "Kings" in their lives as they gather in Roncalli's Main Dining Room to enjoy River City Gymnastics and Cheer's third annual "King and Princess Ball." This is the second year MMC has hosted the event which is designed to celebrate positive male role models.
Justin Olson, the organizer for the event, says that while it is a great time for the girls, the dance serves a higher purpose. "Everyone has a great time at the King and Princess Ball. There's a meal, and we hire a DJ that plays all the popular dance songs and music that young ladies listen to," says Olson. "But this is more than a night of dancing — for the girls, it's a block of focused quality time with their dad, brother, uncle, grandpa, guardian or family friend that promotes positive connections with the male role models in their lives."
Olson says he is looking forward to hosting the event at MMC for a second year. "We really enjoy holding the event at MMC because their values align so well with ours; at River City, we're able to promote Christian values and being "Family Strong" which leads to raising young ladies with strong character, and I think that MMC shares that vision." Olson adds that MMC is a great place to host any event, "The dining room provides plenty of space so we have room to spread out and MMC also has a great food service led by Josh Kramer and great hospitality from Mary Abbott and her staff."
Tickets for the King and Princess Ball, which is sponsored in part by Vision Realty, are $30 for a King and Princess and $7 for each additional Princess. This price includes a meal, drinks, and snacks. Participants can pre-register on the River City Gymnastics and Cheer's Facebook page or at the door the night of the event.
For more information contact about the King and Princess Ball contact Justin Olson at 605-661-4971 or yanktonrcg@gmail.com.
Then info about hosting an event at MMC contact Mary Abbott at 605-668-1464.