Students Granted Early Acceptance to MMC Nursing Program
April 9, 2019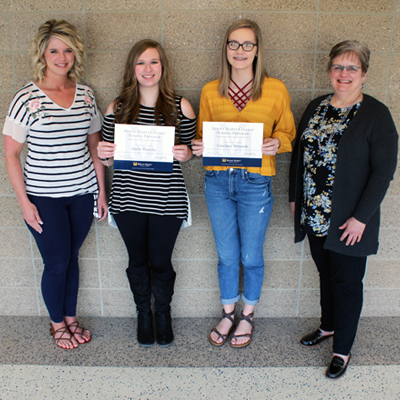 Pictured Left to Right: Krystal Diedrichsen, Assistant Professor of Nursing, YHS Seniors Harlie Hacecky and Courtney Wenande and Dr. Mary Anne Krogh, Dean of Nursing and Health Sciences
YANKTON — Students planning to pursue a Bachelors of Science in Nursing will find something rare at Mount Marty College — a chance at early acceptance into the college's state-of-the-art nursing program.
Early acceptance is a big step forward for nursing students who, as a whole, have traditionally had to wait until the end of their sophomore year to hear if they've made it into their school's program. Now, at MMC, that wait is a thing of the past. Beginning with the 2019 freshman class, potential nursing students who have been accepted to MMC and have a cumulative high school GPA of 3.5 with a minimum ACT composite score of 22 and no subscores less than 20, can enjoy the comfort of knowing they've been accepted to their program before they even begin taking courses.
MMC Assistant Professor of Nursing, Krystal Diedrichsen says the new policy is a way to recognize students who have worked hard. "Early acceptance into a nursing program is a great honor for students who've made academic achievements in high school, but it's also very valuable; knowing they have a spot in the nursing program as long as they continue to meet the requirements puts them a full two years ahead of some of their peers."
Early acceptance to the MMC nursing program is happening now for the 2019 fall semester. To see if you qualify, or for more information on the nursing program at MMC visit our website, www.mtmc.edu or call 605-668-1545 to talk to an admissions representative.