Mount Marty College Receives Largest Estate Gift in the School's History
October 6, 2016
Mount Marty College (MMC) announced that it has received the largest estate gift in the school's history, $3 million from the estate of Marian (Dendinger) Pyper. Pyper, who attended Mount Marty High School in the 1930s, passed away earlier this year and designated MMC as a major beneficiary of her estate. Watch the announcement made live on Facebook.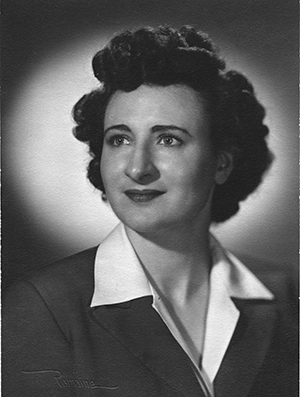 Marian Dendinger, age 20. Read more about her story here.
MMC currently offers undergraduate and graduate degrees, but the school's history includes the establishment of Mount Marty High School in 1922, which served the community until its closing in 1969. A native of Hartington, Pyper attended the Yankton high school with her three sisters.
"My aunts spoke fondly of their time at Mount Marty, and Marian believed that her four-year experience at Mount Marty formed a solid academic and spiritual foundation for the rest of her life," said Gail Morthole, Pyper's niece and family spokesperson. "She often spoke of the Benedictine Nuns who were her teachers and of the lifetime friendships she made during high school."
The Pyper gift will fund Mount Marty scholarships for academically qualified students from rural areas.
"This gift is an incredible blessing for Mount Marty and will help change the lives of deserving students," said President Marc Long. "Marian Pyper represents the best of Mount Marty, and her generosity sets an inspiring example of the impact that a life focused on faith and service can have on others. We are grateful."
According to Morthole, Pyper's gift represents her desire to honor and show gratitude to her parents, Martha and Will J. Dendinger, and MMC.
"Martha, a teacher by profession, and Will, a cattle farmer, instilled into their children the values of hard work and honesty based upon their cherished Catholic Church teachings and their basic Midwest values," Morthole said. "It became Marian's longtime desire to honor her parents' loving examples and to show her gratitude to them and to Mount Marty for their fundamentally positive roles in her life."
Continuously following the Benedictine mission and the teachings of the Benedictine Sisters of Sacred Heart Monastery who founded Mount Marty High School, Mount Marty College was established in 1936. Today, the small Catholic liberal arts college is celebrating 80 years of excellence and is recognized as one of America's best regional Midwest colleges by U.S. News & World Report and as one of the most effective and efficient private colleges in South Dakota by the Midwestern Higher Education Compact (MHEC).
The Pyper gift marks the second multimillion-dollar gift to MMC announced this fall: In August, the school announced a $2.25 million contribution from the Benedictine Sisters of Sacred Heart Monastery.