A Heartfelt Gift - The Monday Lead: Family Gives Generous Donation To MMC To Honor School's First Lay Teacher
November 11, 2018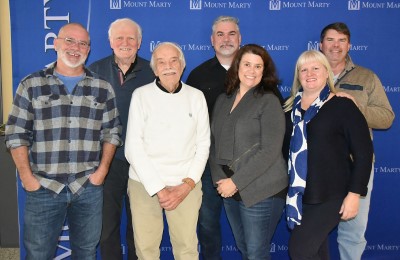 For the family of Ruth Donohoe, Yankton holds a special place in their heart.
They've spread out across the country — to places such as California, Illinois and Texas — through the years, but last week, several members returned to Yankton.
Yes, it was for a funeral of Ruth's middle son, but the somber occasion provided the family with an opportunity to return to the place where Ruth made a lasting impression at Mount Marty College.
"Yankton was always a centerpiece for the entire family," grandson Mike said during an interview with the Press & Dakotan Friday on the Mount Marty campus.
Ruth, who died in 1983, is buried in Yankton and her middle son, George (who died in September), would spend most of his summers in Yankton, Mike added.
So, it only makes sense, according to the family, that they honor Ruth at Mount Marty, where she was the first lay teacher in the 1930s and where she spent the next three decades.
Her family provided a significant gift of $1.2 million to Mount Marty's athletic fieldhouse project in Ruth's memory.
"She had a strong interest in athletics," Ruth's youngest (and only living) son, Jerry, said. "She valued it and realized what it meant to the kids playing.
"As a family, we never envisioned we'd be able to honor mom with something like this: an athletic building."
The construction of a fieldhouse — which Mount Marty officials have said would transform the school's athletic department and expand the college's footprint — has been something the Donohoe family has asked about for years, according to MMC president Marc Long.
"When I got here, Jim and Jerry and I were talking, and they asked me directly, 'Are you going to build the fieldhouse any time soon?'" Long said.
The family's gift then helped Mount Marty develop some momentum for that exact project, Long added.
The fieldhouse price tag is approximately $15 million, officials have said.
"We're enormously grateful for their gift," Long said. "Their commitment and their dedication allowed us to approach other potential donors about this project, and we've received a great response."
It's Ruth's dedication, though, that the family wanted to honor, according to Mike.
"The love of education for Ruth was obvious," he said. "All of her boys got great educations, and she had a passion for it.
"We looked for ways to combine her passion to help her students, and this presented an opportunity to give back."
In the eyes of her youngest son, Ruth was a "pioneer," according to Jerry.
Born in 1904 and raised in Chicago, Ruth Moore graduated from the University of Illinois in 1926 at a time when not many women attended college, Jerry said.
"She was very much a Chicago kid," he said, with a smile. "She had a big city sensibility."
Following her college graduation, Ruth responded to a job posting in a Catholic newsletter for a lay teacher at Mount Marty — an institution that was established in 1936 by Mother Jerome Schmitt and a group of other sisters.
The nuns were more cloistered back then, Jerry said, and as the first lay teacher (one not a member of the clergy), Ruth had more of a public presence than her fellow instructors.
"She was the external face of Mount Marty," Jerry said.
Ruth taught geometry, stenography and accounting, as well as other courses, and provided inspiration to both students and instructors alike, according to one former fellow instructor.
"She was a model for all of us," Sister Jeanne Ranek said. "She was a model educator. She kept her own council, but when advice was needed, she would give it."
Ruth taught at Mount Marty for 5-6 years before she married a local farmer named Francis Donohoe, according to Jerry. The couple married in 1935 and had three sons — Jim (who died in August), George and Jerry.
Francis died in 1948, and Ruth stepped away from her teaching duties to help maintain the family farm. First cousin Jack Lyons said Ruth's adaptability was commendable — "A Chicago girl who became a farm wife. That was remarkable," he said.
"Mom tried to keep the farm going after dad died, but she eventually went back to school," Jerry said.
From that point, Ruth's legacy lived on for the next two decades.
"I still run into people who remember her as a wonderful teacher," Lyons said.
It wasn't until 1969 that Mount Marty became co-ed (it was a women-only school until then), but by the time the Lancers began competing in athletics, Ruth was already an avid sports fan.
She was, after all, at the University of Illinois at the same time that Red Grange — "The Galloping Ghost" and future National Football League Hall of Famer — was making national headlines, according to Jerry.
"Mom knew him pretty well," Jerry said.
Later, while in Yankton, Ruth attended every home Yankton High School football game at Crane-Youngworth Field from 1952-56, when her sons were suiting up for the Bucks, according to Jerry.
More than just a fan in the stands, Ruth also found ways to join in different sports, her family joked.
For example, she would often participate in poker games that her three sons and their friends would have at the Donohoe home, Mike said.
"Ruth would join in the games, but only for a few hands," he said, with a smile.
"She was just so much better than everyone else, but she didn't want to be that mom who would always win money from her kids and their friends," Mike joked.
Added Jerry, with a smile, "She loved to play."
An on-campus fieldhouse at Mount Marty College is sorely needed for both the institution and its athletes, according to athletic director Chris Kassin.
"For us as a college, we need to grow and expand, and one of the ways is through athletics and giving our student-athletes better experiences," he said.
As it stands right now, teams have to jockey for practice at Laddie E. Cimpl Arena — some practice early in the morning and some practice late in the evening.
"This would allow us to spread out and breathe a little bit," Kassin said.
A fieldhouse would also allow Mount Marty to expand the roster sizes of its athletic programs (it currently has approximately 250 athletes), specifically in sports like indoor track and outdoor track, with an indoor track in the new facility.
Such a facility is also necessary for the non-athlete as well, according to Long. The recreational and intramural opportunities are things prospective students seek, the president added.
"This is hugely important for that reason as well: to provide resources for our students who aren't athletes," Long said.
"This is a win-win all the way around."
For the Donohoe family, they're just pleased to be able to help the college that Ruth loved, according to Jerry.
"I'm happy and impressed with the participation from those who have made donations and have contributed to this fieldhouse," he said.
"It's clear that the community is buying into it."